Gaming Hall Update
New information for those gaming at our store
---
July has come and gone, and it's been great getting 'back in the saddle' with in-store gaming events again! Being part of the Madison area tabletop game scene is an absolute joy, and we're thrilled to roll out more and more groups and event plans.
Today we have some updates to share about new gaming groups and events on the schedule, contests on the horizon, and alterations to our mask policy for August.
Mask policy revision
UPDATE: August 17, 2021:   Effective August 19, by order of Public Health of Madison and Dane County, face masks are now required for all indoor businesses. Masks are required to be worn by all customers, players, and staff at this time, regardless of vaccination status. Children 2 years old and under are exempt.
This alteration comes in light of concerns regarding the Delta variant, and the latest recommendations from the CDC and the Public Health Emergency Order issued by our county. You can read their announcement here.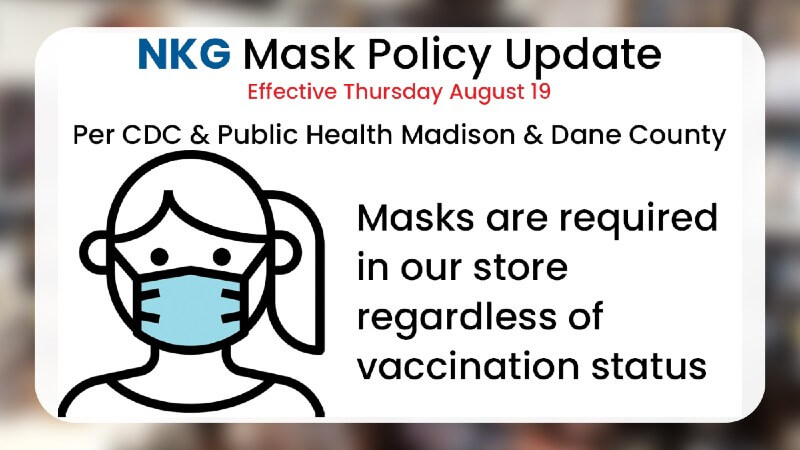 Infection rates in our immediate area are currently relatively low, with vaccination rates in our county being some of the highest in the country. However with cases rising regionally, we will be doing our part to make sure our area remains safe for those gathering inside our castle.
Please know that every decision we make is based on what we think will most benefit our community. At this time, that means continuing to provide access to games and gaming with friends new and old in the Gaming Hall, but with increased precautions to make sure we do not have to backtrack further and suspend in-store gaming.
We don't want that, and you don't want that.  Not when there are so many new groups and events to enjoy! Speaking of which…
Gaming & events lineup
Gamers new and old, of all ages and experience levels, are always welcomed at Noble Knight.
Be you a casual party gamer, a seasoned wargaming veteran, a budding miniature painting artist, a strategy-minded crunchy rules board gamer, an aficionado of the classics, or a dungeon-delving RPG fan, you can come and play at NKG any time.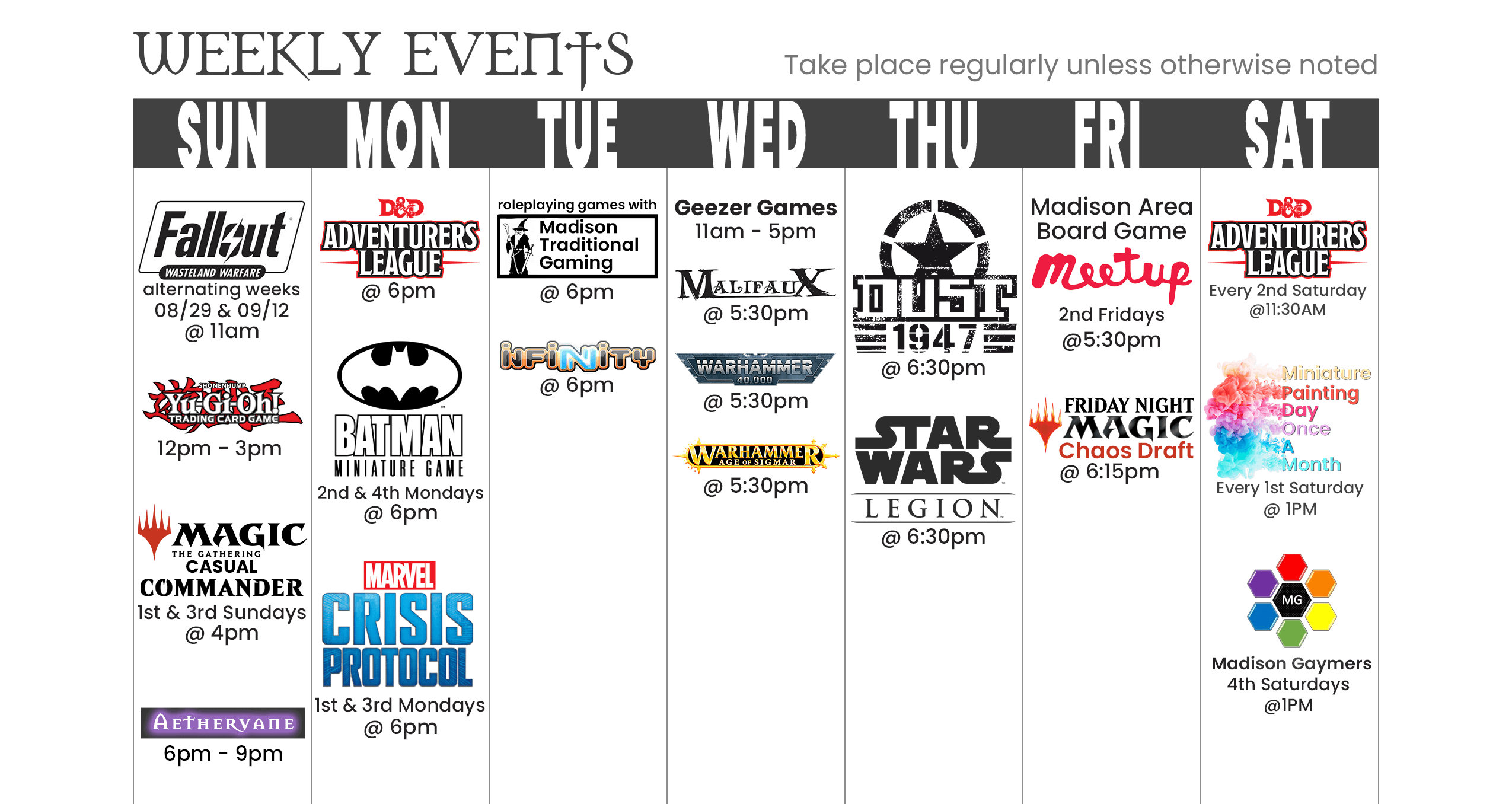 Browse Events & Conventions for details on the groups above
What's New?
Some of the latest additions and updates to this schedule include the return of Casual Commander Sundays and the Madison Area Board Game MeetUp.
Paint Day
One of the monthly events coming up is the Miniature Painting Day on August 7th, held monthly on the first Saturday.
Have you been curious to try miniature painting but not sure if its for you? Or are you practiced miniature painter looking for some motivation and a chance to show off your skills while helping others learn? Just looking for something to do or a good place to find some pointers on your project?
Paint Day is free, and Noble Knight Games supplies complimentary miniatures, communal paints and brushes, and a judgement free, casual painting atmosphere. Group leaders from the Madison Miniature Painters Club and the NKG staff would love to get you started and show you the basics. It's easier than you'd think, and more fun than you can shake a rattle-can of primer spray at.
Pop-Up Gen Con coming soon
Noble Knight is one of only 100 stores in the USA selected as Official Pop-Up Gen Con Hosts!  This event takes place on Saturday, September 18.
Formally run through GenCon, Pop-Up Gen Con offers a local opportunity for those not attending the big convention in Indiana. We will have early release access to select games premiering at GenCon, demonstrations, open gaming, raffles and door prizes, mini-games, and more.
Games featured as early access for this event will include the latest from:
Head over to the Pop-Up Gen Con website, select Noble Knight Games from the list and register your badge now for only $5! (This is required at all Pop-Up Gencon events nationwide.) Registration includes a badge, lanyard, and a special surprise to be announced in the coming weeks!
Miniature Painting Contest
UPDATE: The latest Painting Contest is: Beholders! View the latest Miniature Painting Contest

Several customers have asked recently, "When's the next painting contest? Are you still doing those?"  You can bet your boots on it.
Another of these popular contests (for painters both new and seasoned) will be coming up soon. You can anticipate seeing the announcement of the model and timeline in August. There will likely be a submissions due date in September.
With the return of in store gaming, and loads of new events and groups and more, we're just taking a quick breather.  Building anticipation, you could say. The announcement of the contest will be made on the Gaming Hall page, on our Facebook Page, in the Local Community Group, via the Madison Miniature Painters, and of course in the next Local Newsletter.
We can't wait to see your entries and hand out more prizes! Stay tuned…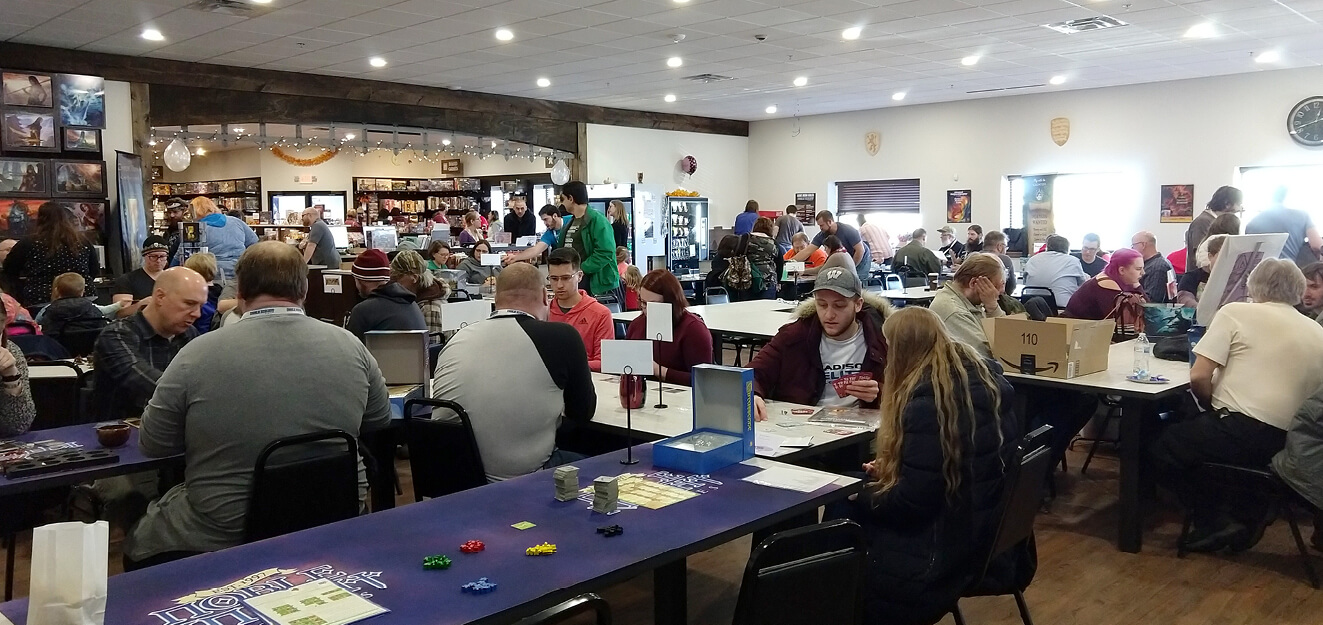 Gaming Hall info
Demos & new players All of  our publicly listed and scheduled groups are free to join in and play, and welcome new players. They are happy to give you a demonstration of the game, or chat about joining the games the next week. If you're feeling skeptical, just remember – the reason they are scheduled publicly is because they WANT you to join in!
The Fun is Free There is no cost to use our Gaming Hall for games, organized, scheduled or otherwise. It is free, for all. Of course, there are a few scheduled events that involve an entry fee. For instance Friday Night Magic, which involves providing Magic the Gathering product for use. Costs will be noted for these events.
Reservations We are not offering private room or table reservations at this time. However we hold open at least a couple of tables every evening especially for drop-in casual games.  Other tables may be held after a certain time for the evening's scheduled groups.  These tables will be marked accordingly.
Games Library We welcome you to drop by and catch a game with friends. Bring your own, or play from the over 200 games in our free to play Games Library.
Drinks and Snacks   Food and covered drinks are permitted in the Gaming Hall.*  We have a variety of beverages options available for sale, which help us keep our Gaming Hall free to use.  We are replenishing our stock of snacks as we speak, including the incredible, popular, and locally made Slide Potato Chips, Wisconsin bottled sodas like Sprecher, and more making their return this month! If there are specific snacks and drinks you'd like to see, please let us know.
* Please be mindful of the space when enjoying food and drinks, and remember to mask up when not actively eating or drinking. Alcohol is not permitted. Read our Code of Conduct for more
Stay informed
That covers the latest local updates for now!  Keep your eyes peeled here, on our social media, and in our newsletters for more new gaming events and updates.
Thanks for playing at Noble Knight Games – see you soon!
View the Noble Knight Gaming Hall Code of Conduct