Gaming Hall Code of Conduct
A few simple rules for gaming in our castle
---
Updated for 2023:  At this time, face masks are optional for staff and customers. 
With the return of in-store gaming in 2021, we are excited to see all our friends, neighbors, and visitors to our lands enjoying the thrill of play within our castle walls. We ask that gamers playing in our Gaming Hall abide by a simple code of conduct which we have posted in our play space.
At Noble Knight Games, though we may be an online store worldwide, we strive to be a friendly local game store (FLGS) in all ways. That means being not only friendly, but genuinely welcoming to players and customers, and making sure they have a good time. We pride ourselves on making our Gaming Hall a place where the folk of our kingdom can feel safe, comfortable, and welcomed. A place where fun is born, where you can feel like its OK to ask questions and to talk to the people around you. No gatekeepers here!
With so many people of all ages and from so many walks of life in our Gaming Hall, we have but a few rules to follow to make sure everyone has a good time. That means players, customers, staff, judges, and spectators.
The rules boil down to this: Behave Nobly. Treat the space and others with respect.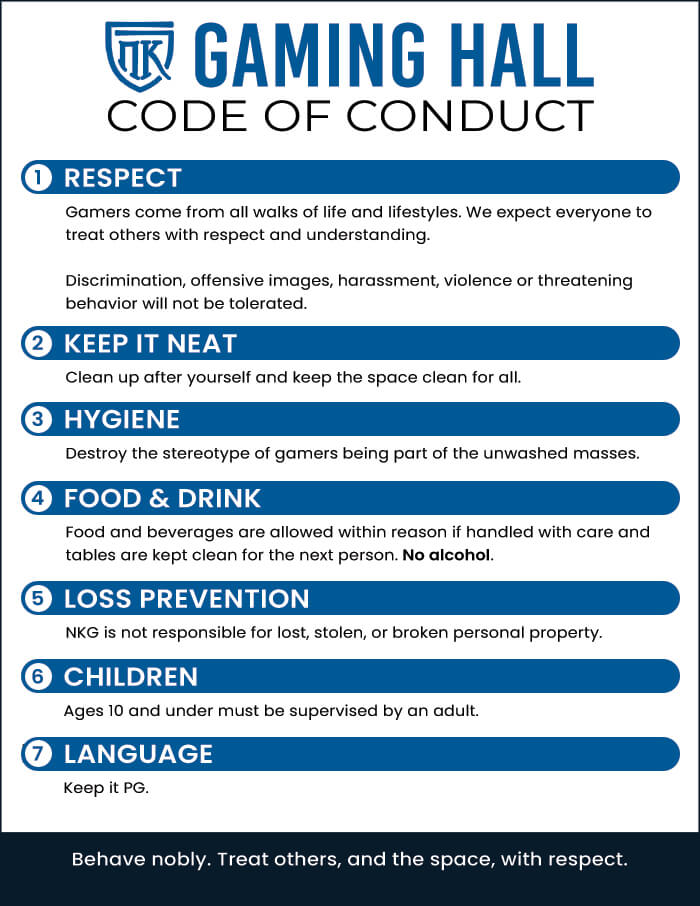 Please speak to a member of our staff if you feel someone is not behaving nobly. Those who do not abide by these rules may be warned, asked to leave for the day, suspended, or banned from the shop, depending on the severity of the misconduct.  Shoplifting, violence, or assault will result in an immediate lifetime ban from our grounds, and authorities may be contacted.
That said, we rarely if ever have experienced these issues with our local community. We are lucky, and proud, to serve such a classy bunch of nobles!
See you at our Events!