Madison Area Board Game MeetUp
---
When does the Madison Area Board Game MeetUp meet?
Fridays at 5:30 pm
Sundays at 11am (running most of the day)
Entry – Free!
---
The Group
Madison Area Board Game MeetUp is a casual and open club for area board game enthusiasts. If you like board/card games but lack someone to play them with, or even want to play with a new group with different styles, join in! The group meets regularly at places like Noble Knight Games, pubs, public spaces, and even at members' homes.
Whether you are a single person, a couple, a small group, or a family- you are welcomed! The group is always welcoming of new members or even one-off visitors looking to catch a game while visiting our fair city. They currently have over 2,500 members, and a typical gathering hosts anywhere from 12 to 24 players. We've seen the group at Noble Knight Games exceed 40 players on occasion, so be sure to RSVP!
Drop-ins are welcomed as best possible, but RSVPs in advance are requested to help facilitate and plan. (More on that below)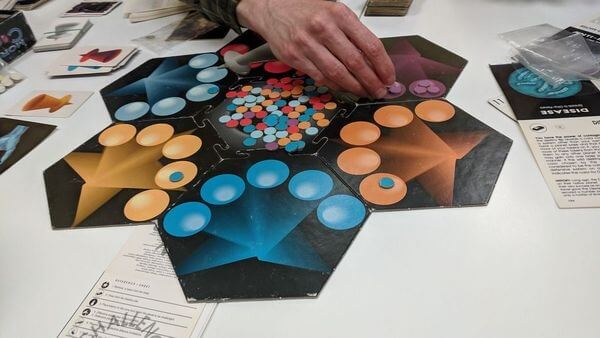 The Games
All kinds of board games and card games – Strategy, cooperative, active, party, modern, classic or vintage, teams, or individuals. Typically this is not a highly competitive group, rather one that simply wants to try lots of games with like-minded hobbyists. Its a focus on fun, not a focus on victory.
Group members often bring their own games to play with the group, or play from the over 200 games in the Noble Knight Games Library. You are welcome to play something someone brought, bring your own, or pick from that library. This group often discusses the planned games in advance, via the MeetUp group.
RSVPs Requested
To help the group plan, and help NKG hold appropriate table numbers for each gathering, RSVPs are requested through the MeetUp.
Join & RSVP on the Madison Area Board Game MeetUp
We hope to see you soon at the Madison Area Board Game MeetUp night!