As we approach a return to normal across the US, gamers are excited to safely get back to playing with friends again. In anticipation, we've put together a list of must-play cooperative board games for celebrating the hobby that brings us together!

1-4 Players
30-120 Minute Play Time
Complexity: 7/10
The first of our cooperative board games of note arrived on the back of the wildly popular original Gloomhaven (2017). Publisher Cephalofair Games introduced Gloomhaven: Jaws of the Lion (2020) to an eager game community in July of 2020. It was enthusiastically received upon its initial release and has already won a number of awards in the double digits.
Jaws of the Lion, a prequel to Gloomhaven and a stand-alone game, holds true to the feel and themes of the original, but offers a more approachable experience to a larger audience. It's wider appeal is why we've decided to feature the prequel instead of the original game. This is a game built for more casual gamers as a bridge to more complex tabletop gaming. There are new built-in tutorials, a learn-to-play guide, and a play-surface scenario book that will make jumping into the game much easier. That's not to say it doesn't offer anything to the more hardcore players and they can expect an experience just as flushed-out and enjoyable as the original.
The story-rich scenarios in this campaign (a total of 25 of them) will have players investigating mysterious disappearances in the backwater town of Gloomhaven. Players will embody the four hardened mercenaries who comprise the infamous "Jaws of the Lion":
Valrath Red Guard (tank, crowd-control)
Quatryl Demolitionist (melee damage, obstacle manipulation)
Human Voidwarden (support, mind-control)
Inox Hatchet (ranged damage)
These characters can also be used in the original Gloomhaven campaign!
Pick up your copy of Gloomhaven: Jaws of the Lion!

2-5 Players
45 Minute Play Time
Complexity: 4/10
It's impossible to talk about co-op games without mentioning the Forbidden series. While Forbidden Island (2010) and Forbidden Sky (2018) are both fun and respectable games, Forbidden Desert (2013) sticks out from the crowd.
Forbidden Desert, the oldest game on our list, sees each player becomes one of the characters stranded in this blistering desert. They must work together, optimizing their different abilities (each ability is unique to each player's character), to recover the parts to a legendary flying machine so they can escape before the sun and the sand overwhelm them.
The ratio of wins to losses in Forbidden Desert is weighted toward losses. You can't win without working together and being efficient. And sometimes, even then, the sun and sand are too much for you. This difficulty makes the victories feel that much better when they come! A win gives the player feeling of earned glory. A win isn't simply dictated by lucky dice rolls, rather by the calculated choices that are made throughout the game.
A constantly changing game board, effected both by the players and the elements, really keeps this game feeling alive and evolving throughout each play.
Pick up a copy of Forbidden Desert here!

1-4 Players
90-120 Minute Play Time
Complexity: 8/10
Spirit Island (2017) is one of the more complex cooperative board games on this list. Some setup and introduction time could be saved with at least one experienced tabletop gamer in the group!
Spirit Island is a settler-destruction strategy game. Each player will become a different spirit of the land, each with their own unique elemental powers. The goal is to defend the island from colonizing invaders spreading blight and destruction. Players will work with each other and the Dahan (local islanders) to increase their power and drive the invading colonists away in this deep and complex area-control game.
With eight different spirits to embody, and four power cards unique to each, Spirit Island keeps play fresh. There are also three multi-tiered types of invaders, four modular island boards (for a variety of layouts), and four optional scenarios to create a healthy amount of diversity of play.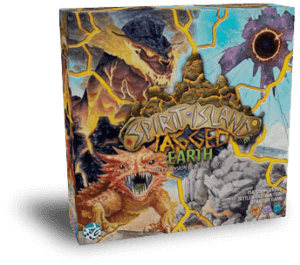 Honorable mention: Spirit Island: Jagged Earth (2020) is a real gem. If you love the core game, this major expansion is a must have! The Kickstarter campaign for this title was fully funded in under 15 minutes. In addition to boosting the max player count from four to six, Jagged Earth offers a healthy amount of new content, including, but certainly not limited to 3 New Scenarios, 10 New Spirits, 2 New Invader Types, 2 New Island Boards, 24 New Major Power Cards, and 33 New Minor Power Cards!
Pick up your copy of Spirit Island: Jagged Earth here!

1-2 Players (1-4 Players with 2 Core Sets)
60-120 Minute Play Time
Complexity: 7/10
Who can say no to a good Lovecraftian game? Arkham Horror: The Card Game (2016) offers deck-building cooperative play for two players, but the number can be bumped up to four with two core sets.
Players become investigators living and working in the sleepy New England town of Arkham. Each character has its own unique sets of strengths and weaknesses and you can develop further skills and abilities through the way you build your deck. You can add gear, allies, spells, weapons, talents, and events via deck-building; all in the name of unearthing the secrets of the Ancient Ones, their minions, their cults, and the unfathomable evils that they're perpetrating on the streets of Arkham.
It's not as simple as investigating, though, as there is an Agenda Deck with which the forces of evil are advancing their agendas. Use hand-management and deck construction skills to stave off the darkness and uncover the twisting mysteries of Arkham.
Pick up your copy of Arkham Horror: The Card Game here!

2-5 Players
20 Minute Play Time
Complexity: 4/10
Cooperative board games… IN SPACE! The Crew: The Quest for Planet Nine (2019) is a fresh take on the trick-taking card game genre. Players are astronauts on an adventurous mission to find evidence of a mysterious ninth planet (sorry, Pluto-philes!).
The Quest for Planet Nine spans 50 missions, each having its own unique win condition. The game can be paused between any two missions and resumed again at any time. As the game goes on, the difficulty of the missions increases which makes it a great choice for gamers of all levels. The difficulty scales well along with the player as they gain knowledge about the game mechanics and trick-taking strategies.
All cooperative games require some kind of communication to complete the given objective. However, communication isn't always straightforward and in space, things can be a bit more challenging than expected!
Pick up your copy of The Crew: The Quest for Planet Nine today!