Vintage RPG Podcast
The Art & History of Table Top RPGs
---
It's no secret that Noble Knight Games exists in large part due to vintage RPGs, and the love of the gaming community for them. The entire company was founded on the owner's original collection of out of print D&D books and modules, lovingly collected for years. Before long, Noble Knight Games was born. But that's another story…
So when we discovered the Vintage RPG podcast, obviously our ears pricked up. One episode later, we were diehard fans. Hosts John "Hambone" McGuire and Stu Horvath's humor and depth of knowledge make every new episode a delight. Now, we are proud to sponsor the show, and we've even made some guest appearances! It's an honor to help provide them with materials to review and research.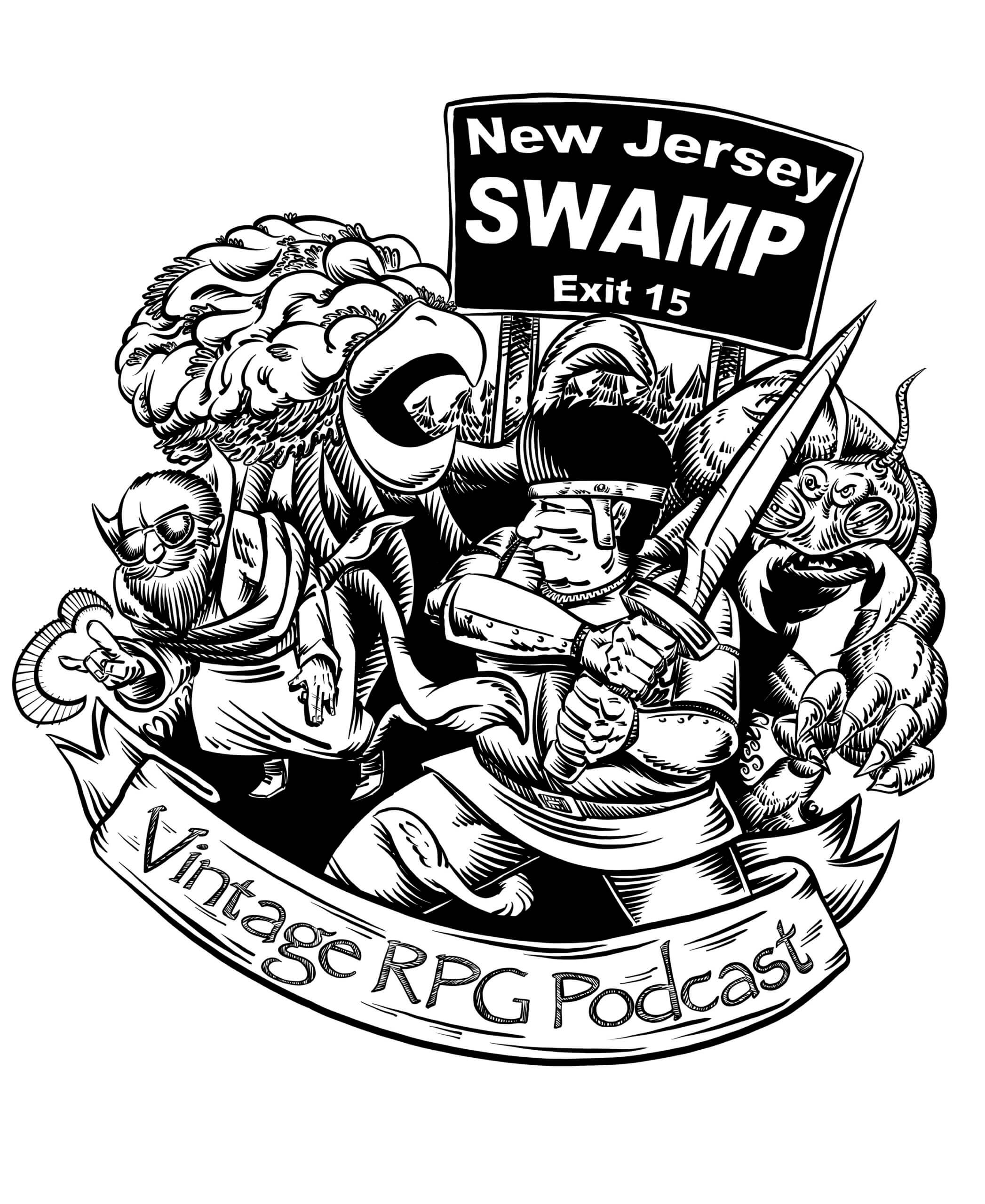 Covering not only the old out of print books, modules, systems, and art we love, they also review board games, chat about new 'zines and releases, and generally all things RPG.  But where so many podcasts are strictly D&D, or strictly about another specific system or setting, Vintage RPG truly does it all.
We love the way they delve into art history, delight in the crunchy goodness of the bizarre, and leave no stone unturned. You never know what disgusting and wonderful little creature might be hiding under there, and we are here for it.
So how do you get your eyes and ears filled with this wonderous RPG goodness?
Stop : Look & Listen
Vintage RPG PODCAST
From their secret Clubhouse somewhere deep in the swamps of New Jersey, the Vintage RPG crew put out fresh and engaging high quality podcast episodes every Monday. Download or stream it wherever you find the finest podcasts, and be sure to subscribe.
Hint Hint – You might sometimes just catch a special discount code from Noble Knight Games when you tune in… just sayin'.
Try this episode on for size – Delta Green!
Perhaps you'd like to hear some of our staff talk about the strange and unusual with What's in the Warehouse?

INSTAGRAM
Another fantastic aspect of what the VRPG gents do is a truly marvelous Vintage RPG Instagram. Every day, you can count on nostalgic RPG art and new content to amaze your eyeballs. All accompanied of course by extensive research information and personal impressions by  Stu.

BLOG
You can also keep up with them on their Blog site, where you can find streaming episode logs, essays, art gallery, support their Patreon, shop for VRPG merch, and more.
DISCORD
Want to chat with the gang?  You can! Check out their very active Vintage RPG Discord channel, where you can often find Noble Knight Games staff lurking as well.
Meet the Hosts of Vintage RPG
Once you've heard an episode or two, we promise the boys will feel like old friends to you. Might as well know a little more about them then, since you're going to wish you could invite them to Thanksgiving dinner.
Stu Horvath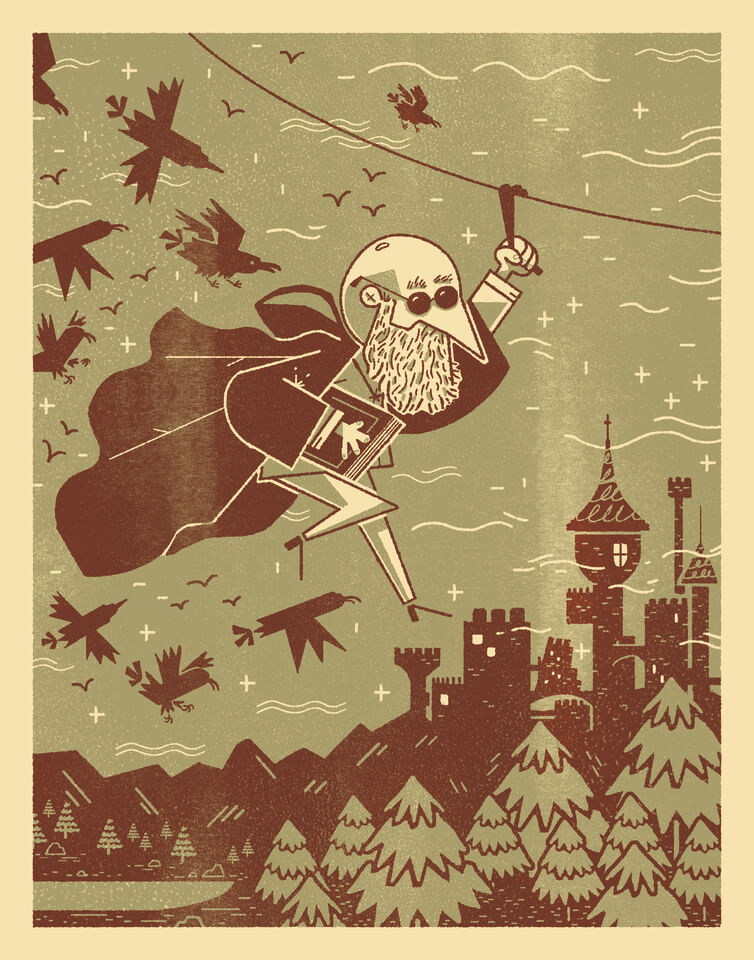 Stu has been a player of tabletop RPGs for pretty much his entire life, and a culture critic since about 2007. He got his career started at the New York Daily News and has had bylines at places like Wired, Paste, Complex and others. Now, Stu mainly writes for his own publications, like Unwinnable.
Stu is the creator on the Vintage RPG Instagram, which as we already noted is chock-a-block with fantastic RPG art and related information and critique. An avid collector, Stu boasts a pretty impressive personal collection, to which we can boastingly say we have contributed. This amazing array of items gives him an endless supply of excellent RPG content to show.
On creating this fantastic daily feed of lovingly curated nerd culture, Stu says:
"I think too much, particularly about stuff I love. I've always loved tabletop roleplaying games, even the bad ones, and have accumulated a ton of opinions about them, so this seemed like a good way to get all that out. Maybe the Instagram feed is all one big notebook for a future book or something. (SPOILER ALERT – Stu has now written a forthcoming book about RPGS!) Regardless, RPGs are my happy place – I often spend some time rearranging or reorganizing the shelves as a nerdy version of meditation after a rough day – so I figured I could integrate that happiness into my daily life and have an excuse to use my camera more to boot. I never once thought people would actually pay attention to it, but it is pretty cool that y'all did. Thanks!"
John "Hambone" McGuire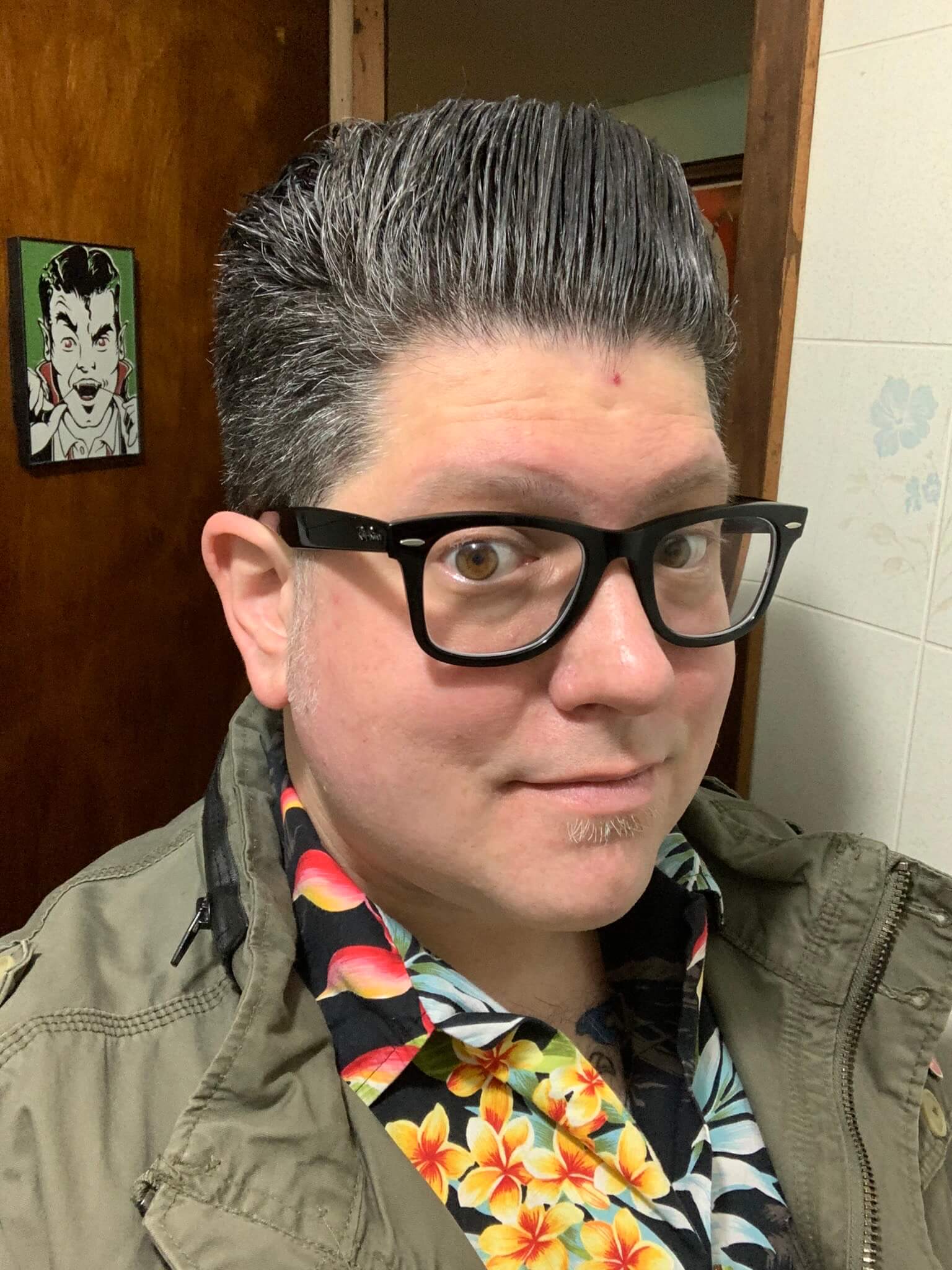 Producer and podcast co-host extraordinaire, John self describes as bard by trade, but a ranger by night.
John McGuire slings modules over a DM's screen like nobody's business. A relative noob (with only 15+ years of RPG experience), Hambone, as he's known by his friends (long story; for CliffsNotes, read The Dirt, by Motley Crue), is excited to learn about all the great esoteric RPGs from the golden age.
Hambone is also co-hosts the Mai Tai Happy Hour Podcast a weekly pop culture podcast for weirdos covering geek TV, video games, comics, punk rock, Tiki culture, horror movies and more. Good stuff, obviously! He also produces a bunch of other shows, which you can check out at Hamfisted Productions. You can follow John's Instagram account for even more gamey, nerdy, musical goodness.
Be sure to subscribe, like, follow and share to keep showing the Vintage RPG Podcast the respect they richly deserve for this labor of love. If you'd like to try some of their favorite RPGs, you can find them shown below along with many more RPGs on our main website.