V-Sabotage
July 1940.
The German army occupies the majority of Europe and nothing seems to be able to slow its progression. The Luftwaffe launches air attack upon air attack against London and the major industrialized British cities.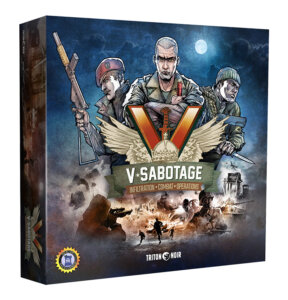 Great Britain withstands and gets ready to face an imminent invasion. But Winston Churchill was not one to sit back in a defensive stance. Convinced that the Allied Forces must take the initiative and strike blows behind enemy lines, he orders the creation of elite airborne units.
Simultaneously, the Special Operations Executive (SOE) is established with the objective to "set Europe ablaze." After intensive training, these units will conduct audacious operations of all kinds, striking like lightning bolts before withdrawing into shadows. Their numerous successes, although often unknown, weighed heavily in the outcome of the conflict.
Game Overview
V-Sabotage is a cooperative game in which 1 to 4 players team up against the enemy forces controlled by the game. Each player selects a commando specialist and together they form a squad. Then, they can either choose to play on one level (quick game) or to select an operation, composed of several objectives that must be completed across various levels. Each turn starts with an event that may affect the commandos' plans. Then, each commando alternately, in the order chosen by the players, uses their 3 action points, hopefully making progress toward the squad's objectives. Finally, new enemy reinforcements, playing by their own rules, enter the level, move and attack. Game turns continue until the operation succeeds or fails!
Set up your team from famous Allied Corps
Select an Operation, or quickly create your own by combining Level Cards
Use emblematic Allied weapons—and turn enemy weapons against them
Hide in darkness, wear German uniforms, and sneak up on your objective
Deal with unforeseen events—or take advantage of them if you can
Spotted? Open fire! Get back to cover and shut that damned alarm off! The enemy has much more troops than you! Leave the area quickly after your operation is completed!
---
V-Sabotage Core Game Miniatures Pack
Push your immersion further with the V-Sabotage Core Game Miniatures Pack: high-quality miniatures, thematic tiles, new commando illustrations, and more!
65 High-quality miniatures
25 Themed two-tided tiles
New Commando illustrations
2 Deluxe, thick cloth bags to store your equipment and enemy tokens
---
Ghost Expansion
Three new game modes, an epic operation, and many exclusive bonuses in the V-Sabotage Ghost Expansion.
3 New Game Modes
3 New Levels
5 New Operations — including the biggest ever!
2 Characters with unique abilities
4 Revamped Commandos
10 New Tiles
21 New Events
---
Secret Weapons Expansion
Isolated in hostile territories, strike the very heart of the enemy, sabotaging their most strategic facilities and top-secret projects in the V-Sabotage Secret Weapons Expansion.
13 New Levels
5 New Operations involving up to 6 Commandos
3 Characters with unique abilities

The Gunner
The Intel Officer
The Butcher

Remotely destroy your targets using the powerful Panzerfaust and remain stealthy thanks to the smoke grenades!
15 New Tiles
18 New Events
Fight elite Paratroopers and avoid the Goliaths—or control them to blow up your enemies!
---
Expansions Miniatures Pack
Even more immersion in the V-Sabotage Expansions Miniatures Pack: high-quality miniatures, thematic tiles, new Commando illustrations and more!
45 High-Quality Miniatures
17 Themed Two-Sided Tiles
New Commando Illustrations and more!
---
[ Browse all V-Sabotage products ]