Pathfinder Kingmaker Adventure Path
The Pathfinder RPG's most-popular campaign ever—Pathfinder Kingmaker—returns in this massive new hardcover compilation updated to the latest rules!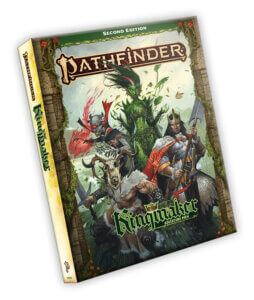 In this new, revised version of the Kingmaker Adventure Path campaign, the Stolen Lands have long been the domain of bandits and monsters, but no longer! Your party has been granted a charter to explore these wilds, defeat its dangers, and build a brand new nation.
Yet not everyone will welcome you as new neighbors, and powerful supernatural forces have their own plans for the region. Can you defeat your kingdom's enemies and become leaders of one of the greatest new nations in the world?
This hardcover edition of the Kingmaker Adventure Path contains:
All six chapters of the original Kingmaker Adventure Path, expanded and updated for use with Pathfinder Second Edition.
Hundreds of pages of new content that expands the campaign to cover the full range of levels from 1 to 20.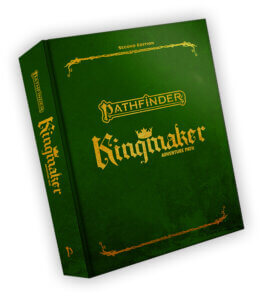 Works with tie-in Bestiaries (sold separately) to allow easy conversion to Pathfinder First Edition or the Fifth Edition rules of the world's oldest roleplaying game!
Extensive rules for building and running kingdoms, settlements, and armies, along with narrative-based rules for resolving mass combat encounters.
Eleven new alchemical items and spells to discover.
Sixteen new monsters, ranging from mundane but dangerous wild animals to potent supernatural threats that will challenge even the most powerful of heroes.
Publisher Paizo has also released a Special Edition of the book bound in faux leather with metallic deboss cover elements and a bound-in ribbon bookmark.
---
The Kingmaker Companion Guide
The heroes of the Stolen Lands can use all the help they can get!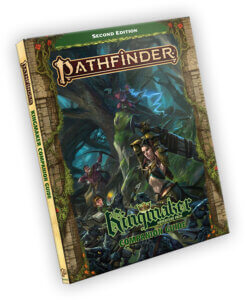 The Kingmaker Companion Guide presents seven fully detailed companions inspired by the Kingmaker video game, ready to provide all sorts of assistance, each accompanied by a fully detailed personalized adventure to go along with their story.
The Companion Guide can add loads of content and context to your Pathfinder adventures, including:
Notes on how an additional six companions can aid your adventures
Dxtensive rules for camping and cooking strange and even magical meals to bolster your characters' abilities
A fully detailed system to incorporate weather and hazards like blizzards, flash floods, tornadoes, supernatural storms, and more into your campaign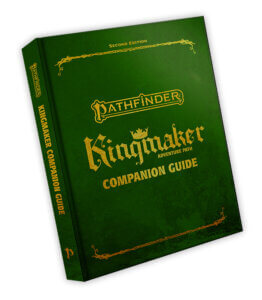 Each companion character introduces a plethora of new character options to further enhance and bolster your characters' abilities and options, including over a dozen feats, nearly a dozen spells, ten new alchemical and magical items, three dozen new exploration and downtime activities, and much, much more!
Like the new Adventure Path compilation book, the Companion Guide has a Special Edition. It comes with matching faux leather, metallic debossing, and bookmark ribbon.
---
The Original Pathfinder Kingmaker Adventure Path (2010)
The set of adventures that started it all! Are you a completionist looking to fill out your collection? Or a purist who prefers their tomes with a little dust on them? We've got you covered! Pick up the adventures in their original form!
You can browse the full original line of Kingmaker products here!
---
[ Browse the full Pathfinder collection ]