Sweet Existence: Obtaining Sweet Disks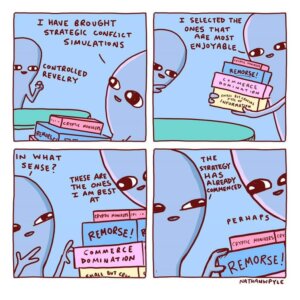 Millions of Earthlings have embraced the genius and creativity of Nathan W. Pyle's Strange Planet web comic and series of books. Now you can laugh and marvel at the absurd complexities of life with Sweet Existence, a strategic party card game inspired by his universally relatable beings and their unique perspective on the world.
This game has players forming connections, experiencing life events, and developing strategies to add more Sweet Disks to their stash — all while avoiding the dreaded Perish card. Each card features a unique comic depicting the beings' signature humor and simple curiosity. It's a marvelous, family-friendly party game for current and budding Strange Planet fans ages 13 and up.
From the mind of Nathan W. Pyle
Immerse yourself in the charming world of Strange Planet with the Sweet Existence light strategy party card game. For 4-8 players, ages 13 and up.
Exclusive Content
Based on the wildly popular Strange Planet web comic and series of books, this game features fast-paced play and over 100 comics created exclusively for this game.
Exciting Gameplay
Make connections (that can help or hurt you), give gifts, steal Sweet Disks (cookies), expose Existence squares, and hope that you don't end up with the Perish card or it's game over.
The Most Fortunate Being
Avoided the Perish card? The player remaining with the most Sweet Disks wins.
Details
Includes 24 Existence squares, 9 Connection squares, 104 Action squares, box of 50 cardboard Sweet Disks, and instructions.
Ages 13 and up
For 4-8 players
15-40 minutes