Atlas Games
"Our passion is offering exceptional games to the world."
---
We spoke with Sales Manager Travis Winter, and co-owner Michelle Nephew, to offer you an inside look at the journey of Atlas Games! We've enjoyed working with this company for years, and are pleased to tell you a little more.
---
A Midwestern Gaming Staple
With over 30 years in the table top game business, Minnesota's Atlas Games is one of the hardest working and most reliable publishers in the industry. Hundreds of games from this small but dedicated team are enjoyed by millions for their unique mechanics, attention to detail, sustainable business practices, and overall quality. Their intrinsically fun games delight with a clear tongue-in-cheek sense of (often macabre) humor.
Atlas Games resided for decades in St. Paul Minnesota, and has since moved to Duluth.  "I think Duluth is one of the most beautiful cities in the world," Michelle told us, "with its historic architecture and glorious summers. Its culture of active snow sports makes the long winters reasonably bearable."  As fellow Midwesterners, we know exactly what you mean. Its a tough landscape, but the changing seasons keep us on our toes.
Legendary Origins
John began writing for Dragon Magazine when he was still in high school, and eventually wrote for D&D as well. Once he packed off to college he befriended a new group of gamers – the young Jonathan Tweet, Nicole Lindroos, and Mark Rein-Hagen among them. Eventually they would publish their own materials as the newly formed company Lion Rampant. (Not to be confused with the game distributors of the same name.)  But when Lion Rampant moved to Georgia, John traded his photocopier for an Ars Magica license, and with it, officially founded Atlas Games.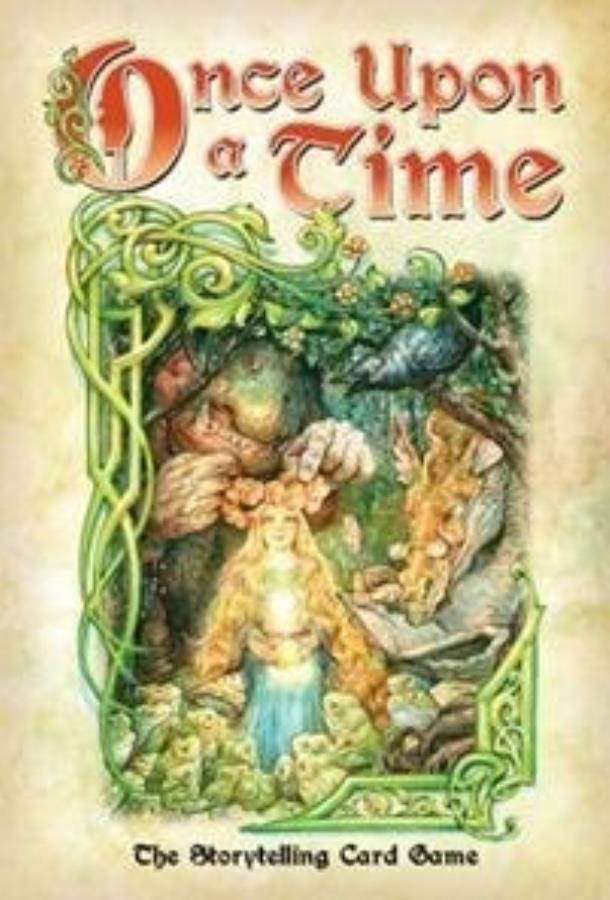 The next big step came when Michelle entered the picture. Author of the Wyrd Woods series and board member of the Lester Park Foundation, Michelle's writing and design work has greatly influenced the company and helped it grow.
John & Michelle's fairy tale gamer romance quite literally began with  Once Upon a Time…
Michelle was attending a convention with the university's gaming club when she met John at his booth, demonstrating his games. "He tried to sell me Once Upon a Time," confesses Michelle, "but I was a poor graduate student and couldn't afford to. So instead he invited me to lunch."
The rest is history, and they lived happily ever after!
Games for All
The sheer variety of Atlas Games' products continues to amaze. "We have one of the most eclectic mixes of games out there, because every one of them is a passion project for us," said Michelle. It shows! A few of the great titles from Atlas Games include of course the RPG Ars Magica, the gorgeous dice-driven board game Godsforge, Hounded, Lost in R'lyeh, and the Over the Edge RPG.  But what are their best known current games?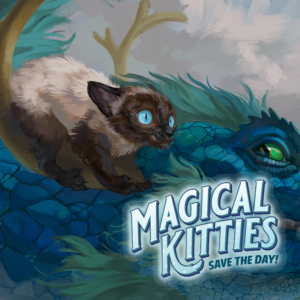 One of their most recent titles, an all-ages RPG called Magical Kitties Save the Day, sold out on our website almost instantly on release.(We've restocked since.)
Michelle has also been a great advocate for gamer parent involvement. She's an admirable proponent of finding healthy ways to stimulate a child's development through storytelling & gaming, while keeping parents equally interested.
Plus, Magical Kitties is an RPG you can even play without a table!  (Road trip car game RPG? Yes please!)
Read more on how RPGs can be beneficial for children's mental health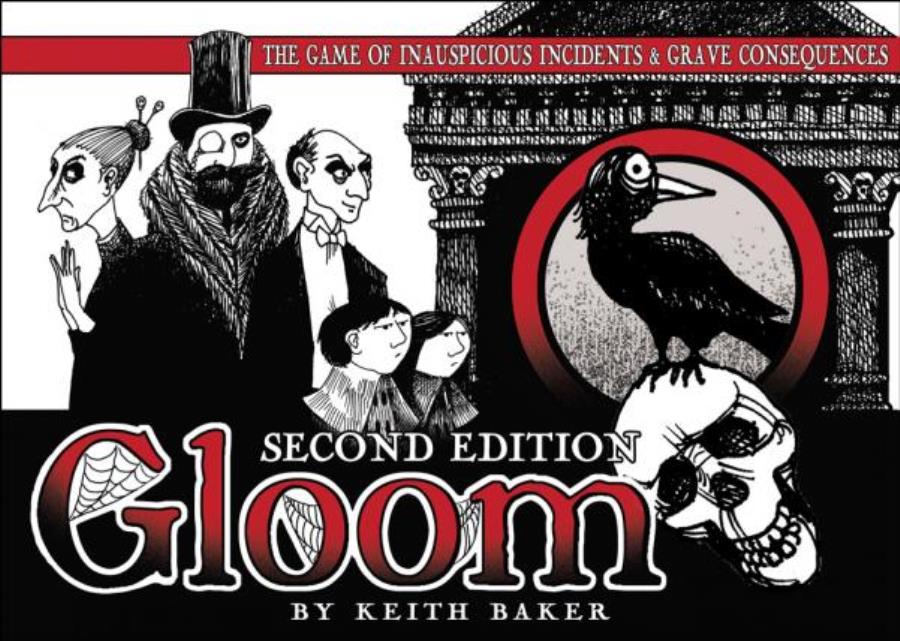 Perhaps their best known game of the last few years is Gloom. One of Atlas Game's flagship products, Gloom continues to be one of our best sellers.
With various versions like Cthulhu Gloom, and Gloom of Thrones, several expansions such as Unhappy Homes, and spinoffs like Munchkin Gloom, people just can't get enough of this despicably delightful game.
In this strategic game of overlaying transparent cards, you're in charge of  making your family of weirdos as miserable as possible. Each card is played over one of your family members, assigning them values of happiness or sadness and adding special effects and abilities. As you play, attempt to cheer up your opponents' families by playing happy events on their families before they meet their untimely demises.
Once all members have slipped their mortal coils, the player with the most tragic doomed family, wins.
Growing a Strong Team
For some time, Atlas Games was a team of two, with John & Michelle often collaborating to keep developing new ways to amuse gamers worldwide. Over the years, they've gradually added to their team. With a few more people, Michelle & John  have a little more time for their kids, who were a factor in the move to Duluth. With around 10 gamers now on the team, this small group works hard to keep Atlas Games going strong and forming a legacy that will last generations.
One of those keeping Atlas running smoothly is Sales Manager Travis Winter, has been with Atlas Games for over eight years. Clearly, working for Atlas is a great gig! An avid miniature gamer, Travis enjoys games like Warhammer 40k/Age of Sigmar, Marvel Crisis Protocol, and Saga.
"I will likely buy any rules for a minis game I see, but try not to fall down rabbit holes of minis. I enjoy reading rules and want to buy all the minis." (We know the feeling.) Having a crew with diverse tastes in games gives Atlas a truly varied range of inputs, though Atlas has yet to step into the miniature games arena, who knows what time will bring.
So what does someone like Travis do within Atlas?  For starters, he responds to vendors like Noble Knight Games who send inquiries about their games and company! He organizes much of their sales to both distributors and stores, and loves traveling around the world to spread the word about Atlas Games.
"I go to the UK Game Expo and a trade show in Denmark, Gen Con, Origins Game Fair, ACD and Alliance open houses, trade shows… and anything else where I can get games into peoples hands. I desperately miss all my friends (I think of them as family) in the industry. I cannot wait to get back to traveling the world and helping folks enjoy games again."
Environmentally Conscious
From RPGs to board and card games, Atlas continues to innovate while placing an emphasis on an environmentally responsible business model. "Being environmentally conscious is the sensible, cost-effective thing for a business to do. We're committed to environmental responsibility, and implement green policies that save money, reduce our carbon footprint, and encourage others to follow suit." Right on! That's how we will keep our land beautiful and a fun place to live for the next generation of gamers.
Atlas Games takes this brand of eco-friendly patriotism to heart, and puts their money where their mouth is. They take pains to design their packaging to be as low-plastic and as little disposable packaging as possible. Reusing packing material and warehouse pallets, they also never purchase plastic packing peanuts.
In their offices, they make a point of using both sides of any paper, and of course recycle everything possible. Atlas buys recycled toner cartridges, and dispose of obsolete electronics responsibly, so they don't end up in a landfill. To be energy conscious, Atlas Games replaced incandescent bulbs with energy-efficient options in their offices and warehouse, as well as installing smart thermostats that turn down the office heat at night. They also allow some amount of telecommuting for most employees, reducing fuel consumption.
Further walking the walk after talking the talk, Atlas Games is also a signatory on the "We Are Still In" declaration. This group of thousands of community leaders representing more than 155 million Americans and $9 trillion of the U.S. economy opposes the US withdrawal from the Paris Agreement and backs efforts to cut U.S. carbon emissions in half by 2030.
Wizards of the Coast also recently revealed some of their plans to reduce packaging waste. Its great to see companies in the gaming industry doing their part to protect the planet for future gamers!
We Love Atlas Games
Its not just the variety of well-loved games that makes us fond of Atlas Games.  Or even their sound business practices and friendly team. (Though they get high marks there of course.) They also make a point of partnering with friendly local game stores like us, and finding ways to support both the store and the community. For instance, a few years ago they offered us a custom Noble Knight Games Promo Card for Gloom!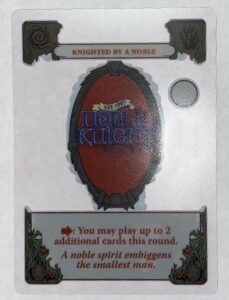 Knighted by a Noble: You may play up to 2 additional cards this turn. "A Noble spirit embiggens the smallest man." (Anyone else catch that sneaky subversive      cartoon reference?)
If you want to add this noble card to your Gloom, we'll give you one free for the asking in our storefront. Or add one to your online order for only one cent, to cover   our shipping and handling.
What's Next?
Atlas Games is marked by consistency of quality new games. They continue to release titles at a steady and predictable rate, keeping fans stocked with fresh new fun.
Just released this quarter, Yukon Salon is their latest romp.  Welcome to your new career as a stylist at the Yukon Salon! Your clients are grizzly bears and lumberjacks. They need the prettiest hairdos and wildest beards — or the wildest hairdos and prettiest beards — that the great frozen north has ever seen. We're enthralled by the design, the wooden dice (with bear faces!) and metal tin box. Atlas Games was kind enough to send us a demo copy, which is now available to try for free in our storefront's Games Library.  Stop by and try it out! Read more about Yukon Salon
A big upcoming project is a spin-off, stand-alone game inspired by their hit game, Gloom.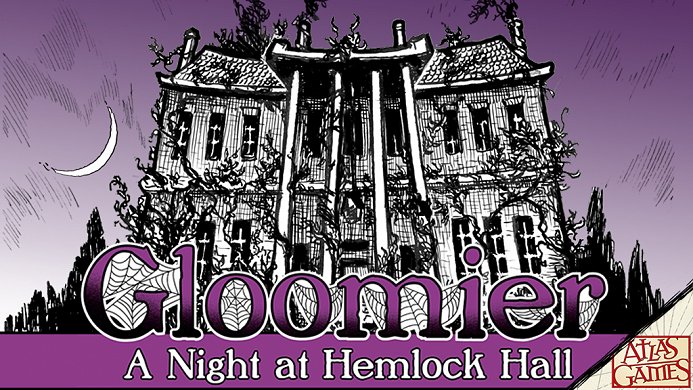 "Gloomier – A Night at Hemlock Hall" launched funding on Kickstarter, and you can bet we backed it!  Misery and mysteries abound at Hemlock Hall, the imposing estate of Lord Wellington-Smythe and his eccentric family of misfits. When you're invited inside for an evening's entertainment, what could possibly go wrong? As with the original Gloom, awful amusements become deadly diversions with the flip of a card.  And in Gloomier, the winner gets the final word: Who was the murderer? How did the heist end?
This game is currently anticipated to release in October, just in time for spooky season. Pre-Orders are now available through our webstore.
We can't wait to see what John, Michelle, and their team at Atlas Games come up with next! You can bet we'll have them all at Noble Knight Games.
Read more Publisher Spotlights