Magic the Gathering Store Championship
Dec. 4, 2021 At Noble Knight Games
---
Update – Congratulations to Andrew Hoskins, our final champion! Well played, sir. We'll have your name engraved on our Store Champions plaque and on display shortly to commemorate your victory.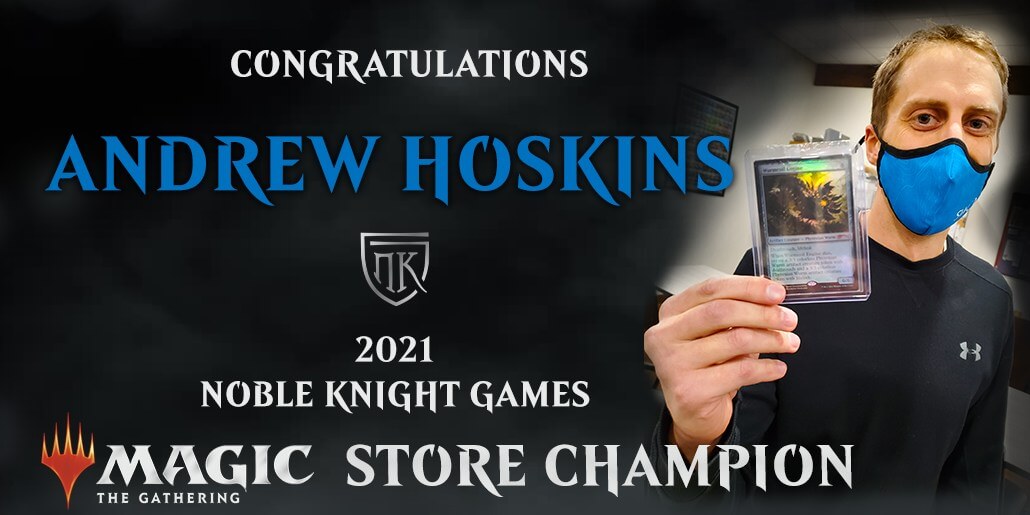 And of course our congratulations to the top 8, who also had a very long day of drafting and doing battle, winning prizes, and playing some killer hands!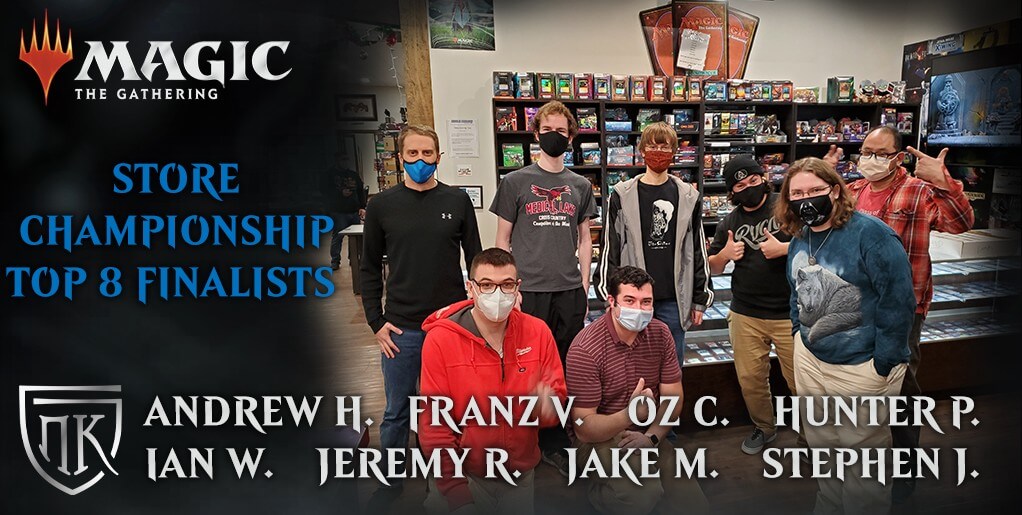 Last, but not least, a big hand for the dozens of other Madison area Magic players who came out, played, had fun, and left with some great prizes and new cards to boot. Without our amazing community, events like this just wouldn't be possible. You're all winners in our books!
---
Who among you will reign supreme as the ultimate Chaos Drafter? Compete in our first annual Magic the Gathering Store Championship for the honor, the glory, the bragging rights, and of course, the prizes!
When?
Saturday, December 4. Event begins at 1:00pm sharp. Please arrive by no later than 12:50 to register.
Maximum number of players: 60. The first 40 players to register will receive a special promo card, the Arbor Elf!
Registration is first come first served, in person only, beginning at 11:30 am.  A code will be shown on the Gaming Hall TV with which to join the event via the Magic Companion App on your phone.
Price
$20 per player.  Keep everything you draft, of course!
Upgrade Note: Those who wish to draft premium/vintage/collectors edition packs may do so for an additional upgrade cost relevant to their selection.
When play is set to begin, you will be given your option of packs to choose from, and may select regular or upgrade packs. After making your selection, you'll proceed to the counter to ring up for the event with the packs you've picked.
If you open a premium priced pack and discover there are multiple cards you don't want to give up, we will allow you to purchase another pack to draft with.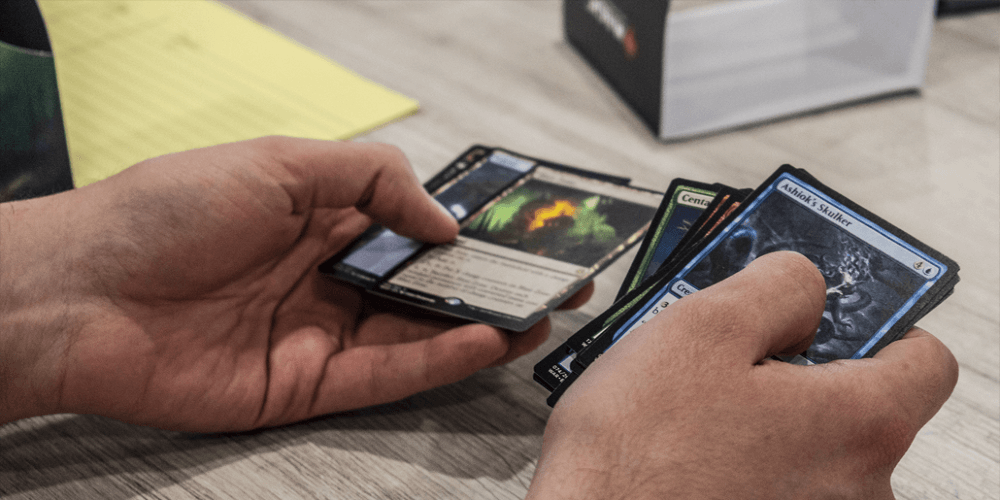 Format – Chaos Draft
3 rounds of Swiss pairings, followed by Cut to Top 8.  After the initial draft, there will be a dinner break for the finalists and judges. The final 8 top players will then reconvene and do another round of drafting, to even the field for the finalists. There is no additional cost for this final winners round, unless you wish to upgrade to premium packs.
About this format Chaos Draft is our signature Friday Night Magic weekly format, as it showcases our broad selection of Magic the Gathering sets from across the long history of Magic. So for the Championships, what better to go with than that? Its part of what makes us unique.
How does a Chaos Draft work? Pick three draft booster packs from an array of standard price (and premium, vintage, and special sets) sets we'll make available!  At the table, you'll open a pack, pick the card you want to keep, then pass the rest of the pack to the next player in the pod, so everyone gets a little of everything chosen.  Its chaos! And of course, you keep everything you draft.  We always provide complimentary basic land cards, so you can make a playable deck and compete against your neighbors in the pod!
Prizes!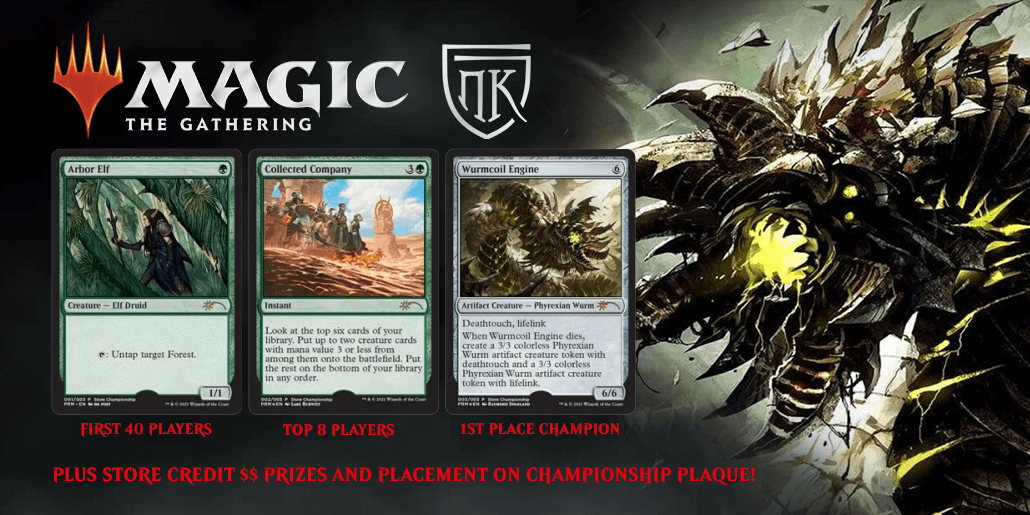 And now the detail you've all been waiting for, the PRIZES!
On top of the prizes listed below, (and the bragging rights) our final MTG Store Champion will be honored as the first name engraved on a beautiful Noble Knight Games Store Championship plaque. This plaque will be displayed in our storefront forever, to commemorate the winners of this and upcoming Store Championship events!
All MTG Store Championship events nationwide will feature these awesome promo cards provided by Wizards of the Coast for this event:
First 40 players to register – Arbor Elf
Top 8 finalists – Collected Company
1st Place Champion – Wurmcoil Engine
Plus, we're sweetening the pot for our Championship event with:
1st Place Champion – $50 Store Credit
2nd Place Champion – $25 Store Credit
3rd & 4th Place Champions – $10 Store Credit each
Promo pack door prizes

3-0-0: 5 booster packs
2-0-1: 4 booster packs
2-1-0: 3 booster packs
1-2-0: 2 booster packs
0-0-3: 1 booster pack
What to bring
Important! DCI numbers are no longer used for Wizards of the Coast organized play for Magic the Gathering. Players now register for events through the use of the Magic Companion App. This app provides registration tools, direct round pairings, results, and more. Use of this app is strongly recommended for a smooth Magic experience, due to the new Wizards Event Link program now used for administering Magic events.  If you cannot install apps on your phone, please let our judge know right away.
What else to bring?  We suggest a spin-down die or life counter, tokens, play mat, sleeves, and a deck box for your newly drafted cards. These are not required, but are suggested for ease of play and protection of your cards.  If you need these, our storefront team will be happy to help you pick some out. We have plenty of options!
We hope to see you at the Store Championship!
---