Free RPG Day 2022 Online
Did you miss the RPG event of the year?! Never fear! Noble Knight Games is offering this treasure trove of new and exclusive RPG adventures, previews, and accessories to the world while supplies last!
Browse the full Free RPG Day collection here!
Navigation
---
When and Where?
Free RPG Day Online 2022 is Monday July 11th, but you can score these exclusives any time at nobleknight.com as long as supplies last!
[ Back to Top ]
---
How Does This Work?
For each $15 spent before shipping, you can add any $0.01 item to your cart! That includes this year's Free RPG Day items—or other penny items from previous Free RPG Days, and more!
Free RPG Day Online works a little differently, since we also have to catalog, store, pack, and ship the items.
To help offset the cost of these bundles plus shipping, packaging materials, and handling for the items, and because our webstore doesn't allow things to be listed at $0.00, (darn you, web code!) we list the Free RPG Day items at $0.01, and ask that they accompany a $15 purchase.
Browse the full Free RPG Day collection here!
[ Back to Top ]
---
Ok, Ok, Get to the Selection!
Here is a sneak peak of the products that are available!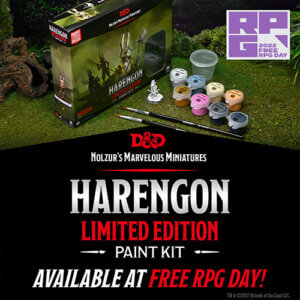 The D&D Nolzur's Marvelous Miniatures Harengon Limited Edition Paint Kit is perfect for new and experienced painters! The kit contains everything you need to paint your own Harengon to use in any tabletop adventure! The kit includes 1 Harengon figure, 8 Vallejo paint colors, 2 brushes, and 1 water pot.
[ Back to Top ]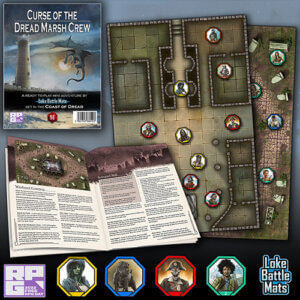 Curse of the Dread Marsh Crew is a ready to roll 5E adventure by Loke Battle Mats. Set in Maps from the Coast of Dread, this adventure includes Battle Maps and cut out tokens for Characters, Adversaries and Terrain.
Also contained within the adventure book are a quick 5E guide, sheets for the pre-generated characters and stat blocks for the foes they will encounter.
[ Back to Top ]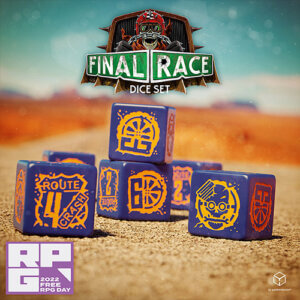 Final Race Dice Set: Step on it! The Final Race starts now! Keep control and don't lose your cool, or let the red mist cover your eyes – whatever lets you win! The various post-apocalyptic markings on the dice faces tell you one thing: there is nothing but the race! With their background being blue and paintings orange, you cannot lose!
[ Back to Top ]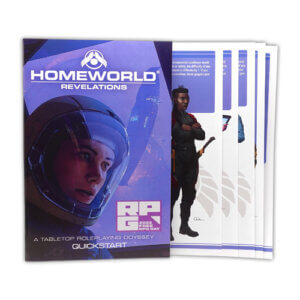 A new tabletop roleplaying odyssey begins! Complete starter rule set and thrilling adventure for the forthcoming Homeworld: Revelations 2d20 RPG, with plenty of hints and tips for new GMs.
[ Back to Top ]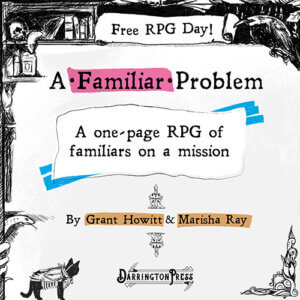 A Familiar Problem: A new, one-page RPG of magical familiars on a mission! Created by Marisha Ray (Critical Role) and designed by Grant Howitt (Honey Heist), you'll play a scrappy team of summoned magical creatures, left behind as the spellcasters went adventuring. To prove you're up to adventure, too, band together and undertake a daring quest of your own!
[ Back to Top ]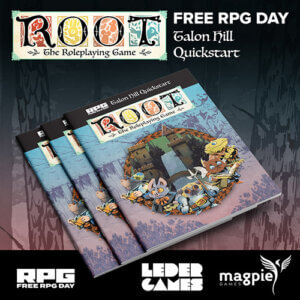 The Talon Hill Quickstart contains pre-generated characters and a full clearing write-up along with all the rules to get you started playing quickly! In Root: The RPG, you and your friends take on the roles of wandering vagabonds—heroes, rogues, and adventurers who have the potential to change the fate of the Woodland—and you've recently arrived at Talon Hill!
[ Back to Top ]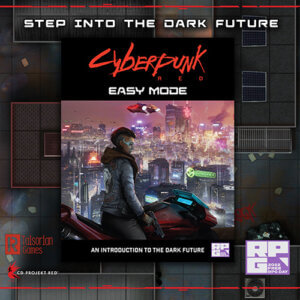 Step into the Dark Future with Cyberpunk RED Easy Mode, a quickstart and mission that'll throw you head-first onto the streets of Night City.
[ Back to Top ]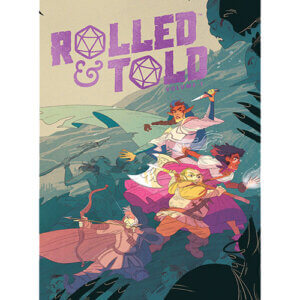 Grab Rolled & Told Vol. 1 on Free RPG Day 2022! It contains all the adventures, comics, and articles from issues zero to six!
[ Back to Top ]
---
[ Browse the full Free RPG Day collection here! ]