Free RPG Day Online is Back!
---
Each year, friendly local game stores like us are offered purchasable bundles of unique RPG products from a variety of the industry's hottest publishers. We buy these yearly bundles, then provide the items to our customers as a way to say thank you for keeping the RPG world vibrant and growing. Happy Free RPG Day!
In-store Free RPG Day 2021 took place in select brick and mortar stores like ours on October 16th. We gave away tons of awesome free stuff, but we also set aside a treasure trove of 2021's new and exclusive Free RPG Day adventures, previews, rulebooks and accessories to now share with our customers around the world. If you were unable to snag free items in our physical store, now is your chance to get access to this year's items.
When and Where?
Free RPG Day 2021 Online begins on Monday, November 1st, through our online store.
You can find the selection of available items here >
How Does This Work?
Since things are a little different with online orders being shipped around the world, Free RPG Day online works a little differently through our webstore.
For each $15 spent before shipping, you can add any of the 1 Cent items to your cart! That includes this year's Free RPG Day items, or other penny items from previous Free RPG Days, and more!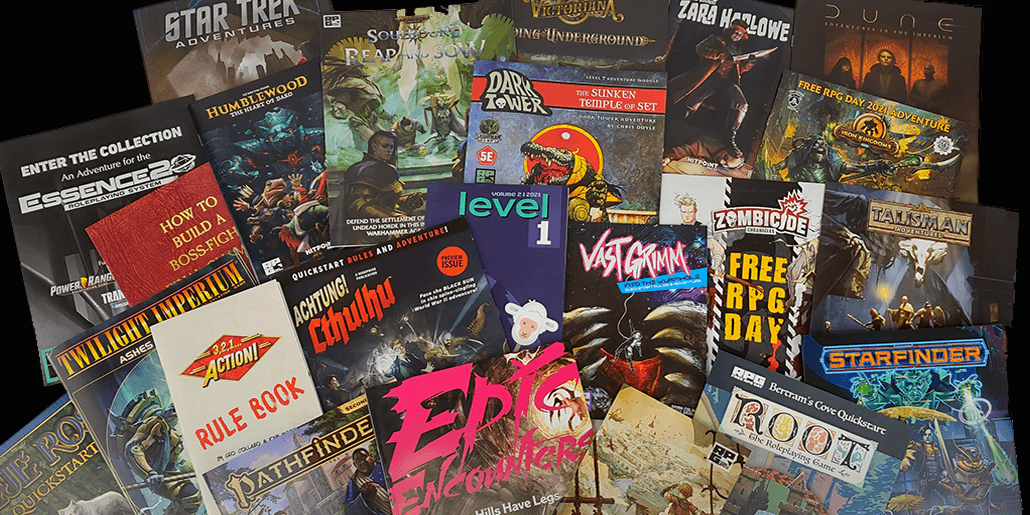 How Many Free RPG Day Items Can I Get?
There's no limit! For every $15 (pre-shipping) on your order, you can add an additional item.
Many of the Free RPG Day items are quite limited, so please note that these are first come first served and some of this years items will likely be gone before others. Act now if there's one you have your eye on!  (A preview of this years items is below.)
If it's Free RPG Day, why aren't they Free?
They are! We purchased a substantial number of these bundles with the intention of giving them away to our valued customers like you, in store and around the world. At our in-store event, everyone could grab one item completely free. If people wanted more than one item, we handed out additional freebies per every $15 spent in store that day.
But online day works a little differently, since we also have to catalog, store, pack, and ship the items.
To help offset the cost of these bundles plus shipping, packaging materials, and handling for the items, and because our webstore doesn't allow things to be listed at $0.00, (darn you, web code!) we list the Free RPG Day items at $0.01, and ask that they accompany a $15 purchase.
Ok, Ok, Get to the Freebie Selection!
Here are all of this year's Free RPG Day 2021 exclusive items to choose from!  Browse them all Here >
---
With Tomb of the Savage Kings for DCC RPG, author Stephen Newton continues a saga that began back in the pages of DCC #17: Legacy of the Savage Kings, and then moved through DCC #17.5: War of the Witch Queen and DCC #66.5: Doom of the Savage Kings—with added inspiration from numerous Mummy films that have been produced over the years.
And then in Fifth Edition Fantasy: The Sunken Tower of Set, Chris Doyle ties into the classic Dark Tower adventure, bringing you a new module for D&D 5E. The adventure occurs in a barren, rocky, mountainous region bordering a sandy waste and has a distinctive Egyptian theme.
---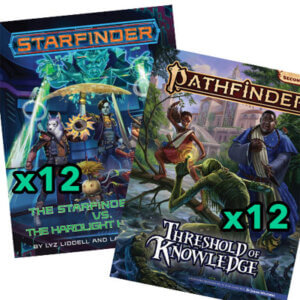 In The Starfinder Four vs. The Hardlight Harlequin, thanks to some inadvertently malicious code created by a proud game designer, such a calamitous event has occurred on a small moon hosting an entertainment expo! The building is slowly but surely being digitized while the game designer's mind has been taken over by a comic-book villain. Only a group of newly recruited Starfinders can save the day!
In the Threshold of Knowledge Pathfinder adventure, players take on the role of one of five students from the prestigious Magaambya, the oldest school of magic in the Inner Sea region. When a teacher goes missing, it's up to these new heroes to step up and solve a wicked mystery that threatens the existence of the Magaambya itself!
---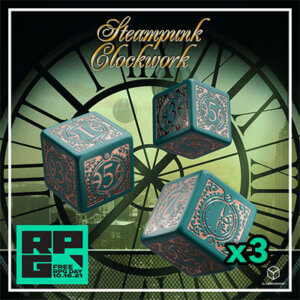 These Steampunk Clockwork dice are but a taste, as their premiere is yet to be seen on q-workshop.com… but it's a Free RPG Day, and these are yours by right! During this event, you're the one receiving awesome gifts from Hobby Game Stores around the world! That's no trick – that's a treat!
The clock is ticking and you are running out of time. What are you going to do? A step ahead or back? Or maybe a duck? It doesn't matter because time still can catch you… Or maybe not? Use our new Steampunk Clockwork dice and see that time can be stopped!
[ See Q-Workshop's Steampunk products here! ]
---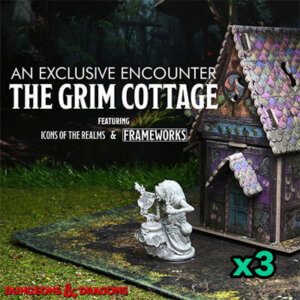 The Grim Cottage is a fairytale-inspired Dungeons & Dragons encounter from Wizkids, supported by Icons of the Realms and the new Frameworks product line.
We don't have any specifics from Wizards of the Coast/Wizkids on the encounter itself. They love to leave us in suspense—or they don't actually plan to release any information in advance of the event. Also a possibility!
Regardless, we love the fairytale angle! We're intrigued by what looks to be a hag-style miniature. Is the mini included, is the building included, is it simply a fun encounter module for D&D 5e? Who's to say? No one but Wizards of the Coast!
---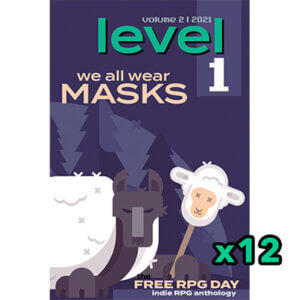 Free RPG Day 2021 brings with it the second volume of 9th Level's Level 1: The RPG Anthology series.
[ Get the first volume of Level 1: The RPG Anthology here! ]
The anthology is a collection that brings together choice games from the world of indie RPGs in an annual collection published in time for Free RPG Day. This is an officially endorsed, perfect bound book, featuring new role-playing games, RPG standalone adventures, 200 word RPGs, and more!
The theme for this anthology is Masks. It encompasses games about wild animals at a drag show, building cities out of dice, bumbling villains against comic book do-gooders, emotional robots, and much more!
With games by Adam Bell, Whitney Delaglio, Michael Fault, Zane Graves, Hosh Hittie, Tim Hutchings, N. Maxwell Lander, Mara Li, Tim McCracken, Nat Mesnard, Dawn Metcalf, RK Payne, Lysa Penrose, Helena Real, Jack Rosetree, Starshine Scribbles, Joel Salada, Alexi Sargeant, Scott Uhls, and Max V.
---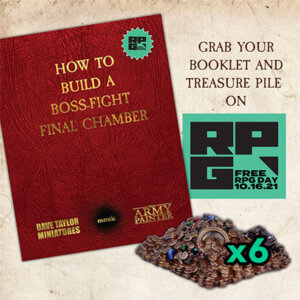 How To Build a Boss Fight Final Chamber (and treasure pile) from Dave Taylor Miniatures and Mantic Games!
Once again, Dave Taylor Miniatures has created an instructional booklet on how to build and paint an epic "boss fight" final chamber using the Gamemaster Terrain Kit from The Army Painter AND how to paint items from Mantic Games' Dungeon Treasure set.
This booklet describes how to use the contents of the terrain kit, along with additional tips and tricks, and is perfectly accompanied by a set of treasure piles provided by Mantic. One booklet and one treasure pile per person, available at Noble Knight Games on Free RPG Day 2021!
---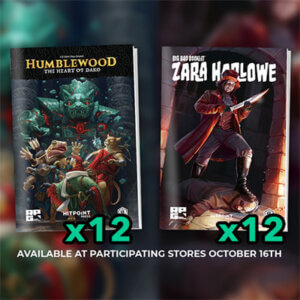 The Heart of Dako is an exclusive Free RPG Day adventure from the popular Humblewood series.
In the world of Everden, nestled between the mighty Crest mountain range and the vast marshes of the Mokk Fields, lies a mystical forest known as Humblewood that hums with the Great Rhythm of nature. It has been ruled for generations by the birdfolk who inhabit the Great Tree-City of Alderheart. Humblewood has endured for centuries thanks to the industry and compassion of its people.
But now the fires have come, and the Woods have been thrown into chaos. Flames ravage the land and destroy the homes of the humblefolk, stoking a growing resentment against the birdfolk, whose cities have managed to avoid the worst of the fires so far. Hatred burns in the hearts of those who have lost lives they cherished, and these once peaceful peoples now take up the sword and turn to banditry. The disaffected turn their gaze on Alderheart, and threaten to reduce an age of peace to ashes.
Zara Harlowe is an exclusive Big Bad Booklet.
The Big Bad Booklets are fully illustrated 5e booklets featuring new 5e boss monsters that include details about the boss's back story, personality, and tactics.
---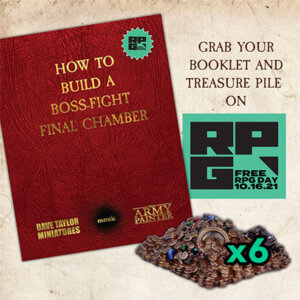 How To Build a Boss Fight Final Chamber (and treasure pile) from Dave Taylor Miniatures and Mantic Games!
Once again, Dave Taylor Miniatures has created an instructional booklet on how to build and paint an epic "boss fight" final chamber using the Gamemaster Terrain Kit from The Army Painter AND how to paint items from Mantic Games' Dungeon Treasure set.
This booklet describes how to use the contents of the terrain kit, along with additional tips and tricks, and is perfectly accompanied by a set of treasure piles provided by Mantic. One booklet and one treasure pile per person, available at Noble Knight Games on Free RPG Day 2021!
---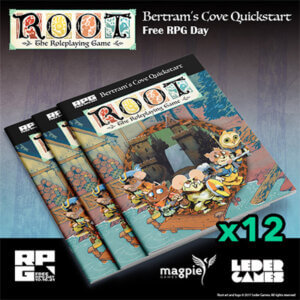 The Bertram's Cove Quickstart is an exclusive adventure for the Root RPG game.
As has been the case for generations, the denizens of Bertram's Cove cherish the Grand Lake as their home and birthright. Seeing the Marquisate slowly claim more and more ownership of their waters, the residents have had enough.
There are multiple included conflicts for the players to resolve. You'll be delivering bombs, catching spies, diving for buried treasure, and more!
– 8.5″x11″ Softcover booklet (and free PDF)
– Full color interior
– All necessary rules to play the Root RPG
– Some pre-generated characters
– Important NPCs, locations, and conflicts
---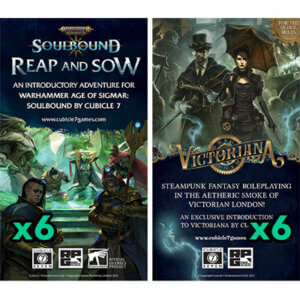 Age of Sigmar: Soulbound is set in Games Workshop's mythic fantasy setting of Warhammer: Age of Sigmar, where gods and monsters wage endless war in eight near-infinite realms. Players take on the role of Soulbound, god-chosen heroes of great power. They have been brought together through an arcane ritual and granted the might to stand against the tide of Chaos, Death, and Destruction.
Cubicle Seven's Free RPG Day adventure, Reap & Sow, follows a group of epic heroes as they defend a fledgling settlement in the Realm of Death, which finds itself under siege by a nightmarish army of the undead.
---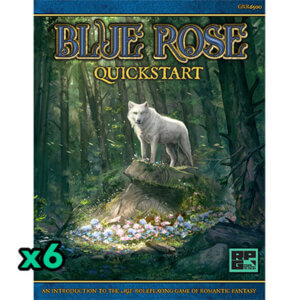 The Blue Rose RPG stands out from the crowd with its unique setting inspired by works of the romantic fantasy genre.
Green Ronin's Free RPG Day exclusive is a Blue Rose Quickstart adventure—The Rhy-Wolf's Woe. The story takes place in the vast wildernesses of the Pavin Weald. It's a primordial old growth forest that is home to monsters and spirits and rhydan. Rhydan are the sapient psychic animals of Blue Rose, who are among the player character types available for play! This adventure was written by Stephen Michael DiPesa, and it captures so much of the spirit of Blue Rose perfectly.
Also important to the Blue Rose setting are its cast of diverse characters. To highlight those, April Douglas crafted a set of nine pre-generated characters. Rather than a motley band of barely-connected adventurers, however, April created something distinctly Blue Rose-like: the Family Nightsong, an extended family of remarkable people. Though built around a constellation family (as a marriage between three or more folk is called), the Family Nightsong is more than that. The types of connections between its members range from spousal to parental to filial and more. The Nightsong folk may not all be related to one another, but there is no doubt: they are family, at day's end.
---
Modiphius brings us a trio of RPG items this year!
The Dune: Adventures in the Imperium RPG takes you into a far future beyond anything you have imagined. This Free RPG Day 2021 exclusive—The Wormsign Quickstart Guide—is a complete adventure designed specially to introduce the rules and the incredible science-fiction setting of Frank Herbert's Dune. The guide even includes includes six elite agents as pre-generated characters to let you get playing as quickly as possible!
This Star Trek Adventures Quickstart takes you to the Final Frontier of the Galaxy, where new discoveries await keen explorers of Starfleet. The booklet contains an introduction to the main game's core rules, plus a self-contained adventure with six pre-generated characters for you to enjoy! [ Check out the full Star Trek Adventures product line here! ]
The Achtung! Cthulhu Quickstart provides an exclusive adventure and five pre-generated characters in the Lovecraftian roleplaying setting during World War II. Discover the truth behind the malign influence of the Mythos on the Nazi war machine and save mankind!
---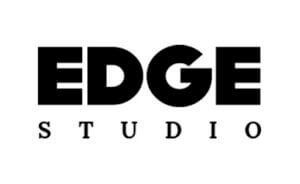 Edge Studio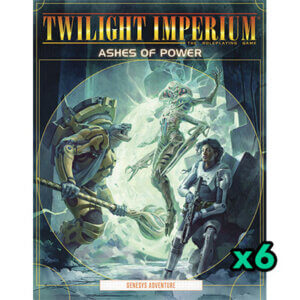 Edge Studio is a new Asmodee-owned company and seems to be emerging as the single point of RPG development for the publishing juggernaut.
Edge's contribution to the Free RPG Day stash? A Twilight Imperium Quickstart—Ashes of Power.
Inside you'll find simplified rules for the Genesys system that the RPG uses, pre-generated characters, and a full story to play!
We should soon be getting information about the Embers of the Imperium full sourcebook for those interested in diving head-first into roleplaying in the Twilight Imperium universe!
[ Check out the 1999 version of the Twilight Imperium Roleplaying Game from Fantasy Flight Games! ]
---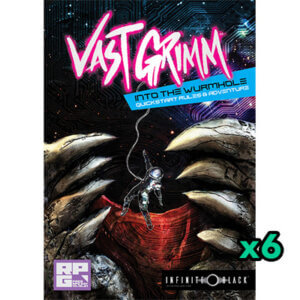 "Each miserable day that passes, the universe inches closer to its inevitable demise."
Vast Grimm is a stand alone, art-filled, punk-fueled OSR role-playing game about the few humans remaining in a universe being consumed by growing parasitic würms.
Into the Würmhole is a disgusting adventure set in the Vast Grimm universe. This intro adventure includes everything you need to play, except the dice. Try not to die, but more importantly, do your best not to get infected and become one of The Grimm.
Are you a MAnchiNe ravaged by war, pieced together with remnants of bots and the little flesh left of your body? Maybe you're a twisted biochemist shoving needles into your arms in hopes that this next fix will be the one that saves you and what's left of humanity? Or perhaps you are a soul survivor, like a cockroach, doing whatever necessary to stay alive even if it means the rest of your Legion must perish.
---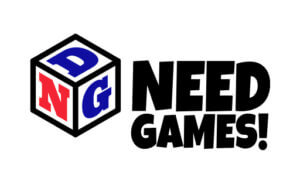 Need Games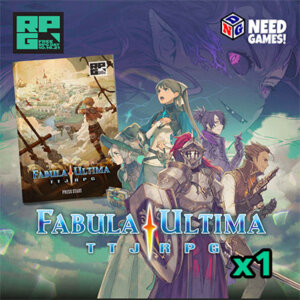 Fabula Ultima is a Tabletop Role-Playing Game inspired by JRPGs, the Japanese videogame RPGs.
In Fabula Ultima, you and your friends will tell epic stories of aspiring heroes and fearsome villains. It is set in fantasy worlds brimming with magic, wondrous places, and uniquely bizarre monsters!
Press Start is Fabula Ultima's ready-to-play introductory scenario. It's a complete tutorial that will plunge you into a tale of bravery and memorable characters…all you need is the courage to fight for what you hold most dear!
This is your world, this is your story. Make your choice and fight for what you believe in.
---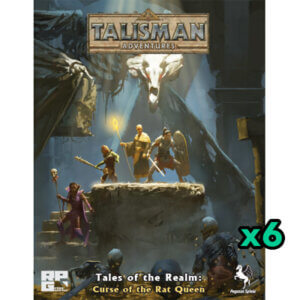 Prepare for daring quests and mighty deeds in Curse of the Rat Queen, Pegasus Spiele's Free RPG Day 2021 adventure for the Talisman Adventures Fantasy Roleplaying Game!
This tale of betrayal and greed takes the heroes from a remote village filled with secrets to ancient ruins deep within a foreboding forest. Rats are in every shadow, but are they the true monsters of the tale?
This booklet has everything you need to start playing, including a condensed rules set and four pre-generated player characters. The adventure itself teaches additional rules as needed while the tale unfolds. This makes it ideal for both novice and veteran players to learn the Talisman Adventures game system.
---
It is a land like no other, a place where steam power and gunpowder meet sword and sorcery. An Echo in the Darkness is a free adventure for Privateer Press'  The Iron Kingdoms RPG. The game possess a rich history—and a tumultuous future—full of unique monsters, deities, heroes, and villains. Immerse yourself in the detailed world of gritty conflict and sorcery with the Iron Kingdoms RPG.
Unleash the power of mechanika, the fusion of magic and machine. Take on the persona of unique character classes! Like the gun mage who combines powerful magic with a deadly acumen for firearms! Or the steamjack-commanding warcaster! Travel through a fantastic world that takes classic fantasy concepts and gives them a new twist with a high-octane rush of steam power and industrial engineering. Prepare yourself for an experience like no other.
---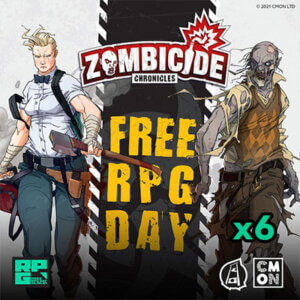 Calling all fans of Zombicide!
There's a zombie plague overrunning the world. The recently-dead are roaming around, hunting the living, ready to tear them apart on sight. Some survivors chose to hide away in bunkers or caves, but that's not you. You're going to attack these zombies head on. You're going to commit Zombicide.
In Zombicide: Chronicles – The Roleplaying Game, players take on the role of survivors of the zombie apocalypse. They must learn to work together, trust one-another, and form strategies to fight the zombies if they want to stay alive.
The Free RPG Day booklet contains Quickstart rules and three exclusive missions to get you geared and slaying fast:
1 – Cruise of the Dead
2 – Death Is Just A State Of Mind
3 – Third Level Underground
---
The Hills Have Legs is an Epic Encounters classic dungeon crawl against the nastiest group of goblins you've ever met! Trust us when we say, this particular clan is going to haunt your player's nightmares. This adventure is TOUGH. The goblins your players will be facing are dug-in, hunkered down, and they are not to be taken lightly.
In this mini Epic Encounter you'll find guidance on running an encounter. Also included are tips on making sure every turn builds jeopardy and excitement, keeping your players on their toes… if they have any left after this battle, of course! The adventure is 5E Compatible!
---
Sirius Dice has made a beautiful, wooden dice box/tray for this year! The lid is held to the base by two strong magnets. There is foam lining in both the base and lid to protect your dice!
---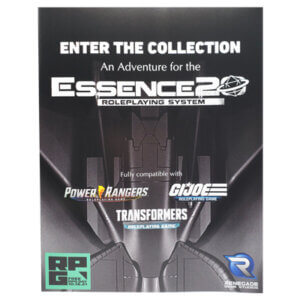 Renegade Game Studios is bringing you Enter the Collection—an adventure for the Essence20 roleplaying system.
Your party finds themselves in Crystal Springs—a town of roughly ten thousand—where seemingly nothing extraordinary happens. However, the last several weeks have seen a rise in missing persons reports, emergency room visits from anonymous violent crimes, and a sharp increase in late-night activity outside of city limits in the industrial park.
The adventure takes place in and around Crystal Springs. A concerned citizen who knows about the special nature of the player characters reaches out to them for help. What they get involved with beyond that point, is another matter altogether!
---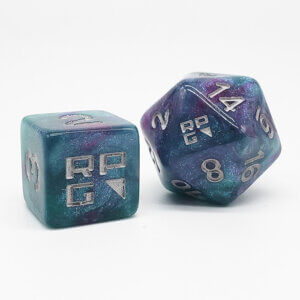 Another Free RPG Day, another set of beautiful dice to go with it!
Gate Keeper Games has been developing games and dice for over 15 years
[ Check out Free RPG Day dice from years past! ]
---
[ Browse all the Free RPG Day and 1 Cent items now! ]
[ Check out more in-store events at Noble Knight Games! ]
[ Free RPG Day products from previous years still available here! ]