Fallout: Wasteland Warfare Sundays
---
Join other scrappy local survivors for an afternoon of post-apocalyptic tabletop skirmishes in the unforgettable world of Fallout!
When?
11:00am – around 3:00pm
Alternating Sundays. Check calendar for next event!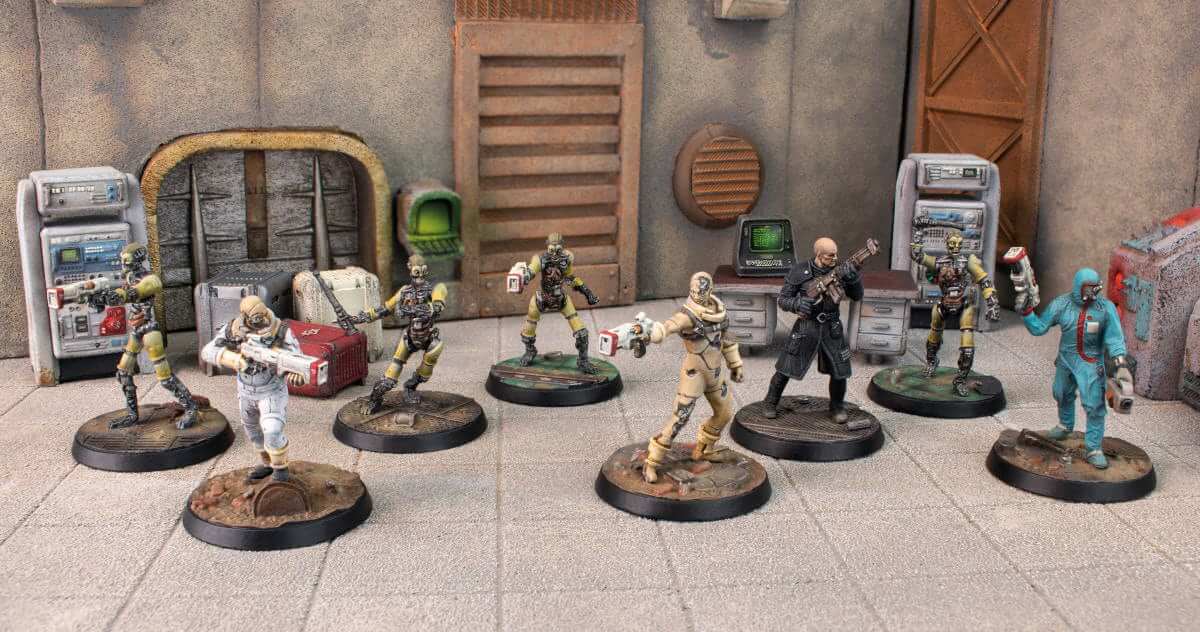 The Game
The World: Set in the world of the popular Fallout series of post-apocalyptic video games, this Modiphius Entertainment's miniatures based tabletop skirmish war game puts you and your ragtag bunch of survivors right in the middle of the action. But it's not just battle, narrative missions give this game an RPG element that players of the video game will be well familiar with.
Gameplay: Players build their own crew from a wide range of factions, allies and iconic characters from the Fallout series. and play in apocalyptic games of anywhere from three to thirty 32mm scale resin miniatures, through a huge variety of iconic scenery and settlement buildings, from the Red Rocket to Sanctuary Hills, Nuka-Cola vending machines and wrecked cars. Pick units or characters to be 'Heroic,' giving them access to V.A.T.S bonuses, then select a Leader who can gain Perks and other abilities to support your crew. Develop your settlements buildings, defenses and resources, which impact your crew's army list and abilities in the wasteland.
Group or Solo: One of the nice things about this game is its play versatility. You can game in a group like the one meeting at Noble Knight Games, but you can also keep action going solo-survival style at home. The game uses a customizable solo-play AI deck to control enemies that play to their strengths, and replicate a faction's tactics while attempting a narrative mission, or straight caps based battle.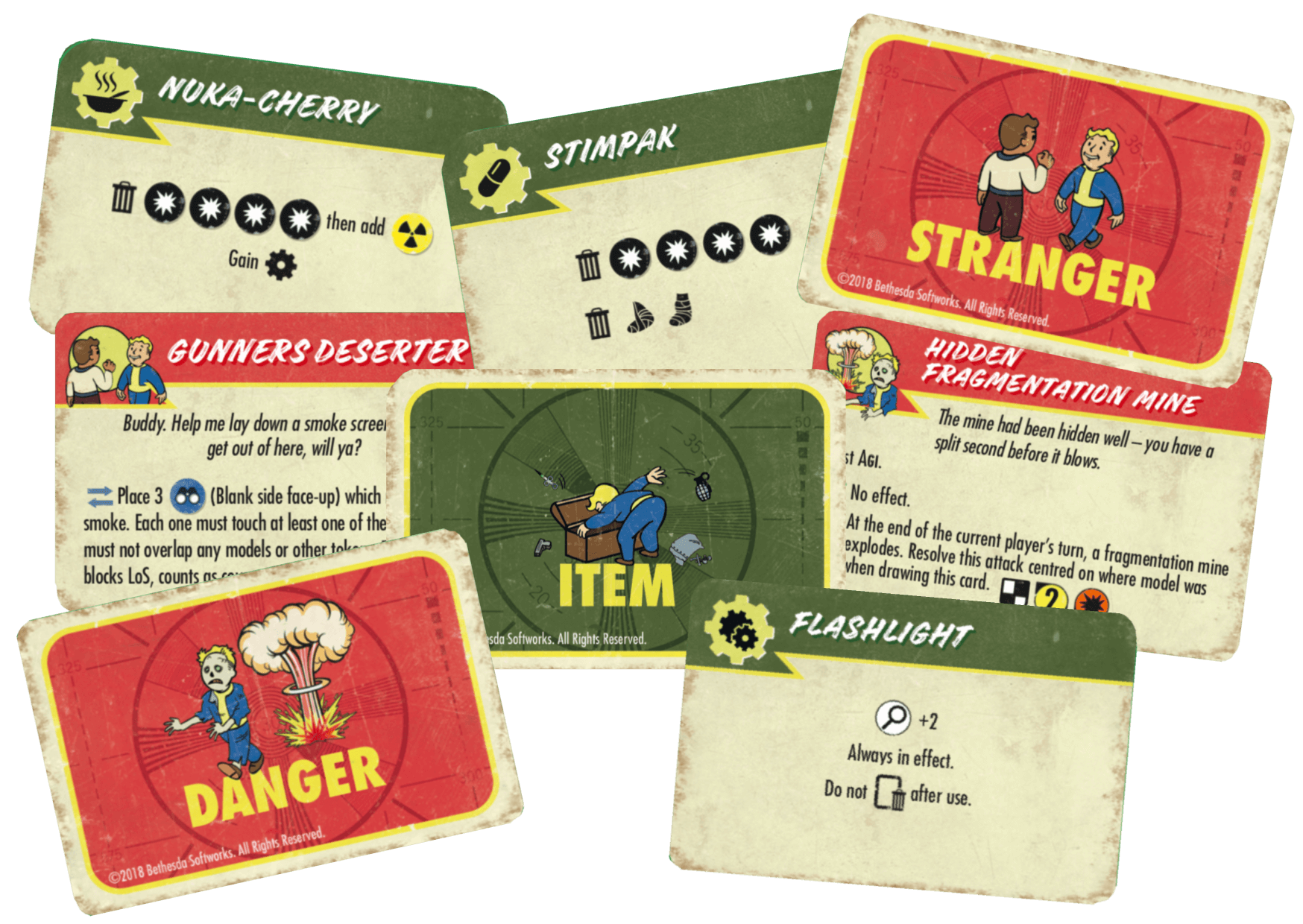 Format
Casual: Shake off the irradiated dust, grab your wazer wifle and come on down! This is a casual play event, though plans are in the works for a storyline league with the upcoming new edition releases.   Feel free to drop in, join the games, just take a look, or request a demonstration from the friendly local group in attendance.
Missions: The games held here are all (typically) missions based. Prior to each event, missions are selected and set up, after which players choose their team. For this reason it is recommended to bring a fairly wide selection of your characters, so that you can custom pick your units to best suit the mission.
The App: Also recommended is the use of the Fallout: Wasteland Warfare App for Android or Apple, which makes building your forces faster and easier, and also aids in the battle mode. The app is free to download and comes with the same unit cards and equipment that you get in the core box set. (Additional cards are available as in app purchases.)
Resources: A number of free downloadable resources and guides are available in .pdf format. Force Lists, New Rules, Guidance and Updates, Errata, Scenarios and Campaigns to keep you busy in the wasteland! Visit the Fallout Downloads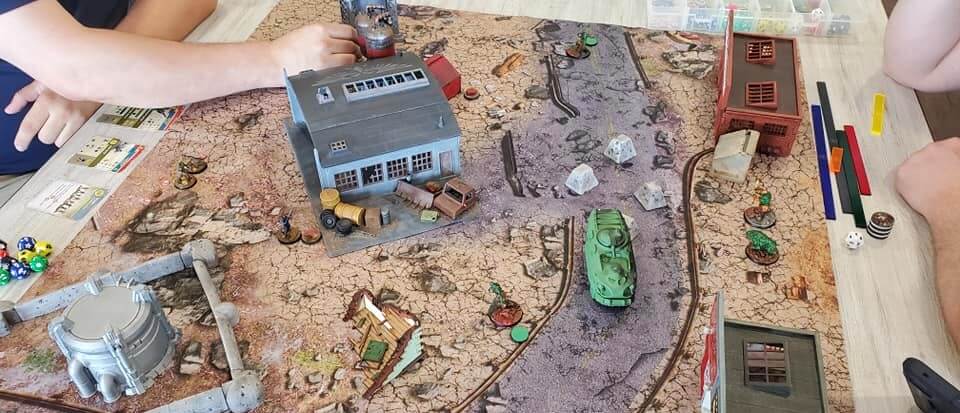 Join Up
Join a community of Madison area players scrambling to survive the Wastelands in Modiphius' Fallout: Wasteland Warfare!  While not required, giving the group a heads up that you plan to attend and play can help make game setup smoother and faster. Updates are also provided within the group for any specific missions or cap requirements, special events, etc.
Head over to the Fallout Wasteland Warfare (Greater Madison Area) Facebook group for more info and to join the crew.
We hope to see you soon at Fallout Wasteland Warfare Sundays!
---