Enter the Clarence the Kobold Miniature Painting Contest at Noble Knight Games!
Entry is now closed as we've sold all of our Clarence miniatures!
---
Navigation
The Mini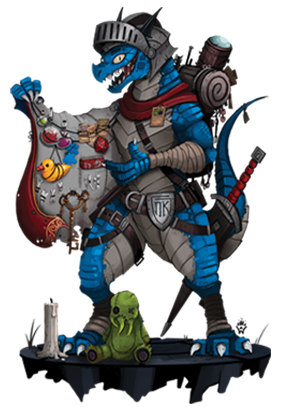 Clarence the Clearance Kobold has become somewhat of a legend around the store. If you come in to the castle here, you'll find him sneaking around, offering his deeply discounted wares in the Kobold Corn'r.
Sometimes Lady Noble Knight has to leave the castle to travel across the kingdom, and like clockwork Clarence the Kobold slinks out from his hiding spot to put virtually the whole website on clearance until she comes back and catches him!
Now Clarence has been cast as a crafty little miniature—with a wooden base included—and we're offering him up for free when you enter this miniature painting contest. You can buy entry to the contest in-store at Noble Knight Games. Just ask any store associate!
Clarence the Clearance Kobold, painted by paintlab_tofudy.
[ Back to Top ]
---
Participation & Entry Fee
All painters of all skill levels are welcomed to enter this contest. Even if it's your first time! You could even drop by Mini Painting Day to learn the ropes.  Or maybe you're already an experienced painter. Well, show it off! We love seeing what you do.
Contest Entry Fee: $10
Don't want to paint? You can still be a part of this contest, by voting for your favorite entry during the public voting dates. Which one do you enjoy the most? The winner will be crowned Crowd Favorite of the competition!
[ Back to Top ]
---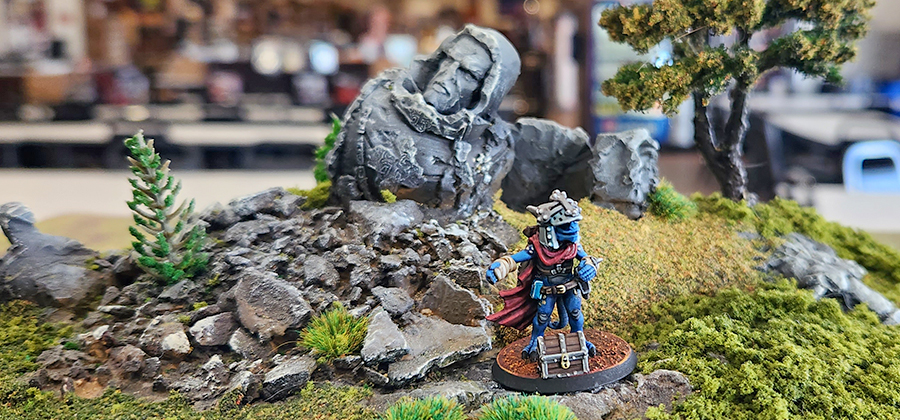 Judging Categories
All submissions are eligible for Crowd Favorite, and this can be awarded to a submission that has already won one of the other categories. Inversely, submissions cannot win a combination of 1st, 2nd, or Most Creative.
Our judges score entries on:
Color Use
Clean Lines
Highlighting/Shading
Originality
Overall Look
Basing
All of these metrics are weighted equally with a maximum of 5 points possible, except for Basing, which has a maximum of 3 points.
1  First Place
2  Second Place
3  Most Creative
4  Crowd Favorite
Our judges get out of the way and let the masses choose their favorite! Everyone who visits our brick-and-mortar store during the voting period can look at the display full of submissions and vote for the one that they like the most. Whichever mini receives the most votes is the winner!  Remember, you can win Crowd Favorite on top of any of the other categories.
Prize: $15 Store Credit
[ Back to Top ]
---
The Timeline
These are the important dates/times to know for the Clarence the Kobold miniature painting contest.
1  Submission Deadline
Drop off your mini at our brick-and-mortar store by closing time on Sunday February 26.  The minis will be displayed in-store for viewing and voting before we open the next day!
2  The Voting Dates
Voting begins Monday February 27. Voting ends Sunday March 5. Stop in to the store during this time to catch a glimpse of the gorgeous submissions and to cast your vote for Crowd Favorite!
3  Winners Announced
On Monday March 6, we will tally the votes. We will then announce the winners in an article here on the Gaming Hall website, as well as on social media platforms! Miniatures will remain on display for another week following this announcement, in order to show off the winners!
4  Pick Up Your Mini
On Sunday March 12, all miniatures will be out of the display and ready for you to pick up after that date. We will hold them safely in the office for you.
Note: Please pick your mini up within a month of the above date or it becomes forfeit.
[ Back to Top ]
---
Miniature Painting Day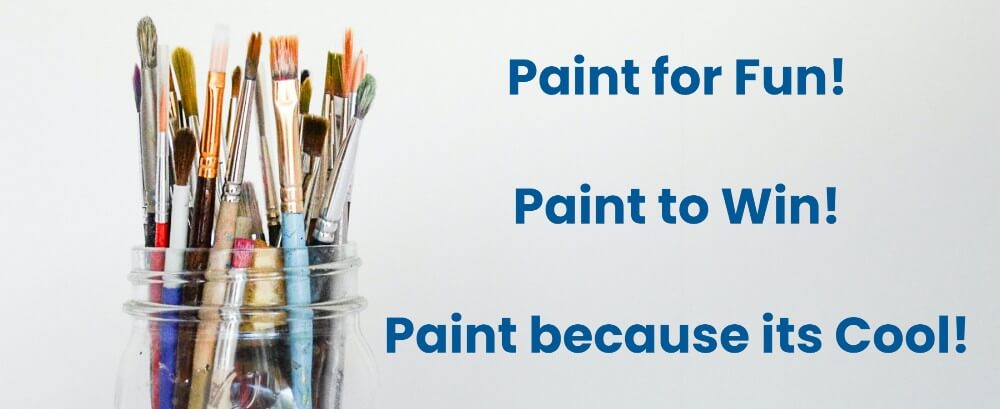 Did you know that Noble Knight Games hosts a FREE Miniature Painting Day with the Madison Miniature Painters every month? All are welcome to this family friendly paint-and-take. Paint our freebies with supplied paints and tools, or bring your own project and supplies and show off your work in progress.
It's a great day to try painting for the first time, paint your entry for the contest, (or anything you like!)  and learn from other area miniature painters, or teach them a trick or two! Or, just come hang out and chat with others who love the hobby.
When: First Saturday of each month at 1:00.
We hope to see you there, and don't forget to submit your entries to the contest!
[ Back to Top ]
---