Goblin Vaults Demo Day w/Thunderworks Games
Our friends and neighbors at Thunderworks Games are visiting the NKG castle for another rousing game demo day. They'll be demonstrating and running games with their new release—Goblin Vaults. Plus, Shawpawprints will have her pop-up stand packed with fantastic art and art-adorned-items for sale.
Sunday March 5 from 10am ~ 2:30pm
This is a free event!
---
About the Game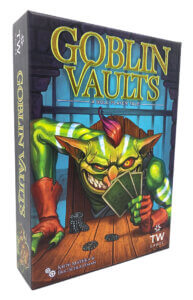 In the dark corners of Kulbak Prison, away from the prying eyes of the guards, you're likely to find inmates huddled together in secret, playing a game of Goblin Vaults.
Goblin Vaults is a strategy card game for 1-5 players featuring bidding, card placement, and scoring patterns. In the game, you wager cards to win loot from the central cell block, then stash that loot wisely in your vault, earning gears based on the position of cards within that vault. You can also gain gears from scoring objectives that change each game.
​
With cunning and clever scheming, make your bid to be feared amongst your peers! You'll need wits and luck to play your cards right as you fill your vault and influence the warden in your favor. After nine rounds, whoever has the most gears wins!
---
---
Shawpawprints — Watercolor Artist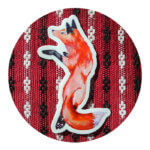 Ashley's watercolor pieces dance between playful and elegant—often inspired by tabletop games. You can check them out on her Instagram, Etsy shop, or in-person at Noble Knight Games on March 5th!
[ Back to Top ]
---
[ View Noble Knight Games' Event Calendar ]
[ Browse all Thunderworks Games items ]