Amigo Games — Publisher Spotlight
AMIGO Games recently made Noble Knight Games their official online retail partner! We're proud to be their preferred vendor, from new releases to their out of print favorites. In celebration of this beautiful new partnership, we're featuring Amigo Games as our Publisher Spotlight.
Amigo Beginnings
Perhaps an unexpected origin story, AMIGO Spiele (AMIGO Games' German parent company) began in 1980 at a former prison.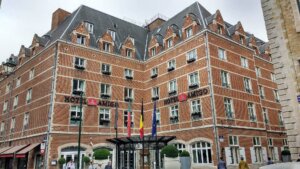 The name AMIGO came from Hotel Amigo in Brussels where Rudolf Jansen and Günther Voigt agreed to found the company. The hotel, built by the Dutch in the late 16th century, was indeed originally a prison. "Amigo," in the local Dutch dialect, meant "prison;" So when the Spanish took over the area, they misinterpreted it to mean "friend," as it would in Spanish. Without this misunderstanding, AMIGO Spiele might have turned out to be Prisión Games—which sounds much less friendly!
AMIGO have published countless classics like Heimlich & Co, and Café International, and continues to put out fun and impactful new titles for the tabletop like Carnival of Monsters and Abandon All Artichokes. We wanted to get a little look behind the curtain and AMIGO were kind enough to oblige!
---
Chat with AMIGO Games
Alex Yeager, COO of AMIGO Games,  provided some insight into the company for us:
Thanks for the opportunity to get more insight on AMIGO and what makes you tick! What is AMIGO about and what type of games do you publish?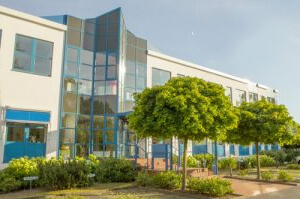 Where is your team located and why is it special to you?
AMIGO Games has a management office in Tucker, GA, but we work from our homes in Michigan and Texas. Home offices for the win! We are small but growing! In addition to our network of hobby stores and distributors, we have sales teams we work closely with to promote our games into the specialty and mass market. You'll find AMIGO Games in a variety of stores!
What are some of your team's favorite games or designers? Who/What are your inspirations or role models?
There are so many unsung heroes in this industry who are critical to the creation of the games that we love. In particular, the role of editor—what we call a developer in the US—is often a hidden job that, when well done, can make a good game great. People like:
Uwe Mölter from AMIGO — responsible for overseeing games like Bohnanza, Take 5/6 Nimmt! and No Thanks!
Stefan Stadler — who is additionally an amazing designer, with Pillars of the Earth and Cuba on his resume
Anita Landgraf — a force of nature at White Castle, who works with a variety of designers to place their games

And so many more!
I've been fortunate to work with so many talented editors over the years!
Any chance we could get an inside look at how you create your items, such as the journey from a design to a final product?
Game designs are reviewed by both the team in the US and the team in Germany, with designs eventually making their way to the office in Dietzenbach—outside Frankfurt—where a team of expert designers, editors and graphic artists review and develop the games that are chosen for publication. Games that are eventually published join our library of games being published worldwide, with over 50 licensees producing games in over two dozen languages! You can find more information about submitting a game to AMIGO on the AMIGO Spiele website.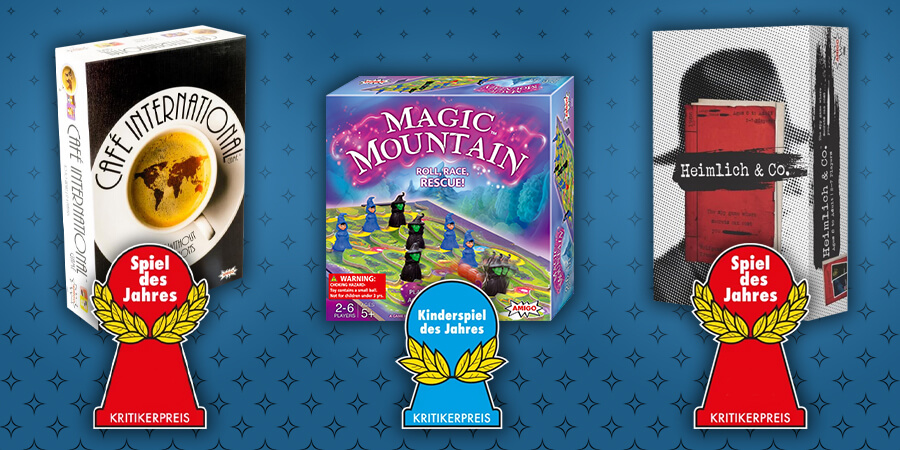 What made you want to get into game design/publishing in the first place?
For me—Alex Yeager, COO of AMIGO Games—I got into the industry as a fan, became a volunteer for Steve Jackson Games initially, and then worked with Mayfair Games, going from a demo person to VP of Acquisition and Development until our sale in 2017. I've been working with the AMIGO team—and even specific people within AMIGO Spiele—for over two decades as both a fan and as a licensee, and to be a part of the team creating this amazing catalog of games is both humbling and exciting!
Anything you'd like to add that folks should know?
There are four icons that appear on all of our family games
"5 Rules or Less" — you will learn this game quickly and easily
"European Quality" — which refers to both the physical components as well as the game's design
"Fun for Kids and Parents" — because we've tested with both
"Proven Top Sellers Worldwide" — when a game has sold tens of millions of copies before being released in the US, we're confident you'll enjoy the game!
When we look for games to publish, these are the guiding principles for our family line of games.
Thanks so much to Alex and AMIGO for taking the time to talk with us—and of course for all of the great games their team has contributed to the industry. We're looking forward to the next generation of classics they'll be releasing! As their official online vendor of choice, we'll be a great place to find their great games for years to come.
---
[ Read More Publisher Spotlights ]
[ Browse our AMIGO Games collection ]