Tago Collectibles
From Collectors, to Collectors
---
Noble Knight Games is proud to currently be the only North American retailer for this new Italian company with deep roots!
History in the making
Sharing common ancestry with Kabuki Models, Tago's home base in Rome is staffed with a team of collectors and artists whose passion for collectible art knows no bounds. With many of them working together over the last 15 years, their designs have become more refined and their passion has remained visible in the sheer beauty of their sculps and ever expanding range of complex models.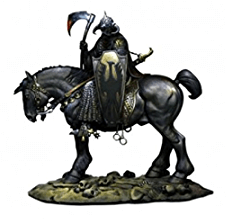 Owner Rodolfo Goglia started Kabuki and what would later become Tago Collectibles in 2004. When they originally launched, things were admittedly a little nebulous.
"My associates and I had no idea of where we were going, it was just about 'hey why don't we try to make and sell the things we love? '" he confessed. "In 2 years time, our goods were so popular that we were selling them to more than 12 countries!"
Having obtained the rights to produce miniatures based on the enormously popular works of artist Frank Frazetta including such legendary titles as the Death Dealer, their studio of sculptors and artists quickly gained recognition and acclaim. Intensive research and sanity-bending levels of attention to detail marked their sculpts and painted works as unforgettable additions to the miniature model scene, and they've never slowed down since.
Taking things to the next level
Now, Rodolfo finds himself in the shoes of art director and president of Tago Collectibles, formally founded in March of 2019 under the new banner.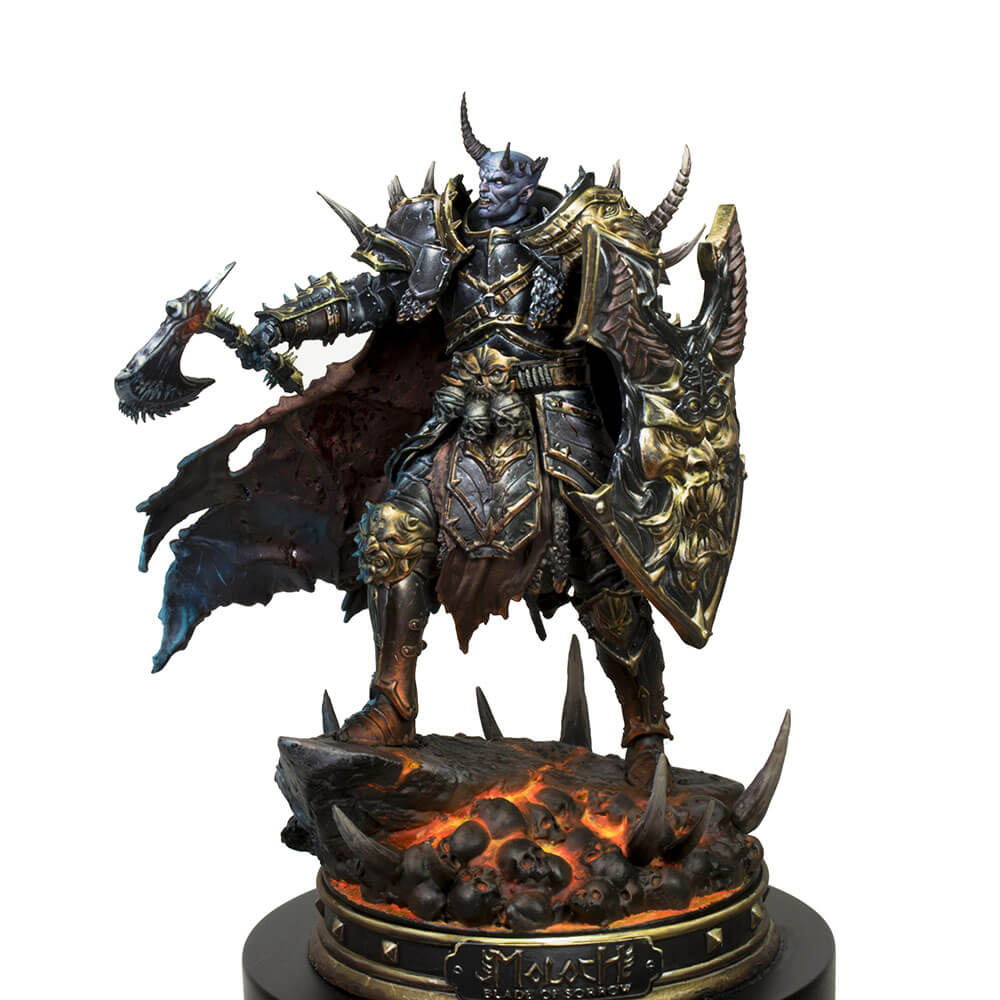 Tago boasts working with a range of fine artists and sculptors to create memorable miniatures, and Rodolfo is the nexus of all their talent. Some of the team has been around since the Kabuki days, and many of the Kabuki licenses have also been purchased and transitioned over to the new Tago name. So many old favorites are sure to be back!
Using only high quality materials and crafted entirely in Europe, Tago Collectibles currently focuses primarily on model kits and pre-painted collectible works. In a field where competition is fierce, their models continue to stand out as exemplary due to their premier artists and attention to the smallest details.
Many new sculpts are currently in the works under Tago's  roof, You can be sure we will be carrying them all, so keep your eyes out for more coming soon. Here's a little sneak peak of one currently in production: Moloch, Blade of Sorrows!
Tago Collectibles' Lady Mechanica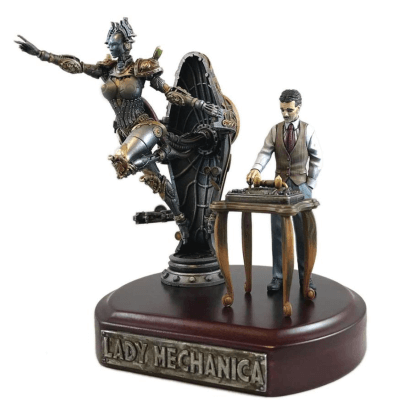 Designed by Alessandro Trombetta, this show stopping piece is available in a range of scales. It represents a full year of research and design, involving a full team of no less than 11 people to research, design, and finalize all the versions.
Inspired by Nikola Tesla, and his espoused beliefs that women are not only the intellectual equal of men, but that they would someday outshine the creations of men, this beautiful and technologically driven iron woman is leaping into a future filled with promise.
This sculpt was originally a Kickstarter, and funded in one day. Easy to see why, this sculpt breathes the spark of life into a mechanical wonder and celebration of modernity. Lady Mechanica is charging proudly into an unknown future, where the possibilities are endless. Her powerful and beautiful form evokes both beauty, brains, and brawn.
Fans of Steampunk aesthetics will enjoy the fine mechanical details and slightly art-deco vibe. More futuristic sci-fi fans could easily lend her a more chrome and high-tech appearance with a simple change of paint techniques. The possibilities, like the future Tesla envisioned, are bountiful and endless.