Publisher Spotlight: Role 4 Initiative
At the most basic level, you need three things to play a tabletop RPG: the rules, your imagination…and a good set of dice. Every gamer's approach to dice is a little bit different. Maybe you buy a new set every time you roll up a character for a new campaign. Or maybe you still have the same handful of trusty d20s that have been with you since you started playing. Dice are a part of the RPG experience that are as unique as the people who roll them.
Role 4 Initiative, a family-run company based in Portage, MI, understands this. They specialize in offering innovative, inclusive dice and other accessories for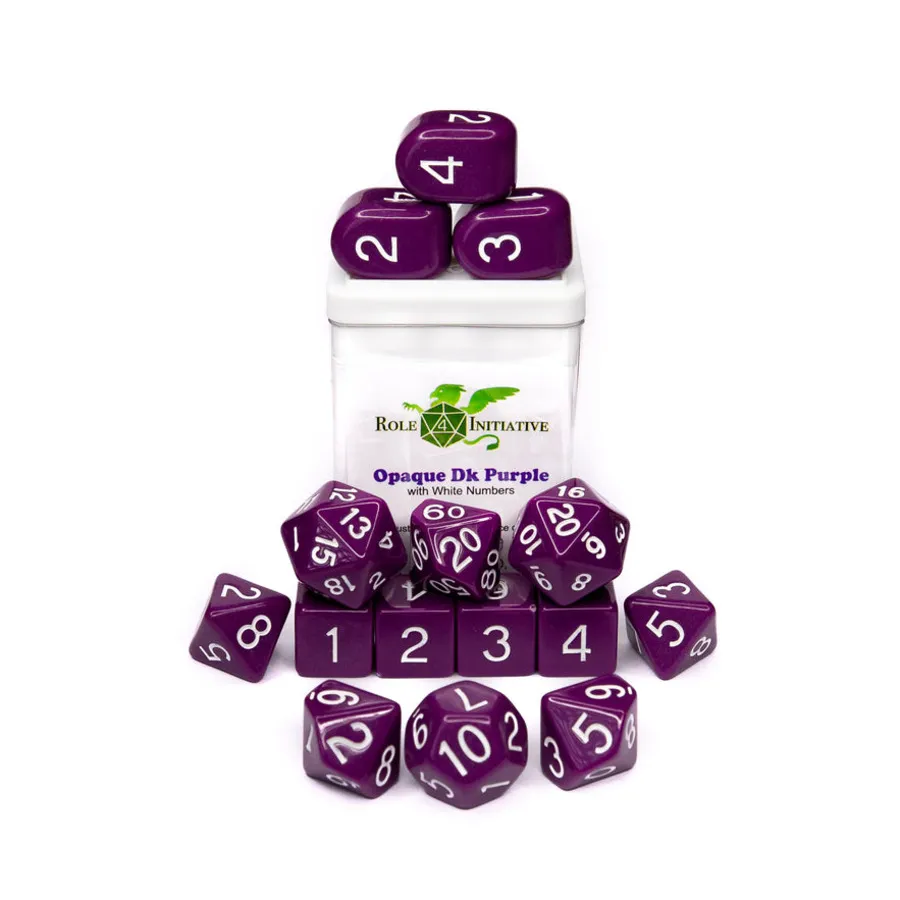 roleplaying games.
Inclusive Dice
Role 4 Initiative's dice are made to be highly accessible to a variety of gamers. By maximizing the size of the fonts they use, as well as carefully selecting colors and ink designs for visibility, they produce dice that are very easy to read. Additionally, Role 4 Initiative's dice are bigger than traditional sizes (about 30% bigger),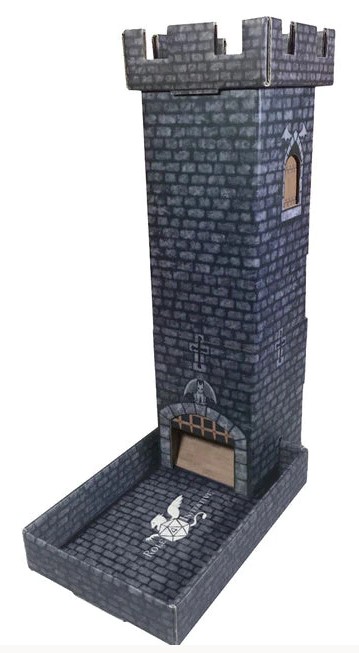 making them easy to pick up and giving them a satisfying heft when rolled.
Innovative Products
Role 4 Initiative offers over 100 unique dice color designs. From their popular Diffusion Dice to thematic Happy Holi-Dice and Classes & Creatures, chances are high you'll find a design that suits you. If you're a dice collector, Role 4 Initiative dice display beautifully as well, and look particularly great in a lighted display case. In addition, many of their sets include unique dice designs like the Arch'd4, a more spherical 4-sided die that's easier to roll and pick-up than the traditional shape.
A Family-Run Business
Like tabletop roleplaying itself, Role 4 Initiative was home-grown in the Midwest. Founded in 2009, the company began as a home-based business selling dice on sites like eBay. Today, the company operates out of a 12,000 square foot warehouse and office space. But they remain family-run, employing all six family
members working full-time. They've gone from being a dice reseller to a company who develops their own products in-house. As they've grown, however, they've maintained their focus on "providing practical products for budget-minded gamers."
Dungeon Tiles
We'd be remiss if we didn't mention one of our favorite Role 4 Initiative products: Dry-Erase Dungeon Tiles. You can draw on these tiles with a variety of marker types, including dry-erase, wet-erase, and liquid chalk. Because the tiles interlock like puzzle pieces, a GM can create a map ahead of time and then reveal the dungeon as the players explore it. The tiles come in a variety of colors, from earth tone brown to dungeon stone gray. They're a great alternative to traditional vinyl battle mats and encourage a fun, fog-of-war style exploration.
You can find an extensive line of Role 4 Initiative dice and accessories right here at Noble Knight Games.

We also had a chance to catch up with Role 4 Initiative and learn a little more about them.
An Interview With Role 4 Initiative
Thanks in advance for taking the time to talk with us.
A family-run dice business is pretty unique. How did you get started?
"In 2009, Jenny & John were homeschooling their four grade school-aged children and always looking for teaching accessories.  As a D&D player since the 1970's, John noticed that polyhedral dice were being sold as teaching aids much cheaper than dice sets for gamers.  Having an entrepreneurial spirit, we purchased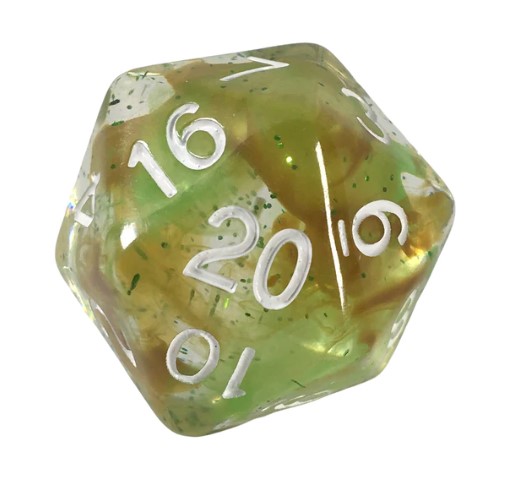 and repackaged bulk dice from teaching suppliers and sold them on eBay."
Besides dice, what products does Role 4 Initiative offer?
"Dice boxes & rolling trays, Dice Towers w/ turn trackers, customizable DM screens, erasable Dungeon Tiles, reusable Dungeon Dressing stickers, pre-painted miniatures, and enamel pins."
Is there an interesting story behind your name?
"Our company name is a many-layered play on words.  Obviously, a play on the D&D phrase 'roll for initiative', but also 'Role' puts an emphasis on role-playing games, the number 4 represents our four kids, who each play a distinct role in our business, and 'Initiative' emphasizes our efforts to keep in-person tabletop gaming active in this ever-increasing digital and isolating world of technology."
You mention Role 4 Initiative's "focus on providing practical products for budget-minded gamers." Can you tell us a little more about that?
"As a larger middle-class family, we understand the needs of average folks who all face budgets and want to get the most value for their money.  We focus on providing reasonably priced products of high quality and increased longevity and avoid inflating prices through Limited Editions or FOMO."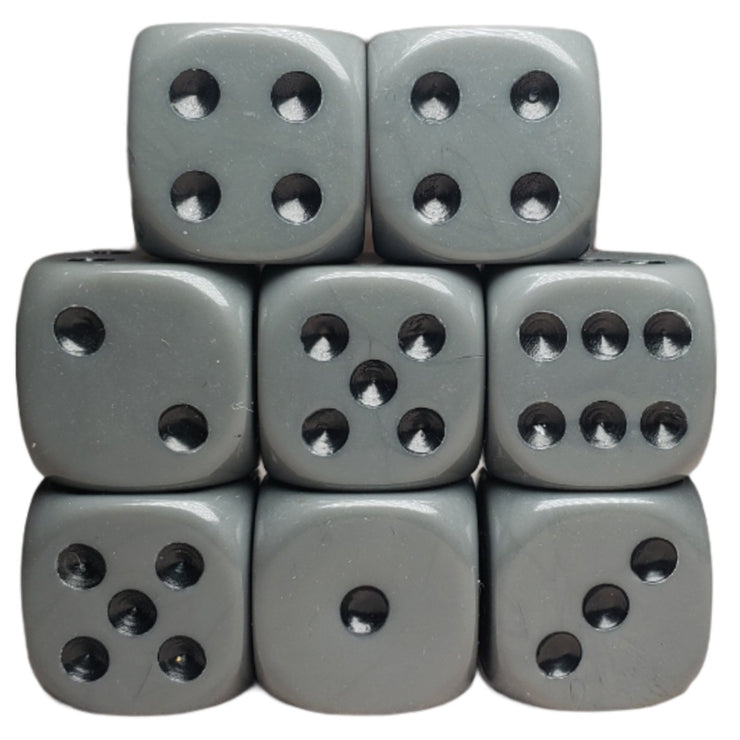 Can you tell me a bit more about the "Arch'd4" that you offer? Where did it come from? What are the advantages over a traditional d4?
"The Arch'd4™ would technically be called an extended cylindrical sphericon or an elongated version of a Steinmetz variant of a sphericon.  We modeled this shape several years ago when we were looking for a better alternative to the traditional 'caltrops' tetrahedral d4.  Introduced during our 2018 Diffusion Dice kickstarter, the Arch'd4™ has many advantages in that it is much easier to pick up, roll, read (top-faced and much bigger numbers), and you don't have to worry about taking d4 damage to your foot when you step on it!  And from an aesthetic point of view, the curves and chamfers of the shape really show off our beautiful color designs to their fullest!"
Do you think dice collecting has grown into a hobby of its own? What do you think draws people so strongly to dice?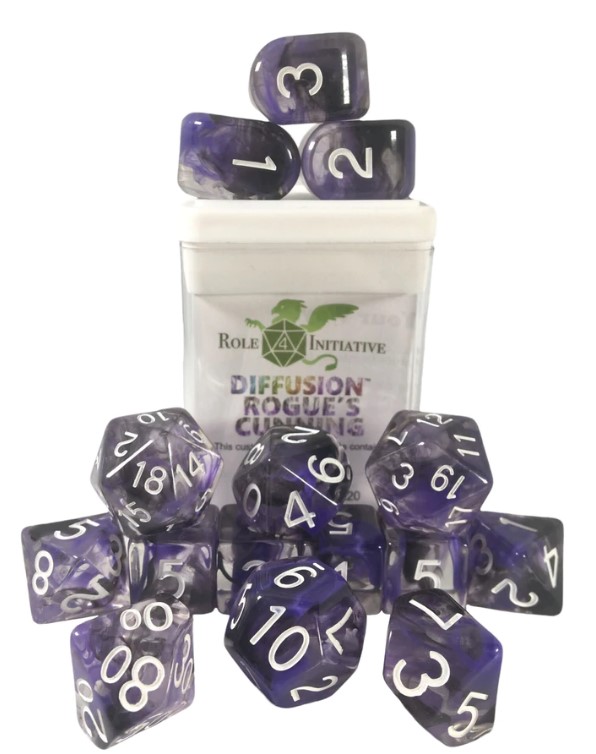 "Absolutely.  Dice provide an excellent blend of functionality, beauty, creativity, and fun whether their used in games or just put on display."
What's the strangest or most interesting custom dice order you've made?
"The gaming and dice collecting communities are very diverse.  What's unusual to one person is common to another.  Our most rewarding and humbling set of custom dice is our most recent set developed with our friends at Hall of Heroes in Ripley, TN as a fund-raiser for Suicide Prevention Awareness."
Do you think of yourselves as more of a dice goblin or a dice dragon?
"As a producer of dice, we are more like a dice volcano.  Periodically and unpredictably erupting with fantastic new creations that are pretty to photograph and expand our world."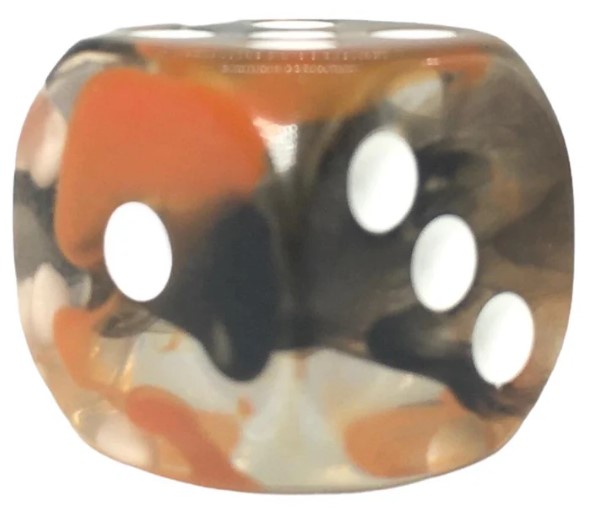 Is there anything else you'd like to add?
"Happy Gaming!"
Thank you so much for your time!