We understand that there are a number of reasons why you may find it difficult or impossible to attend Gen Con this year. You might be pretty bummed about missing out on such a cool gaming event. But never fear! Noble Knight Games is an official Pop-Up Gen Con host, and we're holding an exclusive, ticket-only, family friendly taste of Gen Con.  As one of under 200 stores in the nation selected to host, we're making this limited event something special.
When: Saturday September 18, 2021
11am to 5pm at Noble Knight Games, just minutes from downtown Madison, WI!
(RPG tables will continue playing past 5pm)
How to Attend – Important!
Things are a little different this year, and as such attendance to Pop-Up Gen Con is limited and requires advance registration.
Purchase of a badge through Gen Con is required in order to attend.  To purchase a $5 badge, simply go to Buy a Pop-Up Gen Con Badge, scroll down to select Noble Knight Games as your event location, and the site will walk you through the next steps.
When you arrive, our staff will check you in through the Gen Con page, and give you your Badge, swag bag, and program. Next, have fun!
We remind our Pop-Up Gen Con guests that face masks are required for all visitors over age 2 by Dane County Public Health.
What's going on?
We've got an afternoon filled with games and fun for badge holders! Including…
Pop-Up Gen Con lanyards and badges
Swag Bags
Demos of early-access Gen Con release games
Game demos & hosted games
RPG tables
Paint and Take Miniatures
Learn to play Magic the Gathering
Mini games, prizes, and more!
Special Feature Games & Demos
These games are unique to the Noble Knight Games Pop-Up Gen Con event. These games will be run by our special guests, and no other Pop-Up Gen Con will have these!
Cartographers

In Cartographers, Queen Gimnax has ordered the reclamation of the northern lands. As a cartographer in her service, you are sent to map this territory, claiming it for the Kingdom of Nalos. Through official edicts, the queen announces which lands she prizes most, and you will increase your reputation by meeting her demands.
But you are not alone in this wilderness. The Dragul contest your claims with their outposts, so you must draw your lines carefully to reduce their influence. Reclaim the greatest share of the queen's desired lands and you will be declared the greatest cartographer in the kingdom.
Roll Player

In Roll Player, you will compete to create the greatest fantasy adventurer who has ever lived, preparing your character to embark on an epic quest. Roll and draft dice to build up your character's attributes. Purchase weapons and armor to outfit your hero. Train to gain skills and discover your hero's traits to prepare them for their journey.
Earn Reputation Stars by constructing the perfect character. The player with the greatest Reputation wins the game and will surely triumph over whatever nefarious plot lies ahead!
Cape May  (Special early look – Not yet released!)

In Cape May, you'll build cottages, develop them into Victorian homes, and upgrade them into historic landmarks. Establish shops and grow them into profitable businesses. Carefully move around the city, and make strategic use of activity cards. Complete bonus goals, then take some time to relax and spot wildlife in the best place for birdwatching in the Northeastern United States.
Whoever best balances their income, development, movement, and personal goals will go down in history as the most successful developer of Cape May!
Paint & Take Miniature Painting Table

Our Miniature Paint & Take Table is the perfect opportunity for first-time painters and seasoned pros alike. We provide everything you need to paint your first (or 5,000th) mini. A wide selection of free miniatures is available from which to choose your favorite!
We'll have two experienced painters on hand (Tim and Paraj) to answer any and all questions you might have along the way!
Learn to Play – Magic: the Gathering

Learning Magic: the Gathering can seem overwhelming at first. Fortunately, our Magic: the Gathering expert, Charlie, will be there to give you an approachable introduction to the game and its mechanics. If you're curious about the game, don't miss this opportunity to build a foundational understanding of the basics from this knowledgeable source!
Pip System: Gargoyles (RPG)

The Pip System is designed from the ground up as a genre-bending rules system for any roleplaying game!
Perfect for introducing new players and kids to roleplaying!
Customizable character options with minimal bookkeeping!
Easy-to-learn mechanics utilizing only six-sided dice!
Includes all the rules needed to play (even a few premade characters to get you started)!
Journey for the Midnight Stone (Al-Qadim, RPG)

Al-Qadim is an Arabian Nights-themed campaign setting for the Dungeons & Dragons role-playing game. It is set in the land of Zakhara, called the "Land of Fate," which is a blend of the historical Arabian Empire and stories of legend.
Classic Traveller (RPG)

Traveller introduced a unique character generation system that helped it to stand out from other role-playing games of the time. Players took their characters through a career development path (usually in the military) where the player rolled for different assignments and gained extra skills, rank and retirement benefits. Leaving a character in service for longer before the game would lead to more skills and beginning cash but could also mean that basic attributes (such as strength) would begin to degrade with old age.
Hellos and Goodbyes (Golden Sky Stories, RPG)

Originally released in Japan as Yuuyake Koyake, Golden Sky Stories is a heartwarming, non-violent role-playing game that's great fun for all ages. It takes place in a small town in rural Japan, and players take on the role of henge (pronounced hen-gay, like a chicken that's happy), animals with just a little magical power, including the ability to temporarily take human form. They do not fight great battles or unearth valuable treasures, though. Golden Sky Stories adventures are all about helping others and becoming friends.
Into the Border Kingdoms (D&D Adventurer's League, RPG)

Night falls on Dungeons & Dragons' Border Kingdoms, a land rife with conflicts and schemes, where lords, counts, dukes, kings, and emperors rise, proclaim themselves, and are swept away with the speed and regularity of waves crashing upon a shore. As you settle in for the evening at a quaint little roadhouse by the name of Harker's Cleaver, all seems quiet. Were the stories of this turbulent region just that, or have the Border Kingdoms yet to reveal their true nature?
Pop-Up Gen Con Exclusive Early-Access Games
These games will be available for demo and play at Tables H, I, J, and K!
Dungeon Party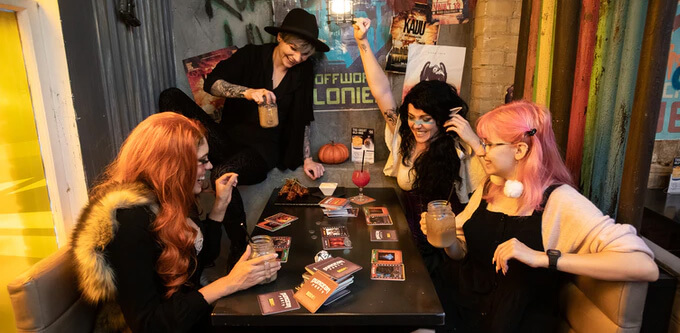 You will assemble a "Dungeon" by creating a stack of coasters where each encounter will include 3 coasters: a Room, a Monster, and a Treasure. Then you adventure through the dungeon by battling through each room, defeating the monsters, and looting the treasure.
Along the way, you may pick up magical treasures or spells that can help you in your quest. If you survive the dungeon, the player with the most treasure points wins. If you do not, the Dungeon wins!
---
Dungeon Decorators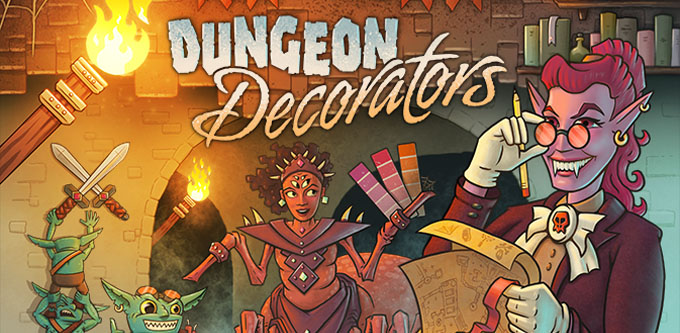 Dungeon Decorators is a competitive "light euro" tile-drafting strategy game for 2 to 4 players. Select tiles that give you the right combination of chilling chambers, harrowing hallways and dire decorations, then play goal cards to score points.
The player who scores the most points achieves victory by impressing the client and setting them on their path to becoming the next legendary evil!
---
Gravwell (2nd Edition)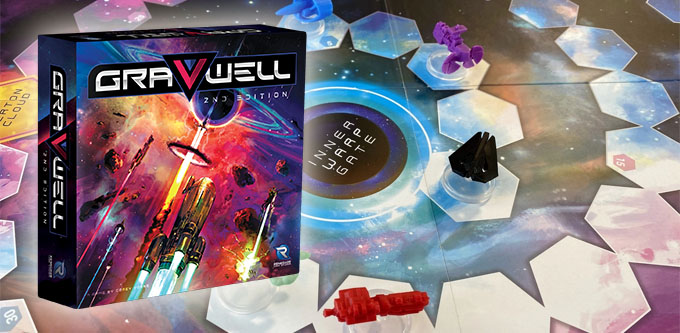 In Gravwell (2nd Edition), you're among a flotilla of ships that survived passing through a black hole. The fabric of space and the general physics you've known have changed. You quickly discover that your engines are offline, but you can navigate crudely using your tractor and repulsor beams!
By mining asteroids and collecting raw elements from space dust, you muster just enough force to move your spacecraft. You lock onto another object, perhaps a spacecraft, and creep toward it. But just as you're about to engage your tractor beam, its captain engages his beam, catapulting his ship past you. If you don't act quickly, you'll be pulled the wrong direction. It's a real mind-bender!
---
Bayou Bash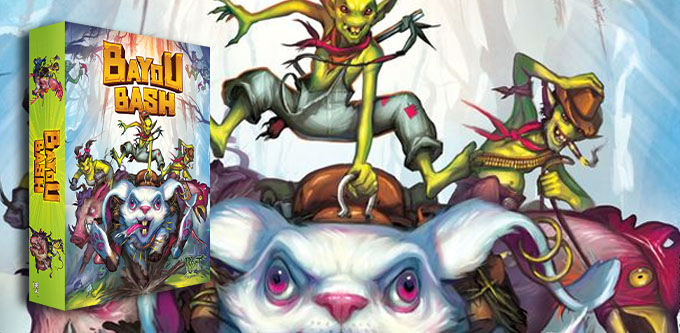 Bayou Bash is a chaotic racing game for 2-4 players filled with rambunctious racers who will do anything to win over the most fans before crossing the finish line. Each player takes control of a racer with unique abilities, and must battle for victory across the customizable track while gaining fans along the way.
In Bayou Bash, it's not about who crosses the finish line first, but who pulls off the craziest tricks during the race!
---
Taco Bell Party Pack Card Game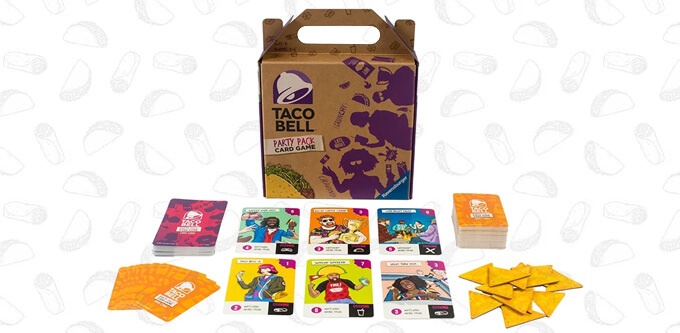 Players gather various kinds of Taco Bell menu items, including crunchy tacos, bean burritos and Freezes, in an attempt to feed a crew of Taco Bell fans. Each member of a player's crew comes with specific cravings that need to be sated and doing so earns crave chips — tokens that look like tortilla chips and that have a surprise amount of points to reveal at the end of the game. Players can also use "sauce cards" to help snag food items and win.
---
Mickey & Friends Food Fight
Get in on a chaos of concessions by tossing different dishes and treats from the Snack Shack to clear your tray the fastest! Simultaneously roll dice and follow what types of food to toss, how many, and in which direction… while avoiding others' food!
Empty your tray and be the first player with three Mickey Medals to win the Mickey and Friends Food Fight!
---
Pop-Up Gen Con Special Guests
We're lucky enough to be joined by both Crystal Mazur, and representatives for Thunderworks Games, among those who will be running and demoing games. A big thanks to all the folks running games at our event; you're all special guests in our book!
Crystal Mazur

By day, Crystal is a mild-mannered educator with an affinity for superheroes and anything geeky. By night, Crystal is a freelance writer and artist who is inspired by horror, fantasy, and New Orleans.
She has written supplements for the RPG FirstFable, which is a game for children ages 4 to 14 that focused on a Halloween adventure.
Crystal was also a freelance writer for Third Eye Game's Pip System Core Book, and is the Pip System Game Developer, creating Primer content for the system each quarter and helping other games create their world using the Pip System!
Thunderworks Games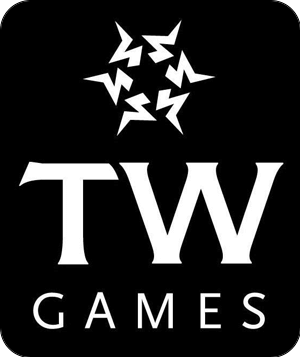 Founded in 2013 in Madison, Wisconsin, Thunderworks Games is an independent publisher of award-winning strategic board and card games.
Best known for titles including Roll Player and its spin-off Cartographers, Thunderworks Games is dedicated to designing original and innovative games with amazing artwork and high caliber components, collaborating with excellent designers and artists to produce thoughtful, memorable, enjoyable games.
Check out our article on their upcoming game, Cape May, for a closer look at this beautiful euro-style game; or read more about the company itself in our Thunderworks Publisher Spotlight!
---
Who? What? Where?
Want to know what games are being run, who is running them, and at which table you can find them? We've got you covered!
This layout and schedule is being regularly updated, final arrangement subject to change
View schedule in Google Sheets here!
---
We look forward to seeing you at Pop-Up Gen Con!