Noble Knight Games – 25 Years of Gaming
Twenty-five years of online & FLGS evolution
As we recently updated our website, we spent some time reminiscing on Noble Knight Games' earliest versions of the website and graphics.
We thought about where Noble Knight Games got started, and the path that got us where we are today. Take a journey down memory lane with us, through 25 years of serving gamers online and in the flesh, all around the world.  As you can imagine, things looked (and worked) a little different back in 1997…
*Cue the flashback cut scene transition*
---
1997
In 1997, our founder and President, Aaron Leeder, started offering rare and out-of-print RPG books and war games for sale and trade. These early items were extras from his personal collection of old Dungeons & Dragons books.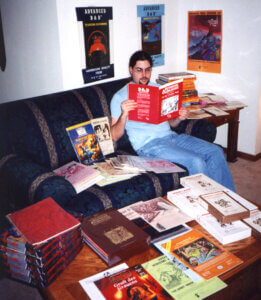 Still working his day job at General Motors, selling RPGs was a side job which Aaron operated out of his living room in Janesville, WI. He would advertise the items he had for sale on various forums dedicated to roleplaying games and historical war games.
Aaron very quickly became a trusted seller in those communities and his collection began to grow. As business picked up, he acquired more items and more loyal customers. His shelves were beginning to fill up with products he was selling through the online forums.
Pretty soon, he would outgrow the RPG message boards and break digital ground on his first online store.
---
1999
The earliest iteration of our site that we could dredge out of the annals of The Interwebs is this: an early 1999 edition of Aaron's Out of Print Games.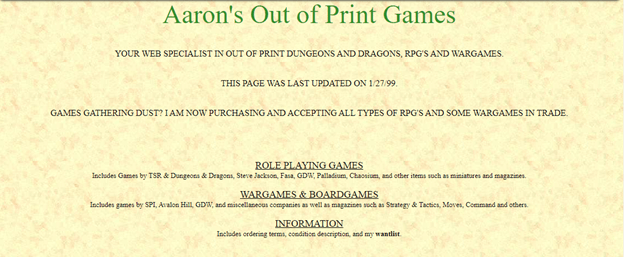 Before Noble Knight was Noble Knight, the business was called 'Aaron's Out of Print Games," hosted as a simple text site on aol.com.  Aaron,—being the original Noble Knight—worked the entire operation himself.
Orders were placed exclusively by email; no shopping cart existed on the site back in the olden days of 1999!  If a rare game was in-stock, you had to hope to get your email in before another eager buyer saw the item for sale.
Buy-Sell-Trade was a foundation for the company even back in the late 90's. The business was started with a focus on Role Playing Games, Wargames and Board Games. Most of the stock consisted of TSR, Steve Jackson, FASA, GDW, SPI, Avalon Hill and S&T, Moves and Command magazines.
Specializing in the out of print, few "New Release" games were present at this point. Over time, as more items joined Aaron's collection, further variety of games and new releases also became available.
---
2001
Now it is the turn of the century… Noble Knight has moved to its new online home at www.nobleknight.com, and is shipping all over the world.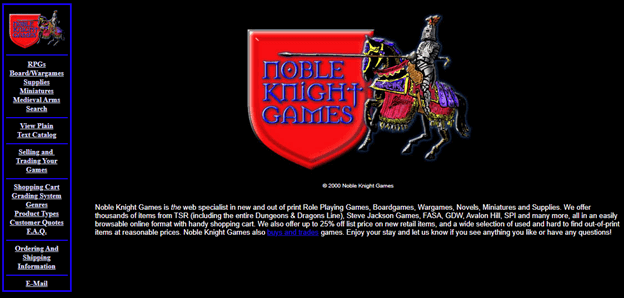 Here you'll see the initial versions of our Shield and Helmeted Knight graphics. This noble heraldry would form the groundwork for all our future graphics and logos.
You can also see that miniatures have now been added to the catalog, and there is a handy 'Shopping Cart' system now available.  Technology!  The future is now!
---
2002
At this point in the evolution of the 21st century, some new graphics appeared, rising majestically from a placid pool.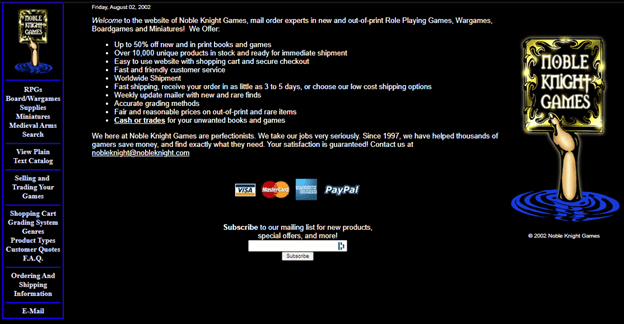 This mysterious yet graceful hand was inspired by the Lady of the Lake. She held our catalog aloft above the water, Excalibur-style. And look, newcomer to the scene PayPal is now being accepted!
---
2004
Now, the year is 2004. A new version of the website is launched into the net which includes many more graphics. It brings with it additional cart functionality, a search bar (luxurious!) and more. Unfortunately the product images themselves didn't come along as we sleuthed through the past versions of the site, but we think you get the idea.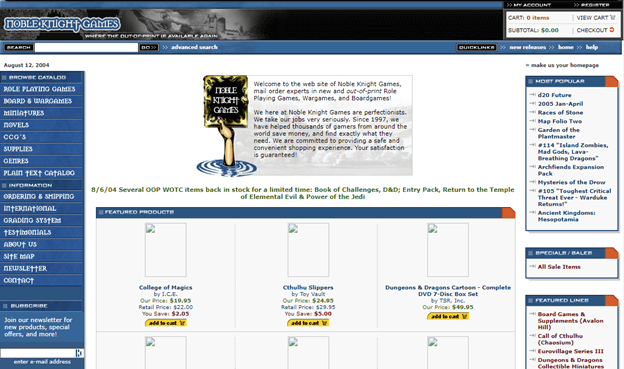 You can see here where our core colors have begun to shift toward the softer and easier to read blue and white. The red and black became more secondary accents.
In this year, our first slogan, 'Where the Out of Print is Available Again' was born, and appeared below our logo. The full-text logo had also shifted to allow a more horizontal shape.
---
2007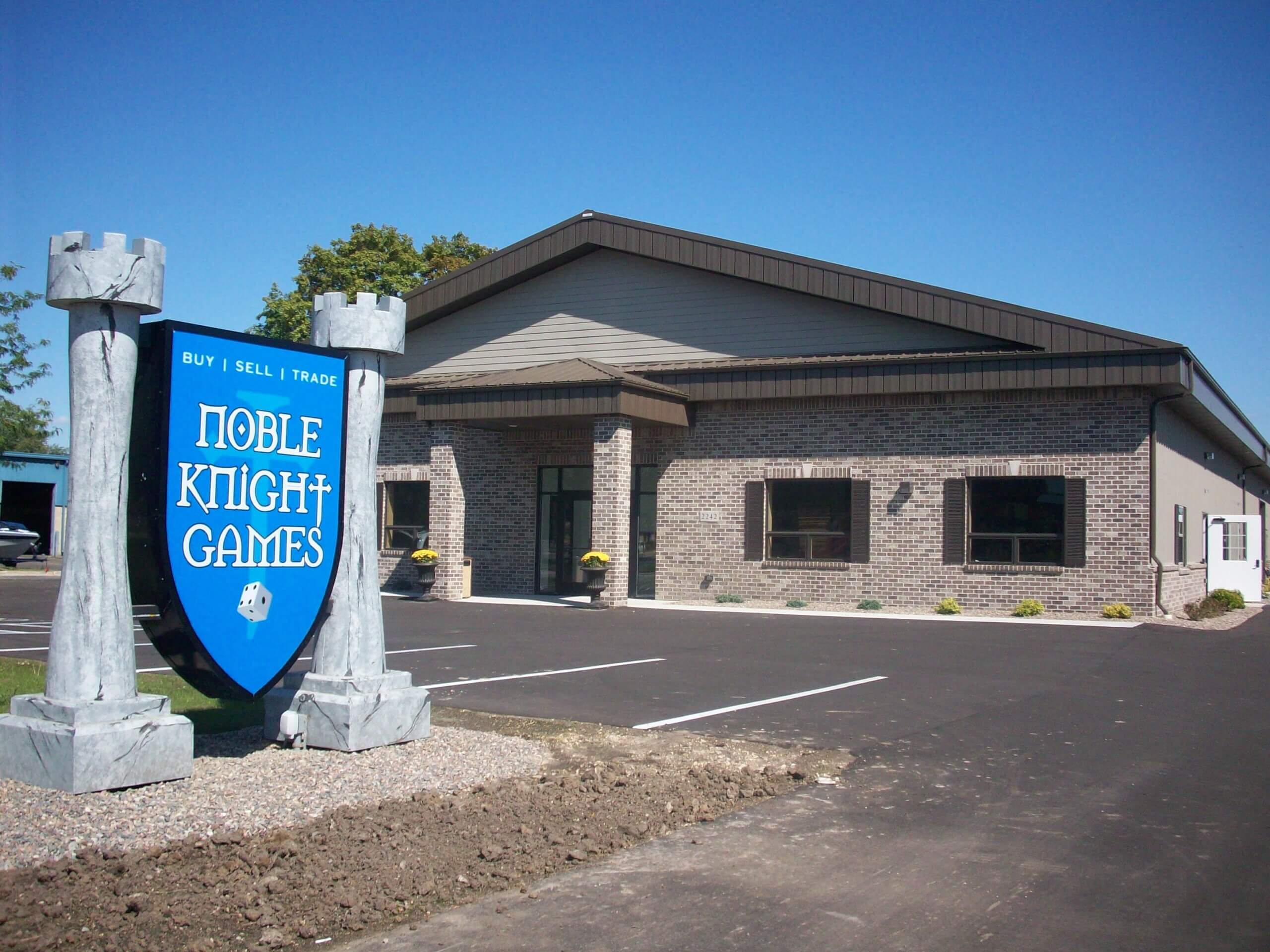 This year was was a pretty big deal for us.
In 2007, NKG built a brand new warehouse in Janesville WI, to provide both more storage, office space, and a retail storefront.
With that expansion,  Noble Knight Games was steadily growing into a truly unique role as a friendly local game store (FLGS for short) and also the World's Largest Selection of Games.
At this point in time, not only was it rare for a company to be selling both new and out of print games, but even rarer to be both an online presence and a local game store.
---
2010
By 2010, our once one-knight kingdom had become a hard-working team with 7 dedicated employees based out of this new building.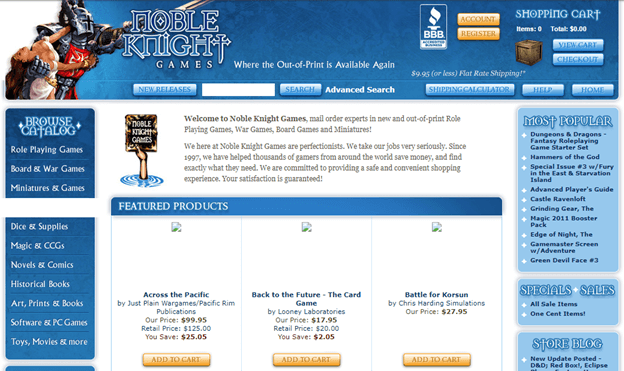 To follow that growth, the website was further updated, adding new graphics including a nostalgic return of the Helmeted Knight figure.  (This time the throwback Knight is rescuing a damsel in distress, whose back appears to have already been broken given the improbable angles of her torso.)
This version of the site added even more functionality, as well as the addition of a store blog, keeping a running log of the latest arrivals. With so many items, the Blog began to be a pretty long list every week! Here again the product images from 11 years ago failed to make the jump through the time portal. You'll have to do a little theater of the mind and imagine it replete with thousands of products and images.
In addition, we added a Shipping Calculator and our famed $9.95 Flat Rate Shipping, the price of which we have never raised since. Of course, now we have Free Shipping in the Continental USA over $149.
---
2013
More website graphic updates showing up here in 2013, plus the launch and addition of Twitter to the site.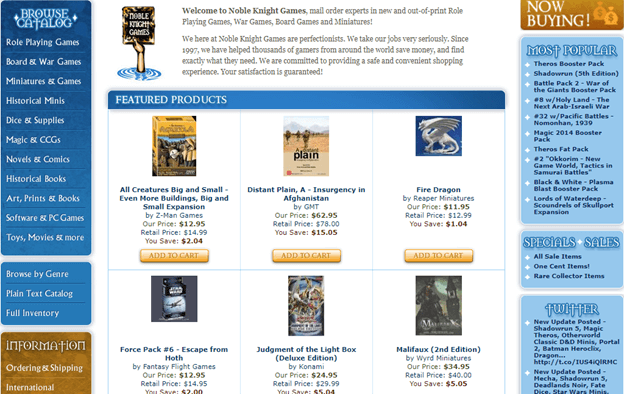 At this point, we were already carrying pretty much every publisher and new release we could obtain. Growing on our reputation as an out of print specialist, we were branching into more recent games as well as hobby supplies, collectibles and more.
Take a look at how that list of game categories keeps growing! We were growing right along with it, and we still are.
---
2017
20 years after its foundation in 1997, Noble Knight Games had stayed the course, and bringing games to thousands around the world. Our kingdom of Noble Staff had grown to around 25 employees at this point. We were a known name in the industry, and it was time for a fresh look to reflect our growth.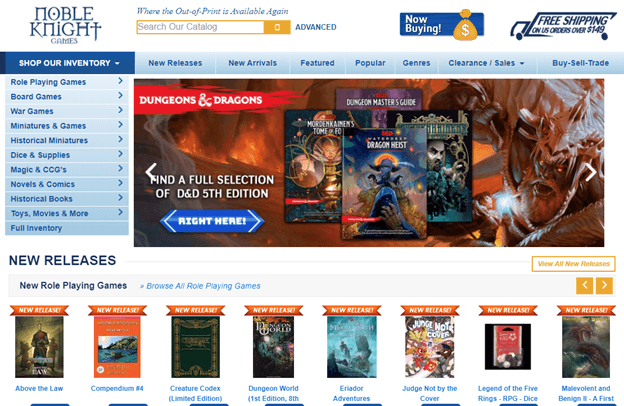 2017 brought the launch of an entirely new website. With an upgraded search engine, new browsing system, mobile functionality, and better Search Engine Optimization.  A scrolling banner system was added for the main graphics on the front page. Now, we could add rotating custom images to show off the latest and greatest games.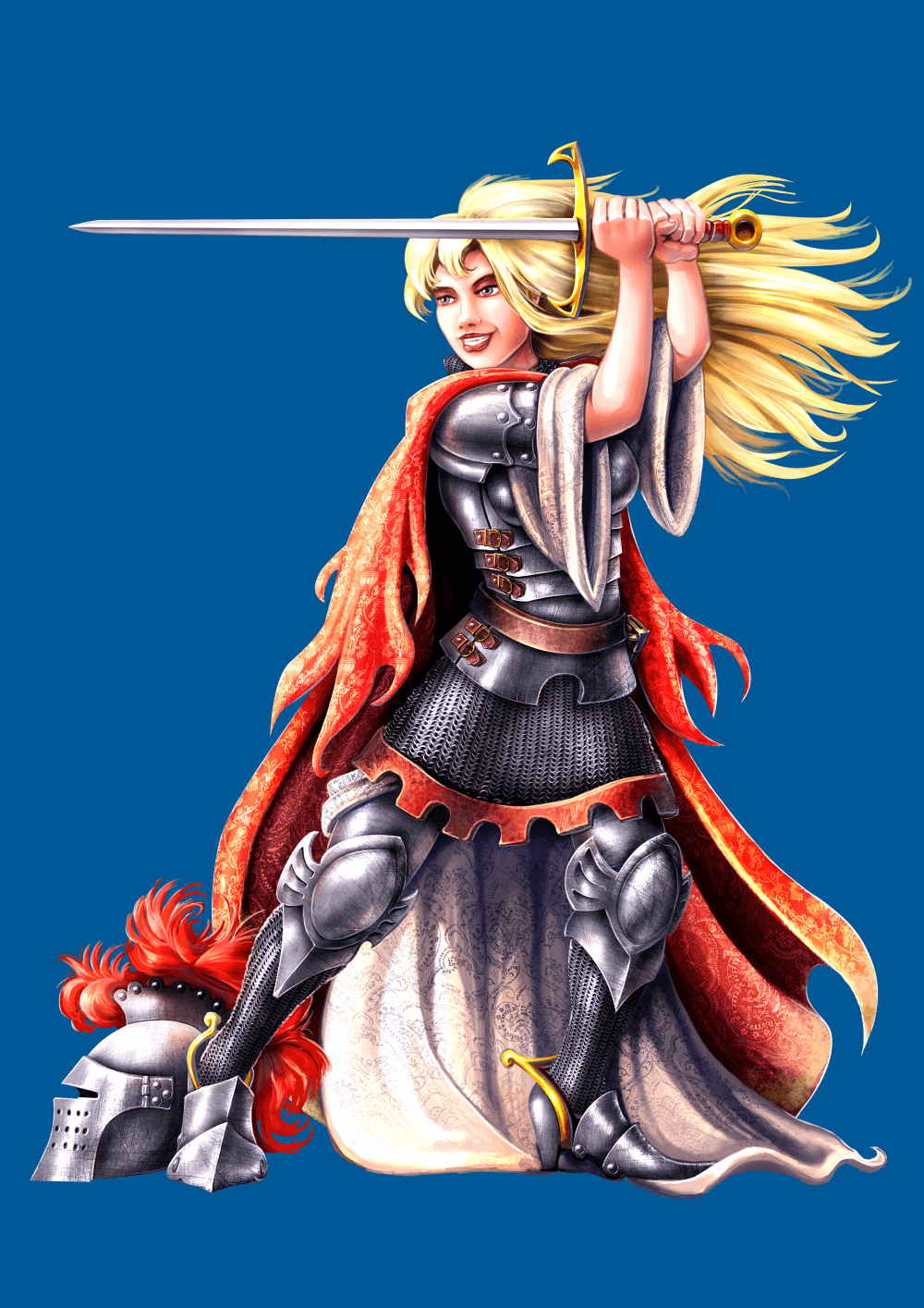 We began around this time to phase out both the Helmeted Knight and the Lady of the Lake Sign images, but wanted to keep a mascot image that represented strength, honor, nobility, and a fun, friendly place for everyone.
Melding these concepts together, we launched our new mascot, the Lady Noble Knight, toward the end of 2016. Recently, we've decided to name her Aurora, a name as shining and strong as she is.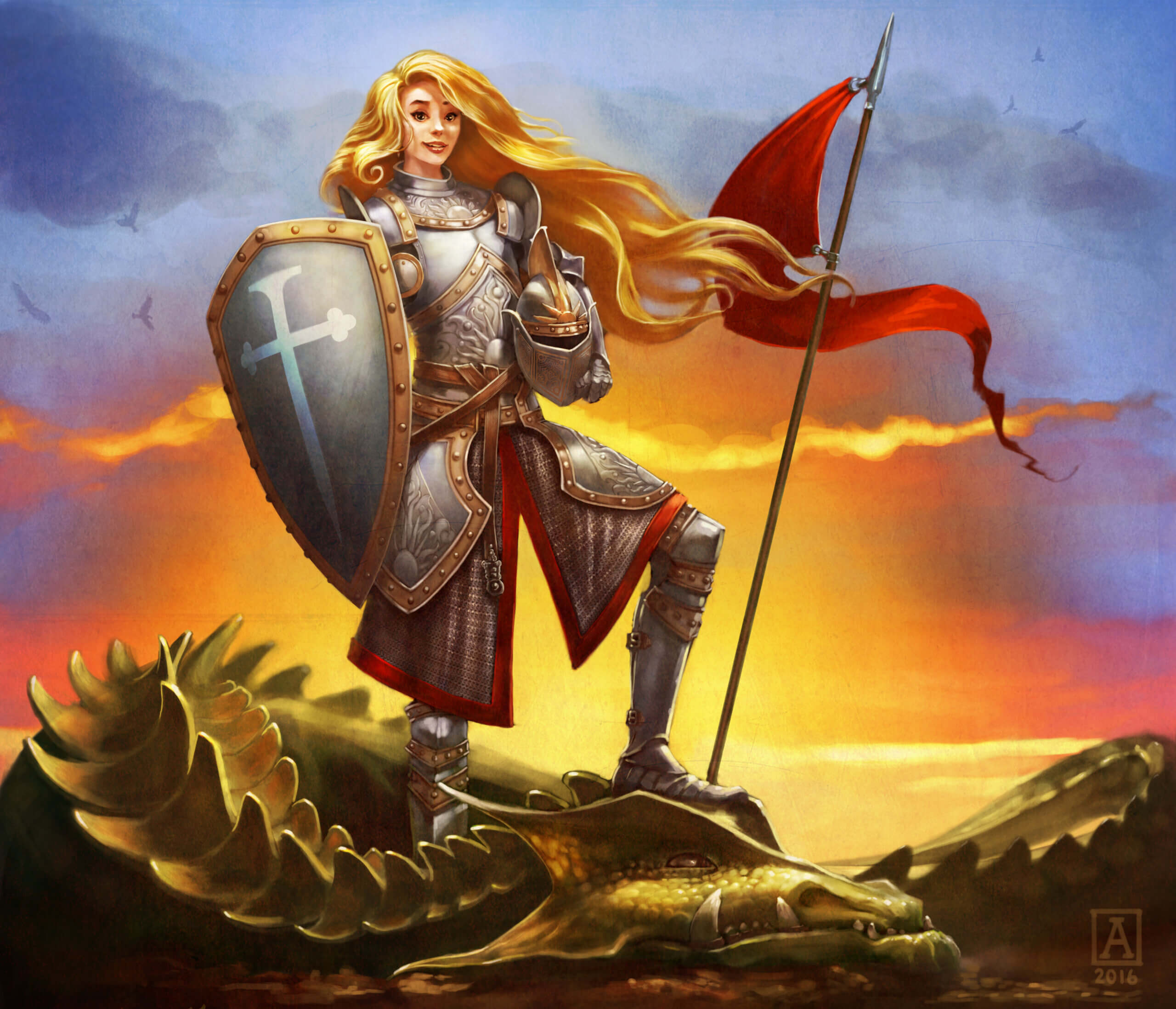 This fierce and formidable lady knight can be found in several incarnations and outfits. One including her fighting stance in honor guard armor, and another in this triumphant conquest of an evil dragon.
Where will Lady Noble Knight be found next, we wonder?  If you're an artist or cosplayer with a Lady Noble Knight for us, we'd love to see what else she's been up to!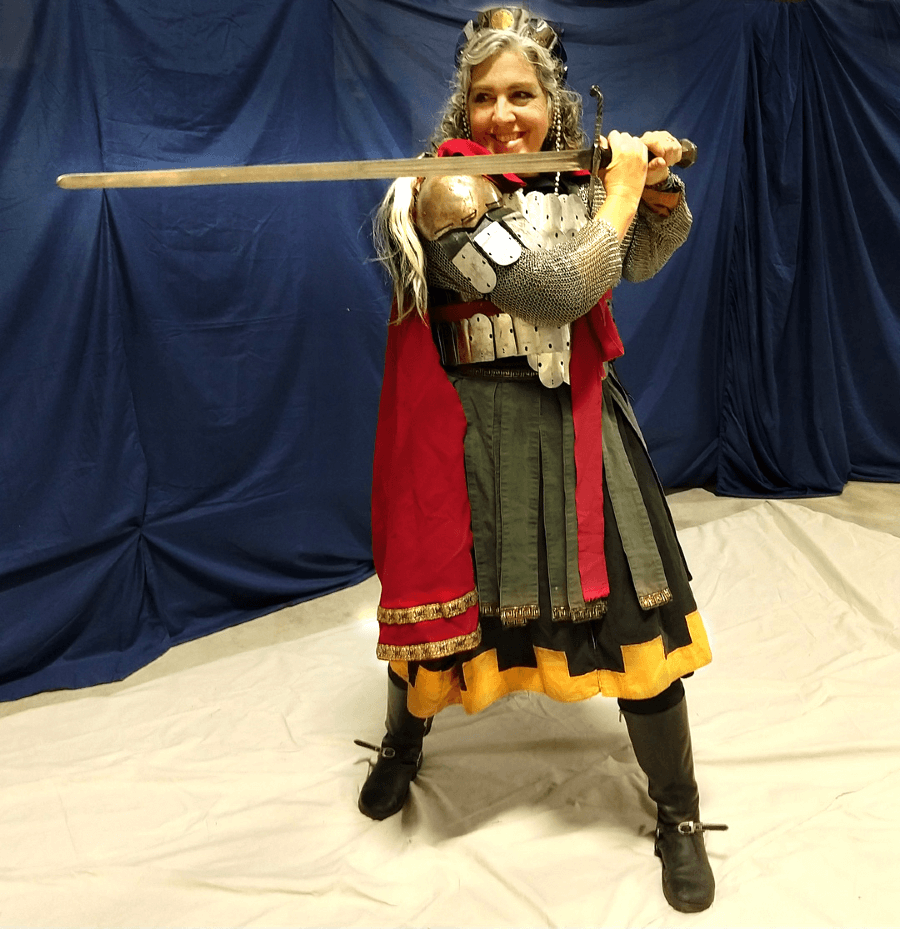 ---
2018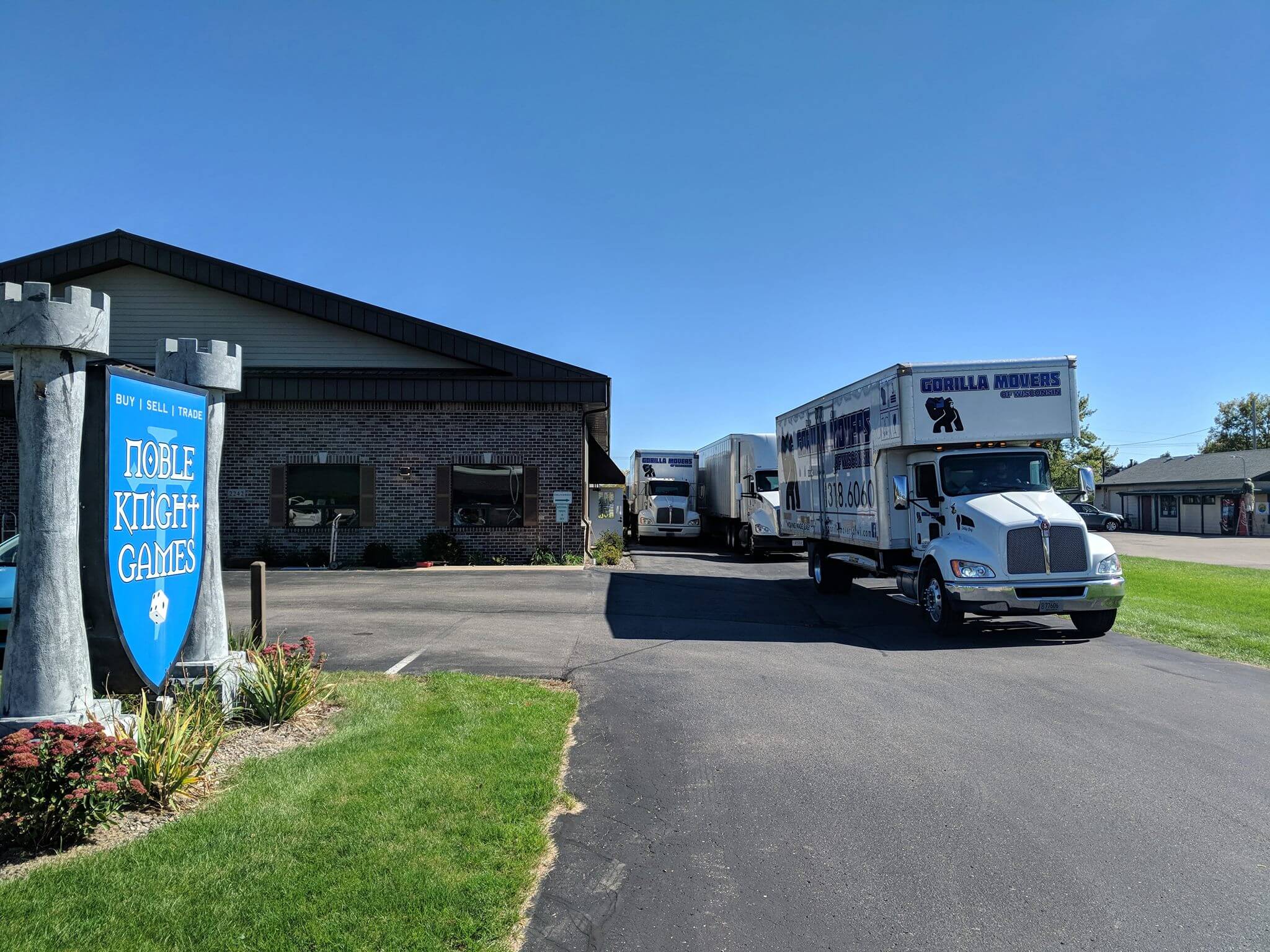 With this new page up and running, it was time to make the move to the Madison area. By now, our inventory was so large that it outgrew the building that was raised for it in 2007. Our stock was spread yet again over several warehouses, not ideal!  Sadly, our storefront had no dedicated space for gaming events, and it was becoming a popular demand. It was time to stretch our legs a bit more.
So in 2018, we made the move to our new home in Fitchburg, just minutes from downtown Madison. (See Store Hours & Location) Our brand new warehouse and huge storefront (with a giant Gaming Hall!) was around an hour away. It took about 60 semi truck loads to move it all.
But we made it work, with virtually zero delays in our ordering and shipping, thanks to the hard work and careful organization of our staff and Gorilla Movers, who to this day we thank for taking such good care with our inventory.
1. The cavernous warehouse is taking shape! 2. A rainbow welcomes us to our new home!
---
2020
In November of 2020, a newer iteration of the Noble Knight website launched, referencing our brand new slogan, 'Complete Your Quest'!  With so much to offer, we wanted to represent being a place where your search is at an end. All the things you seek are here. All your trials are over, and the best parts of your adventure are yet to come.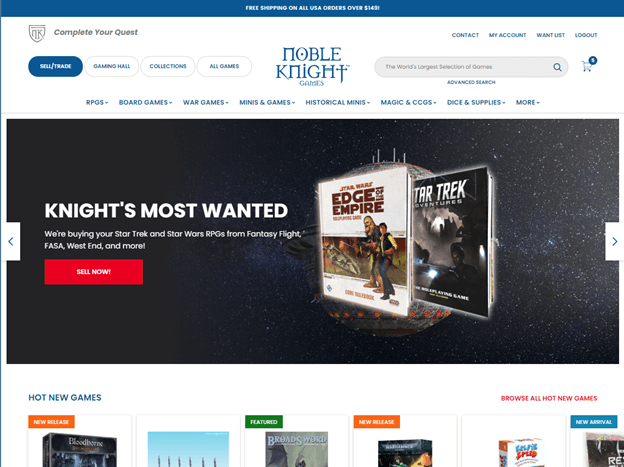 With this new design we became a more fully functioning mobile website. Our new design added new ways to interface with our giant database. A few of these being new and cleaner search filter options. For the first time, you can search and view multiple product lines from different publishers, at the same time! We also added updated shopping cart functionality and a searchable Want List. Plus new features like Publisher Spotlights to tie with this site, Collections like Staff Picks, and the Knight's Most Wanted buy list.
The new design layout of our site is easier to navigate, which is important when you've got an inventory as enormous as ours. With thousands of live in-stock listings, plus the information from all the products we've ever carried since the dawn of the company… it's a daunting amount of data.
This amazing amount of collected information from nearly 25 years of buying and selling games makes our database possibly the world's most vast and varied game info repository to date. Not even Board Game Geek has info on the rare, the old, the various editions, collectibles, comics, miniatures, and many other things we've cataloged over the years.   And the games keep coming…
---
2021

Our 24th year, and we had many more employees between dedicated Customer Service, Warehouse, Shipping & Receiving, Catalogers & Curators, Office Administration, Purchasing, and our Storefront.
With the new year we also rolled out a fresh new emblem design. The shield logo would now replace the "Lady of of the Lake" sign icon. Our initials are shaped into our classic shield motif, with the G forming the shape of the shield around the NK of Noble Knight.
Continuously making changes and upgrades, we proudly introduced the latest addition to our online presence: The Gaming Hall site. Yep, that's where you are right now!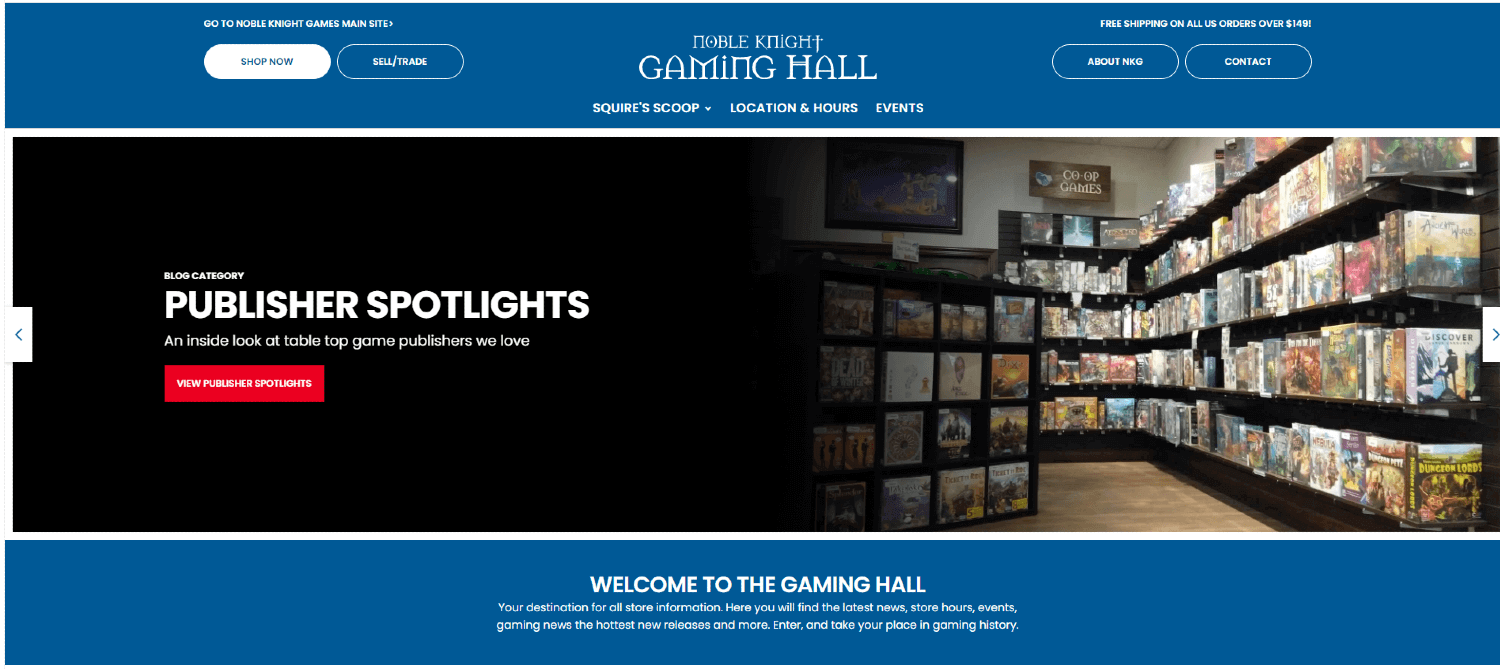 The Gaming Hall page is more than just a place for us to tell you about our local events at the store. It's a place where we can house custom content and industry news for our customers. You've asked us many questions over the years, and we've often wished for a platform where we could share our answers permanently. Here, we can share both that and gaming news! You can meet our staff and see what they're up to, and of course we'll show off some of our favorite games.
We post unboxings, demos, spotlights, and interviews. Plus we have informational articles written by our knowledgeable employees and from our various trusted sources. Not to mention sales, news about us, publisher spotlights on the folks who make the games we all love, and our favorite new releases. And of course we also share events and conventions, and things we just plain old think are fun.
---
2022
There has been no shortage of excitement in our 25th year!
We had a blast filming and producing our first set of YouTube ads. Maybe you've even seen them out in the wild! This is one of our favorites:
Enhancements Galore
We've made both functional and aesthetic improvements to our brick-and-mortar store this year. A parking lot expansion now makes sure every customer has a spot waiting for them when they get here. We want the castle to be as easily accessible as possible!
We commissioned artwork for our anniversary from local Madison, WI artist Dan Fransee. The art reflects the fun atmosphere we cultivate at our physical location, as well as online. You'll see this art around our website and social media pages, as well as hanging proudly in our store!
We also commissioned local artists Valerie Saxer and Deb Bobzien to paint stone walls around our play space and hallways. This work really brings the castle atmosphere inside the walls! They added some little surprises around the walls, too, like the Gelatinous Cube below.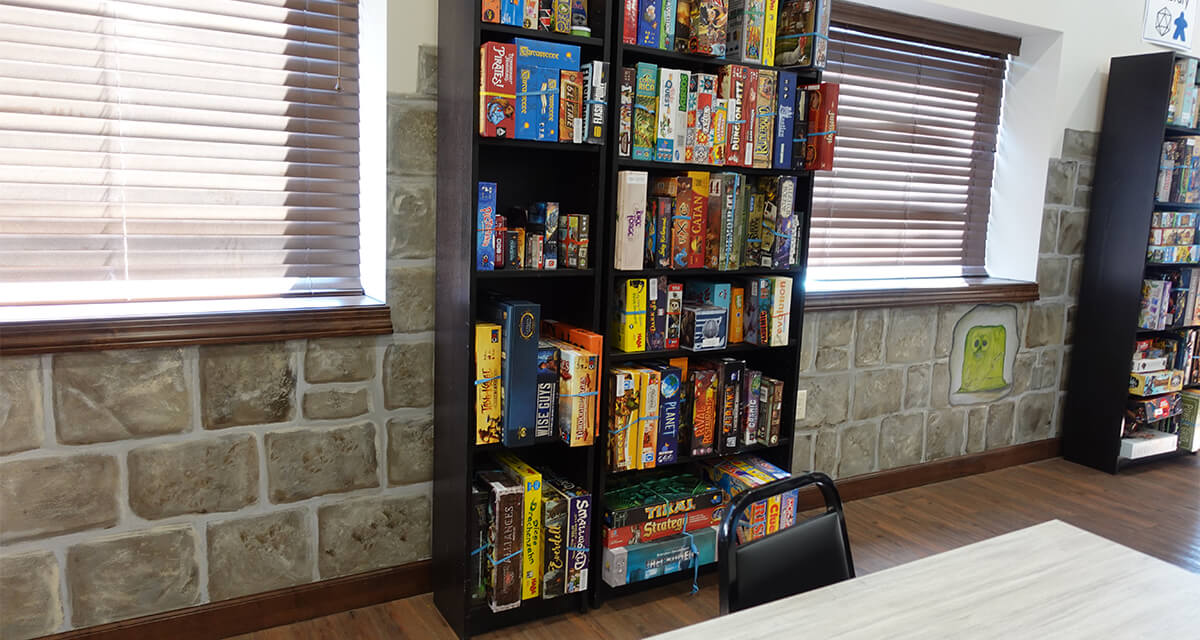 Clarence the Clearance Kobold
With Lady Knight representing Noble Knight Games for five years at this point, and we decided she should have a friend—or frenemy? Now, Clarence the Clearance Kobold has joined the team!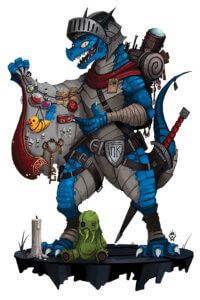 In early 2022, we were setting up a new "Clearance Corner," in our storefront. One of our store employees suggested we name it "Kobold Corn'r."
As we looked for artwork to use on the sign for this new section, we stumbled across artwork by Wolfdawg Art. We fell in love with the character style and we reached out to have them design a kobold for us.
That's how we got this adorable little fellow! Everyone at Noble Knight really loved him and he has come to represent the biggest and best deals in the kingdom—just don't tell the Lady Knight!
One of our Trades Specialists, Toff of paintlab_tofudy, was kind enough to paint a little Clarence miniature—which was 3D-printed by Stevil, one of our Miniatures Curators.
It's great to have such talented folks on our staff!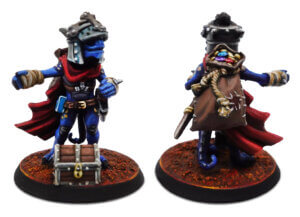 ---
The Future
As we grow and this page grows with us, you may see videos, podcasts, live streams, special features, and who knows what else! We have a lot of things we think you'll love coming down the pike.
If you have suggestions for things you'd like to see or hear about here on our Gaming Hall page, let us know. We'd love to hear about it; we love to give our customers what they want!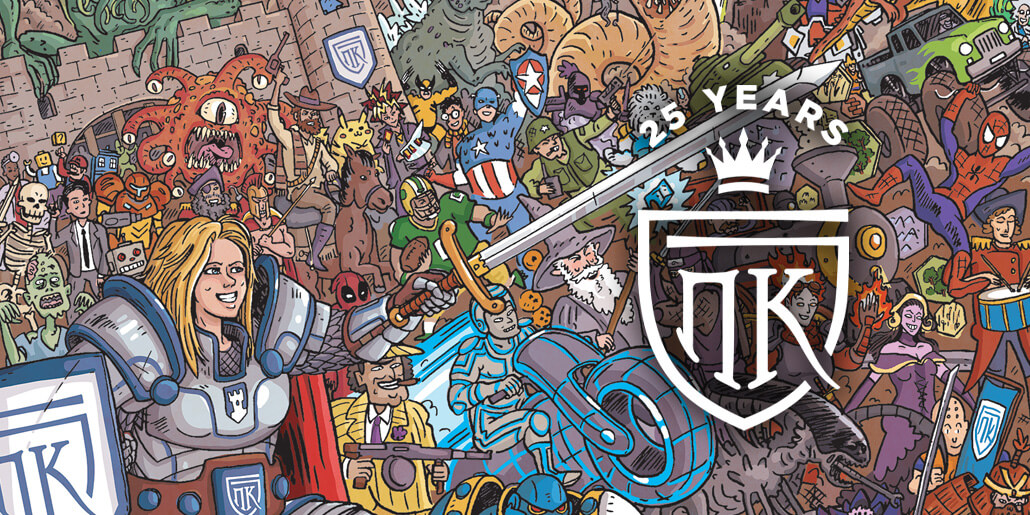 [ Read more articles on the Gaming Hall ]