Click here to find a blood drive in your area!
National Blood Donor Month
The American Red Cross is facing a national blood crisis–its worst blood shortage in more than a decade. Dangerously low blood supply levels are posing a concerning risk to patient care and forcing doctors to make difficult decisions about who receives blood transfusions and who will need to wait until more products become available.
In recent weeks, the Red Cross had less than a one-day supply of critical blood types and has had to limit blood product distributions to hospitals. At times, as much as one-quarter of hospital blood needs are not being met.
Please consider donating
Blood and platelet donations are critically needed to help prevent further delays in vital medical treatments, and donors of all blood types–especially type O−are urged to make an appointment now to give in the weeks ahead.
---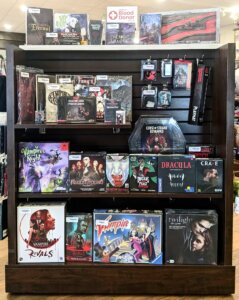 National Blood Donor Month Games
Now that you've set up your appointment to donate blood, it's time to figure out which game you're going to play to celebrate! Grab a glass of water, some foods high in iron and B vitamins, and relax with some tabletop games!
As always, a big ol' thanks to Sam, our monthly game section curator, for putting this collection together!
---
Unearth the terror of Ravenloft in Curse of Strahd—for the world's greatest roleplaying game, Dungeons & Dragons!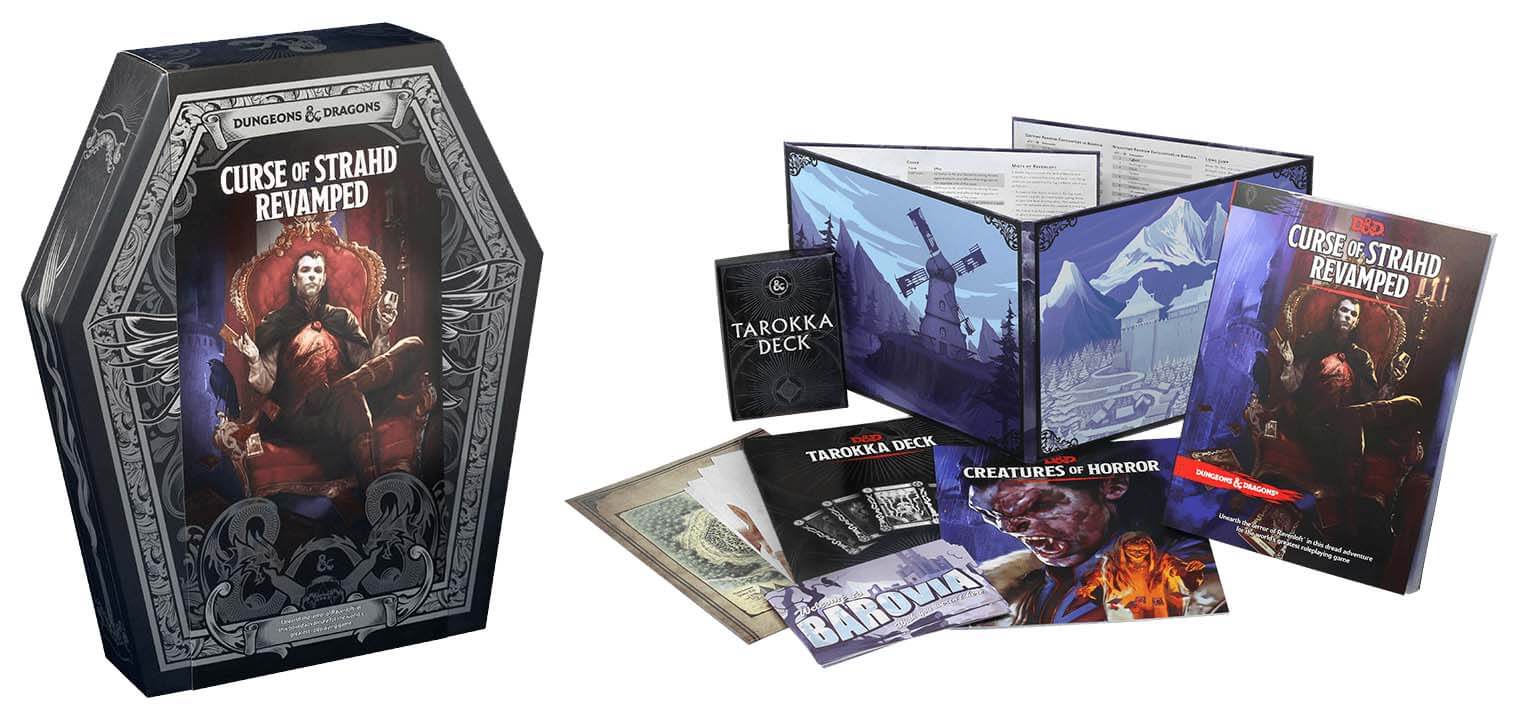 Curse of Strahd, one of the most popular Dungeons & Dragons roleplaying game products of all time, split into three parts: a 224-page perfect-bound adventure for characters of levels 1–10, a 20-page Creatures of Horror booklet of new monsters that appear in the adventure, and an 8-page Tarokka Deck booklet.
A cover sheet with Strahd von Zarovich's image on one side and Strahd's monster stat block on the other.
A sturdy, four-panel Dungeon Master's screen designed for use with the adventure.
A double-sided poster map showing the domain of Barovia on one side and Castle Ravenloft on the other.
54 foil-stamped Tarokka cards, which help determine the heroes' path through the adventure.
A tuck box to hold the Tarokka deck.
12 postcards (3 copies each of 4 different cards), which you can use to invite friends to your game.
---
Only two months old, Magic: the Gathering's Crimson Vow brings the undead to life! Well, not technically…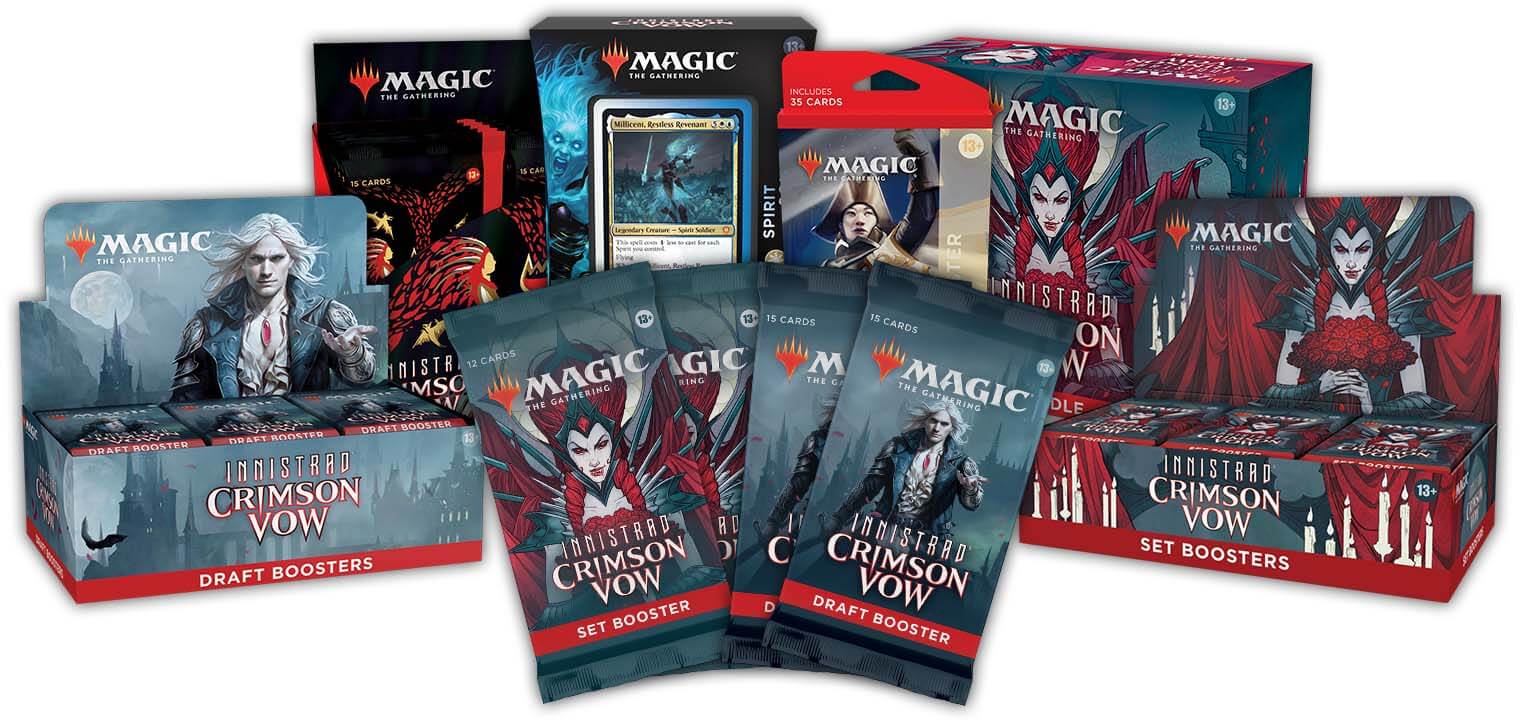 As humanity turned to the hope of rituals and a Harvesttide festival to save them from the Eternal Night in Midnight Hunt, those that stalk from shadows aren't just the mindless zombies and frenetic werewolves, but also the eternally undead with calculating, grand designs of their own!
Crimson Vow features the biggest vampire wedding in Innistrad history—a bonding between the Markov and Voldaren bloodlines. Olivia Voldaren is the bride, and aims to form a pact with the Markovs to take control over Innistrad.
"The bride pledges her heart to the groom and he, his undying affection to her. Blood and famine, violence and peace—In eternal life and through moment's struggle, the two shall rule this land until its people are no more."
---
It's Steve Jackson Games' World of Dorkness!

The munchkins are now vampires . . . and werewolves . . . and changelings. Bash through the haunted house and slay the monsters. The other monsters. You can't slay your fellow munchkins, but you can curse them, send foes at them, and take their stuff!
This is a stand-alone game, which can be combined with other Munchkin games. It's illustrated by John Kovalic. See Igor, Gilly, and all the other Dork Tower characters in their munchkin-vampire finery!
So bring along your Coffin (+3!) and wield The Sword Of Beheading People Just Like In That Movie. Face foes like the Banshee, the Heck Hounds, and the dreaded Were-Muskrat. Smite them all, and be the first to Level 10 in Munchkin Bites!
---
Vampires are one of our most popular miniatures sets from WizKids! Even outside of Halloween and National Blood Donor Month, these undead fly off the shelves!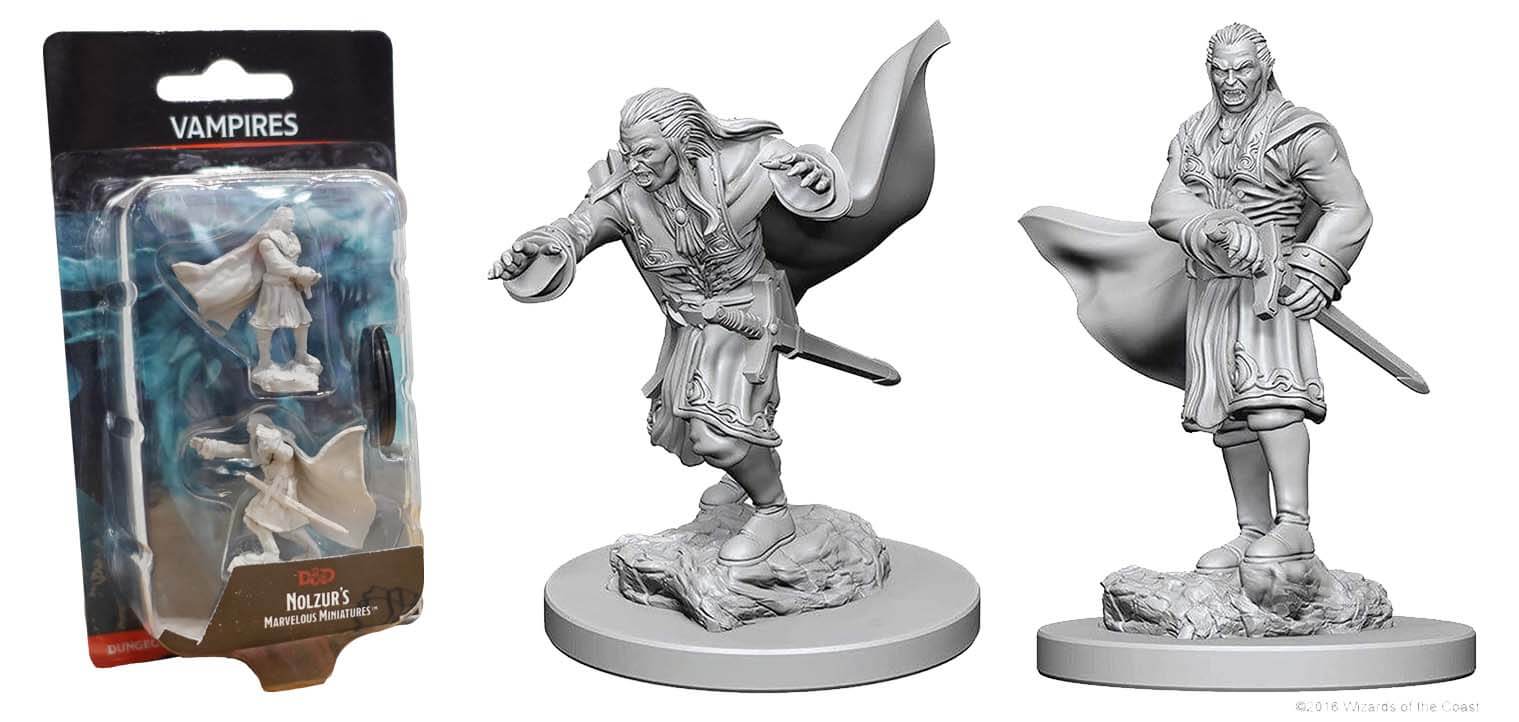 ---
Paints & Dice
What would gaming be without its supporting actors?

Scale 75 is a quality paint maker and the Blood and Fire Red Paint Set is no exception. Gore up or set fire to any miniature or terrain with these wonderful acrylic paints!
The Diffusion Bloodstone Poly Set from Roll 4 Initiative is a beautiful set at a price point far lower than you'd expect from these gorgeous number lumps!
---

Click here to find a blood drive in your area!
[ Browse all Dungeons & Dragons ]