Give Us Victories – The Chancellorsville Campaign, Virginia, 1863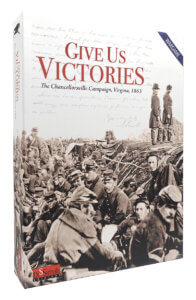 Publisher Dissimula Edizioni's Give Us Victories – The Chancellorsville Campaign takes place after the Union loss at Fredericksburg the previous December. President Lincoln had relieved General Ambrose Burnside and replaced him with the popular General Joseph Hooker. Lincoln had confidence that Hooker could rally the demoralized troops and bring about a Union victory. In the spring of 1863, the Army of the Potomac (Union Army), executed a successful and daring maneuver to outflank the Confederate Army of Northern Virginia, commanded by General Robert E. Lee. There were high hopes for the Union forces. The rest is history!
"Give Us Victories" is a quote from the letter with which President Lincoln appoints General Hooker to command the Army of the Potomac. This game allows us to simulate this battle and possibly change the course of history. Players assume Lee and Hooker's roles and maneuver their forces around the map, trying to engage the enemy's forces, defeat them and gain victory and glory!
---
What's inside?
Give Us Victories has four games in one!
Main game
2 standard maps, 2 counter sets (figure and Nato-style, so players can choose), medium difficulty, 6-8 hours for the campaign, 4 scenarios, 2 variations.
Strategic game
1 A3 map, 1 counters set, 1 hour of gameplay, low difficulty.
Solo game
AI simulates Army of the Potomac, 1 counters set; uses the same maps of the main game.
Skirmish game
Set of paper toy soldiers, landscape elements and counters; low difficulty, playing time 30 minutes.
---
Components
The components included with Give Us Victories are both high-quality and full color.
2 standard maps
1 A3 map (strategic game)
1 12×10 (cm) map (variant for main game)
4 counters set, 17 mm side
Setup charts
Rules aid, tables, solo game display, solo game booklet
Paper soldiers (cardboard)
Rules booklet (Main game, scenarios, strategic, solo system, skirmish)
English, Italian
Rewrite history with Give Us Victories – The Chancellorsville Campaign!
---
[ Read: Irish Freedom: Independence & Civil War ]
[ Also from Dissumla Edizioni: From Salerno to Rome ]