Gary Con 2023
---
What is Gary Con?
Gary Con is an annual tabletop gaming convention held in honor of Gary Gygax, co-creator of Dungeons & Dragons. Noble Knight Games is proud to be a sponsor and vendor for this incredible gathering. This will be the 15th year of this incredible event, drawing thousands from around the world.
Hosted and organized by members of the Gygax family, this RPG-focused event celebrates a "Life Well Played!" Featuring tons of hosted RPG games and demos ranging from D&D and other roleplaying games to miniature combat games, board games and more, this convention is non-stop fun. The convention places a special emphasis on older editions of Dungeons & Dragons and other "Old School Renaissance" (OSR) styled RPG games. Current editions of popular games are played as well.
Visit the vendor hall and say hello to us at our booth, attend a panel, meet special guests and industry legends, grab a drink with friends in the lounge, and of course, get your Game on! What better way to celebrate the ongoing legacy of Gary Gygax than to play lots of games?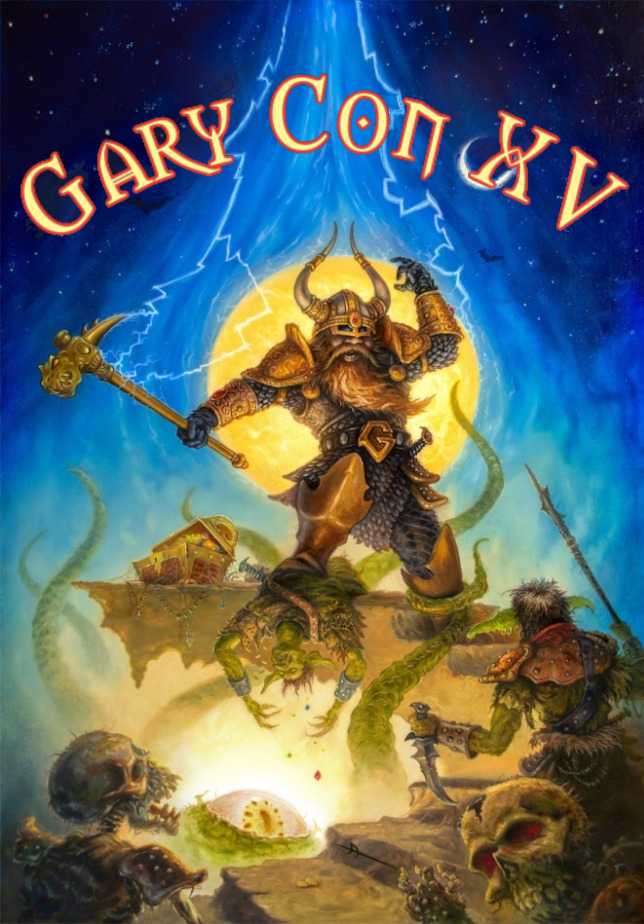 When?
Gary Con XV will take place March 23rd through 26th, 2023.
Where?
Where else but in beautiful Lake Geneva, Wisconsin, the birthplace of Dungeons & Dragons. Geographically, this city is located in the South-Eastern part of Wisconsin, fairly close to the Illinois border. It lies between Madison, Milwaukee, and Chicago and is an easy drive from any of these major hubs. While you're in town, check out the Gary Gygax Memorial and bless your favorite dice!
The convention itself is hosted at the Grand Geneva Resort & Spa, where on-site accommodations can be obtained ranging from single rooms to suites and entire bungalows suitable for groups. Several other hotels are available nearby, as the Grand Geneva does tend to sell out of rooms during this event. Update – at this time, the hotel does appear to be sold out but can be contacted regarding a waiting list.
Food and beverages are served all day at several venues of various styles and price ranges on site at the Grand Geneva. There is (typically, this is subject to change) even table-side food delivery to games! For evening dining, options range from casual bar fare to high end steakhouse dinners.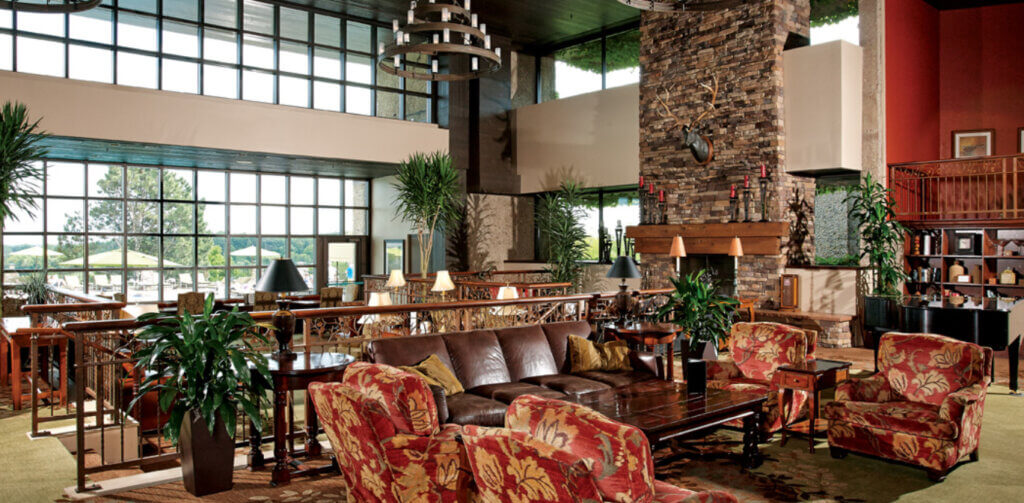 Who will be there?
Hopefully, you! But also, us! And many more. Here are a few of them.
Members of the Gygax family (of course) including convention owner, Luke Gygax.
Artists

Chris Arneson
Jeff Butler
Darlene
Jeff Easley
Larry Elmore
Doug Kovacs
Dave LaForce
Erol Otus
Stefan Pokorny
Charles Urbach

Industry Notables & VIPs

"Zeb" Cook
Matt Forbeck
Ed Greenwood
Tim Kask
Pat Kilbane
Matthew Lillard
Joe Manganiello
Mike Mearls
Roger E. Moore
Todd Stashwick
Jim Wampler
James Ward
Bill Webb
Margaret Weis

Dealer Hall & Exhibitors

Too many to list here! (See the full list.)Dozens of artists, publishers, creators, and vendors of all manor of gaming goods and goodies will be on site in the Dealer Hall throughout the convention.
And many more! View the Guests of Gary Con
Attend Gary Con
You can register your badge for single day or full-event attendance in advance online, which allows you to pre-register for events! Badges may also be purchased at the door. Different level badges are available, some with additional perks like Stadium Cups for refills on beer and sodas, shirts and other merch, VIP game access, and more. Virtual Gary Con badges are also available, with plenty of web-hosted games and videos to stream!
To learn more about the different badge options available online, visit the Badge Registration page.
Please note that this convention will require proof of vaccination or a negative (lab provided) COVID test to pick up your badge or purchase one at the doors. Masks are optional, subject to change at the discretion of local health authorities. For more information, see Gary Con Policies

A brief breakdown of the Gary Con convention schedule:
Wednesday March 22 – Pre-game day! Badge pickups begin, vendors set up, and a welcome party in the lounge.
Thursday March 23 – Sci-Fi Thursday, wear a sci-fi costume if you feel so inclined! Vendor/Exhibit Hall 10am – 5pm (VIP access begins at 9am), board game library, Chainmail Jousting, plus RPG games running all day and into the night!
Friday March 24 – Fantasy Friday, wear a fantasy costume if you feel so inclined! Vendor/Exhibit Hall 10am – 5pm, board game library, Chainmail Jousting, plus RPG games running all day and into the night!
Saturday March 25 – Hawaiian Shirt Day, in honor of Gary Gygax's shirt of choice, wear a Hawaiian shirt if you feel so inclined A group photo will be taken at 2pm in the Lobby. Charity Auction, Happy Hour, Vendor/Exhibit Hall 10am – 5pm, Chainmail Jousting eliminations and championship, board game library, and more, plus RPG games running all day and into the night!
Sunday March 26 – Final day! Vendor/Exhibit Hall 10am – 1pm, RPG games wrap up, convention ends at 4pm.
Attend Virtually
Ethereal Gary Con is a great option for those unable to attend in person. Four days chock full of online games, live-streamed events and more will be at your fingertips with an Ethereal Badge!

Keep Up with Gary Con
Seeking more information or want to keep in touch with other convention fans? Here are some handy links.
See you at Gary Con!
Noble Knight Games is excited to be a part of Gary Con 2023! We will have a corner booth in the vendor hall, and hope you will come say hello. Keep your eyes out for our ad in the Gary Con program, and postcards with a special discount code to our website!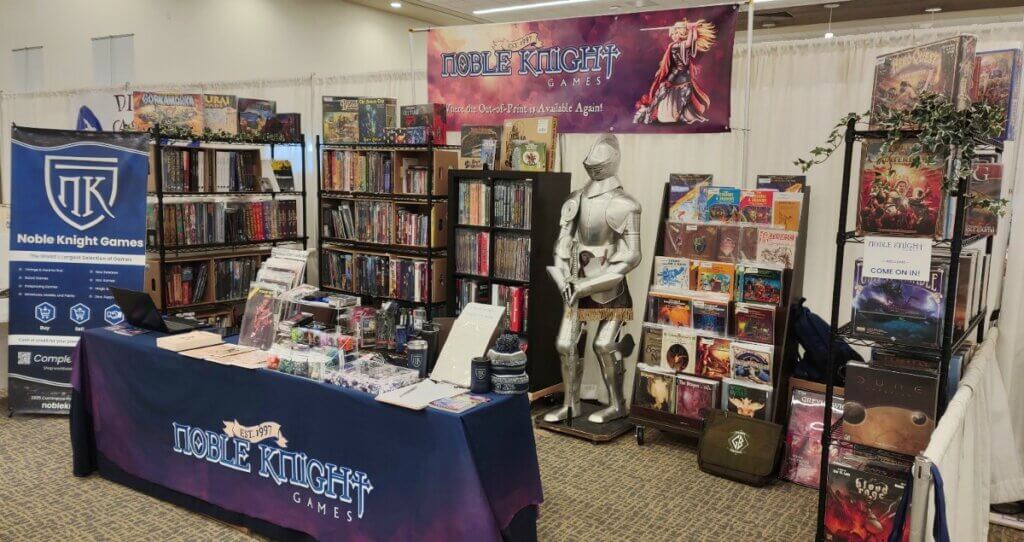 We plan to run a bit of a giveaway, plus of course slinging some sweet vintage (and new) RPGs, board games, and more. You might even get a crack at something special donated by us at the charity auction!
Based on feedback and requests from Gary Con 2022, we plan to bring even more vintage rarities and indie games you've never seen before. We hope you'll come check us out and say hello.
See you all in Lake Geneva!