What is Flesh and Blood TCG?
The Flesh and Blood TCG is a hero-centric card game where players face off in head-to-head duels in which every card, and every choice matters. The game is built around selecting a hero and building a deck around them. Players do this using a combination of class specific, talent, and generic cards. Almost every card is multi-purpose—playable for: card ability, defense, or resources.

"Flesh and Blood rewards good decisions, not good luck. With our game, we seek to challenge the fundamental laws of TCG card evaluation and deck building philosophies. It's highly interactive, with action beginning from the very first turn. The game is built around a unique resource system, underpinning an innovative combat dynamic which has been rigorously tested by competitive TCG fanatics."
– Legend Story Studios
When and Where Can I Learn?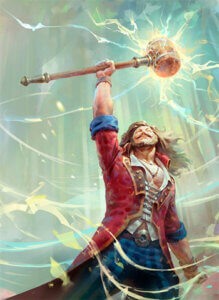 Madison Area Flesh and Blood will be hosting the Learn to Play event:
Thursday, December 2nd 2021 @ 6:00pm
At Noble Knight Games in Fitchburg, WI—minutes from downtown Madison!
Resources
[ New player resources from the publisher ]
Check out this Learn to Play video from Legend Story Studios as a nice primer for the event!
---
[ See the whole Flesh and Blood TCG product line ]
[ Check out other events around the kingdom ]
[ Browse all CCGs ]