Fire and Sword — Battles for Hungary 1944-45
Soviet armies began their offensive to isolate the Hungarian capital of Budapest in October 1944. The city would be surrounded in December, but did not fall until February 1945. During that time, as German and Hungarian troops fought to hold the city against the besieging Soviet and Romanian forces, the Axis launched repeated offensives to relieve Budapest even as Soviet armies neared Berlin.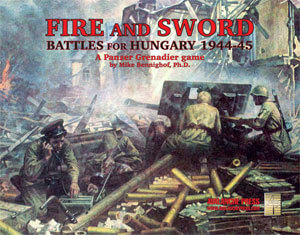 Fire & Sword: Battles for Hungary 1944-45 is a complete Panzer Grenadier game based on these operations: the Soviet encirclement of Budapest and the German Konrad I, Konrad II, Konrad III, South Wind and Spring Awakening offensives. These would be the last large-scale offensives by the German panzer divisions in World War II.
Fire & Sword includes 913 die-cut playing pieces, most of which originally appeared in Avalanche Press' long out-of-print Road to Berlin game. There are also four brand-new map boards, and 50 new scenarios organized in their popular story-arc format with historical background to put the scenarios in their context and battle games to tie them together.

The game comes in Avalanche Press' Playbook format: everything you need to play, except dice, inside a book!
Preorder your copy of Fire & Sword: Battles for Hungary 1944-45 today!
---
[ Browse all Avalanche Press games ]