Dinosaur World from Pandasaurus Games slid directly into our game rotation! A recent release euro-style game with worker placement, resource management, and jeeple. JEEPLE!
Now that the scientific triumph of Dinosaur cloning is public knowledge, competition is hot and new parks spring up regularly! Though many of these amateurs are opening their gates before everything has been safety-tested, there's no shortage of patrons eager to be entertained by extinct behemoths!

Players: 2-4
Play Time: 60-120 Minutes

Ages 10+
Complexity: 6.5/10
The Gist of Dinosaur World
In each round of Dinosaur World, you'll draft a group of Workers from the Worker Database to run your park for a full season. Then you'll divide up those Workers to take on the various tasks of building and running your Park – gathering ancient DNA, cloning new Dinos, buying new attractions, and keeping your patrons safe from a toothy demise. The better you run your park, the more Victory Points you'll score!
You might face some visitor deaths along the way, but don't worry – as long as your park is "safer" than your competitors', it won't hurt your score!
Components
1 First Player Marker
3 Central Island Boards
1 Round Marker
1 Public Notice Board
4 Lab Boards
4 Park Boards
16 Attraction Tiles
30 Special Building Tiles
1 DNA Dice Bag
4 Welcome Center/Park Entrance Tiles
17 Dino Paddock Tiles
3 Danger Dice
9 DNA Dice
30 Herbivores
22 Small Carnivores

22 Large Carnivores
72 Worker Meeples
4 Jeeples
95 Boredom Tokens
10 Worker Database Cards
4 Excess Security Tokens
4 Excess VP Tokens
20 Jeeple Bonus Tokens
54 Coin Tokens
20 Jeeple Route Tokens
48 Resource Markers
18 Objective Cards
40 Death Tokens
4 Excess Threat Tokens
12 Objective Markers
Expansions
All of the expansions require the base game in order to play!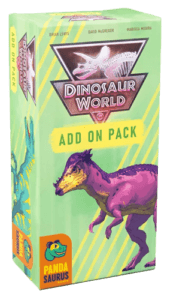 Includes Solo mode cards, 68 Dinosaur meeples with heat-transfer artwork, and 6 Special Building tiles unlocked during the Dinosaur World Kickstarter campaign.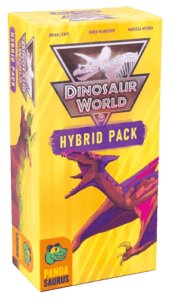 The scientists of Dinosaur World never stopped to ask if they should…
Guests are always looking for something new and exciting, and it's not like nature's going to make new dinosaur species on its own. If people want to see creatures that have never before walked the Earth, it's up to you to make them!
The Hybrid Pack adds new dinosaur species that each have 2 different types (mixtures of herbivore, small carnivore, large carnivore). Each individual Hybrid may be counted as either of its types when scoring Objectives, activating Special Buildings, or resolving other game effects. However, each Hybrid meeple still only counts as 1 Dino towards completing Objectives.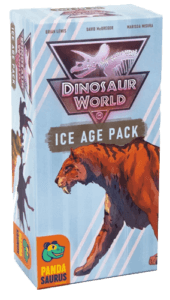 There's a chill in the air… and these creatures feel right at home!
Long after the dinosaurs met their end, mammals rose to rule the Earth. Though their descendants may be cute and cuddly, we wouldn't recommend snuggling up to one of these ancient beasts!
Mammals in the Ice Age Pack prefer the warmth of other creatures nearby. Unlike Dinosaurs, Mammals can be placed adjacent to other creatures, and can score end-game victory points from adjacent tiles.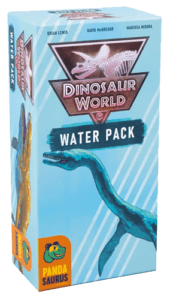 Every attraction is in the splash zone with these aquatic monsters!
Recreating the leviathans that roamed the deep is no trouble for your team of top scientists, but it does present some architectural challenges. If you don't dedicate resources to keeping these massive water habitats clean, your visitors may begin to notice an unpleasant stench…
The Water Pack adds new Water Dino Paddocks with special end-game scoring bonuses. Water Dinos are less dangerous than other species, but if you don't send workers to clean their Paddocks, Algae tokens may build up and reduce your excitement.
---
[ Grab a copy of Dinosaur World from Pandasaurus Games ]
[ Check out more New & Upcoming Releases ]