There are so many 2022 tabletop game releases coming up! Take a look through some of the ones we're looking forward to!

What Games Can We Expect?
Click a game to jump to its description!
Wargames
RPGs
Board Games
---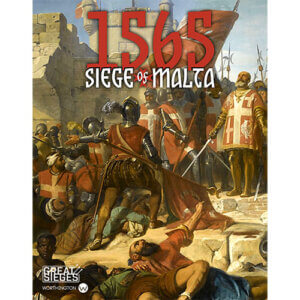 The first wargame on our 2022 Tabletop Game Releases list is one of Worthington's Great Sieges!
The Great Sieges game series highlights command decisions for players against a solitaire game engine opponent. They have been designed for easy set up and quick game play. Game unit placement is shown on the game board and units are wooden markers representing troop and ship formations.
Malta 1565 – The Turks versus the Knights of Malta in the last battle of the Crusades at the dawn of gunpowder.
Highlights of 1565 Siege of Malta:
Both sides have elite units that can affect battle results with die re-rolls. These are limited so deciding when to use them is important.
The siege in 1565 was during the early days when gunpowder came into use. Each side has very limited use of gunpowder for musketry which can help their odds of success.
The Turks also have limited gunpowder for artillery. While in supply they can bombard the Malta forts. The Turks also have a siege tower they can use.
Play solitaire as Muslims or Christians
[ Check out the other Great Sieges titles: 414 BC — Siege of Syracuse, and 1759 — Siege of Quebec ]
[ Back to Top ]
---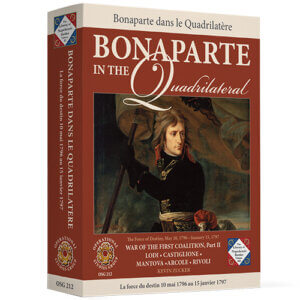 Bonaparte in the Quadrilateral
Battles Simulated:
Lodi — The Force of Destiny, 10 May 1796.
Rather than attack the Austrians head-on, Bonaparte outflanked them, marching down the Po with his grenadiers.
Castiglione — Wurmser's Relief of Mantova, 5 August 1796.
Austrian Field Marshal Dagobert von Wurmser marched with the first of 25,000 veteran reinforcements through the Alps by the Brenner Pass, reaching Trent on the River Adige on June 30th.
Mantova — Queen of the Quadrilateral, 1796-97.
The French invested the fortress of Mantova in early June. In August,the French were forced to abandon the siege and Mantova was relieved. Wurmser resupplied and reinforced the fortress, then retired through the mountains to Bassano via the Brenta valley. From there he would mount the second relief of Mantova from the northeast.
Arcole — Crossing the Adige, 15-17 November 1796.
By daybreak on the 15th, the French had a pontoon bridge connected to the causeway across the marshland along the north bank of the Adige. Augereau was the first to cross, while Massena brushed with Provera's advance guard of 3,000, capturing the village of Porcile.
Rivoli — Battle of the Osteria Gorge, 14-15 January 1797.
For the final relief attempt Alvinczi advanced his main army from the north while sending two smaller columns to threaten the French from the northeast. Alvinczy's second advance was stopped in the foothills far from the withering garrison of Mantova.
[ Back to Top ]
---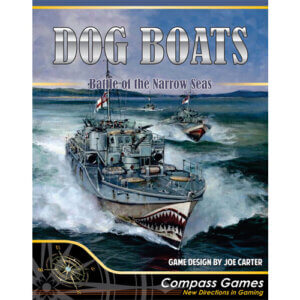 Dog Boats: Battle of the Narrow Seas
Dog Boats: Battle of the Narrow Seas is a solitaire, tactical-level, narrative-driven wargame. You, as Commander, will lead a squadron of 4 Royal Navy gunboats or torpedo boats on night missions against German Kriegsmarine forces in the English Channel during 1943-1944.
Dog Boats covers the months from June 1943 to June 1944. Based in either Plymouth or Lowestoft (England), your primary goal is to intercept and sink as many Kriegsmarine merchant ships and tankers as possible. But that's easier said than done, as Luftwaffe air patrols and Kriegsmarine warship patrols will do their best to stop you, along with determined Kriegsmarine convoy escorts.
Occasionally, you may be assigned a special mission, such as minelaying or commando team insertions along the French coast. Other hazards you and your squadron will likely face are bad weather with heavy seas, plus a variety of random events.
[ You might also like: 5 Compass Wargame Preorders for 2022 ]
[ Back to Top ]
---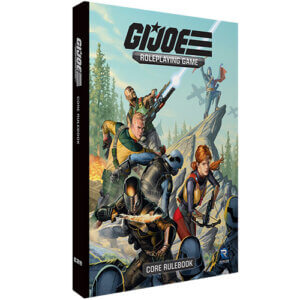 The first RPG in our 2022 Tabletop Game Releases list is Renegade's upcoming G.I. JOE Roleplaying game. Create your own Joe by choosing your military training origin, personal traits, and role within the G.I. JOE organization to become a Real American Hero and save the day!
This book contains everything you need to create your own G.I. JOE character and play the game – just add dice, some friends, and your imagination.
Features:
Create your own unique G.I. JOE character
Full rulebook for running your own G.I. JOE Roleplaying Game
One Gamemaster leads the story with a group of players
Contains introductory adventure for new team
Full color hardcover book with 304 pages with ribbon bookmark
[ Back to Top ]
---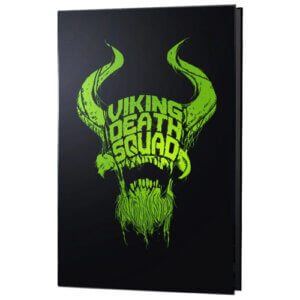 Viking Death Squad is a world, RPG system, and play resource inspired by the heavy metal super classic `War Pigs` by Black Sabbath. This TTRPG is an explosive game of immortal Vikings, cybernetic horrors, and demonic legions.
This compact book is jam packed with hard-edged artwork by Brandish Gilhelm, with all the heavy metal, battleaxes and screaming skulls the genre demands.
Faux Leather charcoal cover, green foil stencil, silver foil spine stencil, spot color interior.
A D6 dice pile system unlike any other. – No Hit Points, Initiative-as-armor and more hard-and-fast innovations.
A unique world of Urth in the 100th century, complete with radioactive monstrosities, armies of cyborgs, insect tribes, and Vikings from space.
Play as Viking Immortal or resourceful Human survivor
Explore the Warlands, Low Orbit, the Poison Forest, and Hell itself.
[ Back to Top ]
---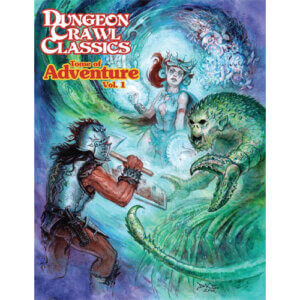 Dungeon Crawl Classics: Tome of Adventure Vol. 1
This hardcover compilation of adventure modules presents DCC RPG fans with seven complete adventures, now collected into a single hardcover volume for the first time!
Written by legendary DCC authors Joseph Goodman and Harley Stroh, the hardcover includes these popular adventures:
[ Back to Top ]
---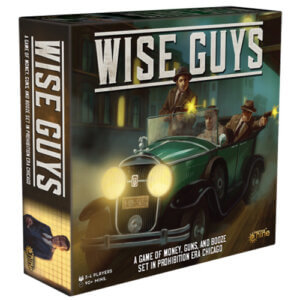 Kicking off the board games on our 2022 Tabletop Game Releases list is Wise Guys—a game of money, guns, and booze set in Prohibition era Chicago.
Experience the glitz and glamour of the roaring 20's as a gang boss in Prohibition-era Chicago. Flappers dance the Charleston at fabulous parties fueled by the booze your gang distributes. Schmooze with the politicians as you fund their election campaigns and let the voters know which way to vote, if they know what's good for them. With enough clout at City Hall, there's nothing to fear from the law — you can sell booze on the streets and literally get away with murder.
Wise Guys is a quick-to-learn, cut throat, area control board game where you play as one of four rival gangs seeking to strike it rich as "Rum Runners" on the rough streets of Chicago at the height of the roaring 20's.
Each turn players wheel, deal, talk and fight to control locations where they buy and sell alcohol, help politicians get elected and get help in return or double-cross rival gangs. Negotiate, threaten and ally with rival gangs when it serves your needs, but be wary of the inevitable knife in the back!
[ Back to Top ]
---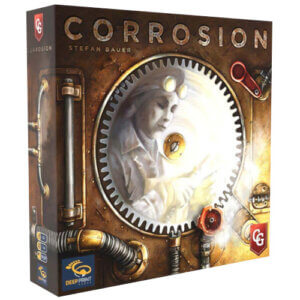 Smiling, you stand in the center of your factory: the sweet sounds of metal clattering and engines rattling are warming your entrepreneurial heart. Your goal is to build diversified scoring and production engines in order to outrival the other factory owners. However, in the steam-filled air, your biggest enemy is time, because most machines and gears rust away quickly. So you are well advised to also produce rustproof chrome gears and invest in powerful chrome machines.
In Corrosion, you play as a group of engineers in a factory who make machines by gathering resources like gears and steam. Put the machines and gears to clever use before your corrosion wheel is turned and your parts rust away.
Medium-heavy Euro with ample player interaction
Put gears and machines to clever use before they rust away!
Temporary engine builder with several paths to victory
Copy actions of other players with engineers of higher grades
Beautifully illustrated by Dennis Lohausen
Engine Building & Deck Building
[ Back to Top ]
---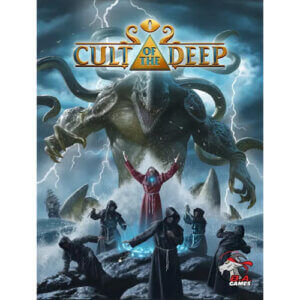 Cult of the Deep is a hidden-role dice game for 4-8 players where you are a cultist trying to establish your faction's rise to power. Battle for control of rituals and mythical monsters as you seek victory and control of the Cult.
A social deduction game where actions speak louder than words. What do you do?
Give life to the High Priest?
Sacrifice your body to protect others?
Drain your own blood for greater power?
Use alchemy to help complete rituals?
Harvest the soul of an ally to strengthen your faction?
Control the Kraken and punish those who oppose you?Each action tells a story of who you are, or at least, who you want people to think you are.
Remember, even if you are killed, the game is far from over as you become a Wraith. Forever haunting enemies and allies as you tug on the strings of fate itself to gain victory.
[ Back to Top ]
---
If you enjoyed our 2022 tabletop game releases list:
[ Check out more Game Spotlights ]
[ Browse all RPGs ]