At First Glance
Table presence. It's a variable often overlooked when considering a board game, either to purchase or put on the table to play. The first look your friends take at a title can either spark interest, doubt, or a look toward the door. I first found Eagle-Gryphon Games (EGG) because their clean, compelling art, unique themes, and fantastic components kept showing up in online pictures and stores I visited. That the aesthetic excellence was so often matched by the gameplay puts EGG in a unique publisher pantheon, so when it came time to do another publisher spotlight here at Noble Knight Games, it wasn't hard to give them a call.
Founder Rick Soued chatted with us about Eagle-Gryphon Games recently, so read on and get to know one of board gaming's great publishers:
A Brief History of Board Gaming
Eagle-Gryphon Games emerged from Funagain Games, a store Rick started in Ashland, Oregon amid artists, musicians, and actors looking for another way to exercise their creativity. After a childhood "punishing [my siblings] into playing games as often as I could," Rick and his wife took their shared interest and turned it into a successful business.
After Settlers of Catan boosted euro-games in 1995, Funagain worked with Alan Moon (Incan Gold) and Sid Sackson (Can't Stop), helping to publish and distribute their titles, a rewarding adventure. Getting a taste of publishing games led Rick to dive into the arena, starting a 25-year-long streak of Essen attendance and adventures where he met many of the designers that continue to create EGG's best-selling titles.
If you're curious about the hyphen in Eagle-Gryphon Games, that dash came about as a merger in 2014 when Eagle Games and Gryphon Games became one consolidated publisher, because, as Rick puts it, he got into this to play and publish games, not manage a corporation. Putting the two lines together simplified everything, letting Rick and his team put more time into the tabletop, which is where they've been thriving ever since.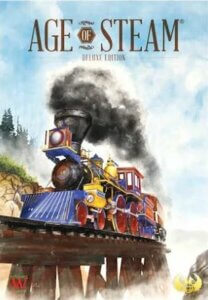 A nimble publisher, EGG cultivates a diverse catalog supported by a worldwide staff, a willingness to engage in new methods to make games, and a strong desire to keep favorite titles in print. Age of Steam, for example, has been available since 2002, and you can find it on Gamefound today with new, deluxe maps. 
As Rick notes, "We want to keep reprinting titles and keep them alive." If Noble Knight is the store dedicated to keeping things in print, then EGG is the publisher with the same mantra.
Play Time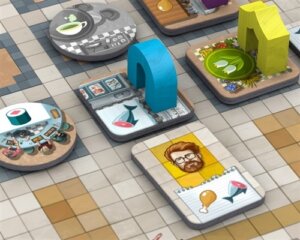 According to Rick, after a designer sends along the polished rules for a game, it usually takes two or three years to turn the whole thing into a refined, play-tested finished experience. At EGG, the games run a wide gamut, from the aforementioned Age of Steam and similar options, like Railways of the World, to pick-up-and-play options like Incan Gold.
It's hard, though, to look at EGG's catalog and not notice a particular designer, one Vital Lacerda, whose collaborations with Ian O'Toole make some of the most striking euro titles around. Lacerda, whose games dive deep into their subject to integrate theme with gameplay, creates fascinating puzzles where player interaction drives decisions, creating stories as you play, rather than just a tallying of victory points.
Take, for example, Lisboa, a game set around Lacerda's native Portugal after a devastating earthquake wrecks the capital city. You and the other players are tasked with the rebuilding project, which means squabbling with nobles and the clergy over funding and support, all for the most coveted prize of the day: wigs.
Better not to ask, just play.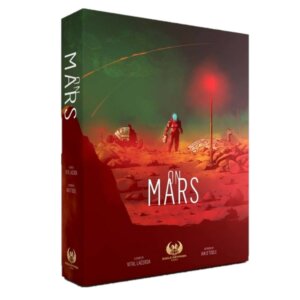 For those astronauts among you, On Mars offers a semi-cooperative take on Red Planet survival. With everyone trying to prove themselves as the most valuable contributor to the colony, you'll have to balance time in space and on the martian ground, using your rival's buildings and tech to grow the colony to self-sustaining heights. What's more important, humanity's progress or your corporation's private agenda?
I think we know the answer.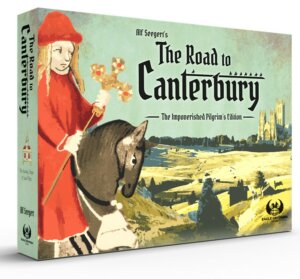 If trains and complex euros aren't your thing, then take a look at the designer Rick calls a "hidden gem" – Alf Seegert, a professor of fantasy literature. His lighter titles nonetheless tackle unusual and neat themes, like a Geoffrey Chaucer parody The Road to Canterbury in which you must not only tempt travelers into sin, but make your money by absolving them of the same. Just like Chaucer intended.
Fantastiqa takes a grinning approach to fantasy deck-building, coupling quests and whimsy with rules adaptable to kids and adults alike. For those who'd like some time in a place like Middle Earth but without the war, the ring-wraiths, and the doom, Fantastiqa is a delightful way to spend an hour or so.
EGG, too, has heard you're having a tough time with space. Every game these days seemingly comes in a huge box, or ships with a dozen massive expansions. Rather than rent out your own warehouse, consider looking at EGG's Bookshelf Series, a collection of fast-playing games designed to be an easy weeknight grab. The series, which Rick notes "gave me a chance to work with all sorts of terrific designers,", has 29 titles, all coming in a size perfect for any bookshelf, letting you get your plays in without forcing Grandma from the spare room.
For Sale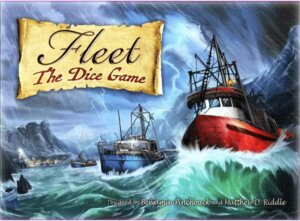 , High Society, and Fleet: The Dice Game among plenty more give you diversity in a great form factor, at a price tag cheaper than those dusty hardbacks you'd otherwise put up there. Dostoyevsky might be great, but Botswana's going to bring a lot more smiles to your house than The Brothers Karamazov.
All this comes down to one thing: if there's a mechanism, a player count, or a style you like, EGG's likely holding a great play in their catalog, at complexities either light or heavy. They're a first-look publisher, easy to follow on Noble Knight's store or their own website, to scan when you're hunting for something new or classic to add to your collection. And check back often, because as the saying goes, change is constant.
As for Rick's personal recommendation?
"I like them all, but Railways of the World has given my family and friends many, many hours of really good gameplay." As he and his wife, and primary play partner, Joanne travel so much, they're also fond of Splendor Duel for its light footprint and tight gameplay. "We play a lot of games . . . choosing a game is like choosing a wine, it depends on the situation, the company. We don't have a favorite game, just ones we play a little more."
Future Fun
Svelte though its structure may be, EGG keeps the cardboard coming. Age of Steam isn't the only title getting a crowdfunding highlight, with Lacerda's next title, Inventions: Evolution of Ideas, coming to Kickstarter in June. Those titles will also be making their way to Noble Knight too, naturally, where you can find most of EGG's current catalog.
If board gaming history, and some fun evenings, are on your mind, keep an eye out for the two Sid Sackson collections EGG is putting together. With their penchant for premium components and packaging, the six titles in these two anthologies have been restored (and, in some cases, are being published for the first time) into a beautiful edition worthy of a look for anyone wanting to enjoy a unique creative genius.
Those of you wanting to step into those big shoes and want to see your own title on this list, possibly with EGG's badge on the box, shouldn't feel it's impossible. "Designers are wonderful, creative people," Rick says, and notes EGG continues to accept rules submissions for potential publishing. The quality and professional polish of those rules, though, goes a long way towards earning the title a serious look.
Or, you could get yourself to Essen, The Gathering of Friends, or another major conference, and look for a welcoming face with a few stories to tell about board gaming's renaissance. Who knows, you just might walk away with some new ideas of your own.
---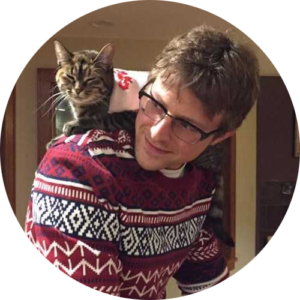 Written by Adam Knight
Spinning stories and playing games under the direction of his two cats, Adam delights in the roll of the dice and a well-told tale. Find more of his adventures at Black Key Books.
---