Capstone's freshly released Coffee Traders board game stays true to their strengths: thoughtful strategy and nuanced management.
Will your plantations fall to ruin or will you rise to the top and become the world's greatest Coffee Trader?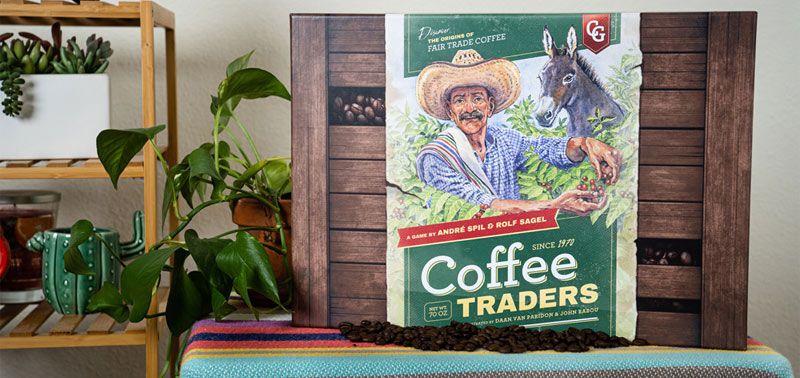 Players: 3-5
Play Time: 120 minutes

Ages 12+
Complexity: 8/10
Work with your competitors to develop the regions you see fit for the best coffee beans while keeping a watchful eye on the market. Construct buildings to help your Fair Trade coffee plantations thrive while enhancing your network for trading coffee.
Coffee Traders Features
Work, build, trade, harvest, and deliver coffee from around the world!
Build coffee farms, hospitals, production stations, fair trade posts, and warehouse to help your Fair Trade coffee plantations thrive!
Provide your coffee to restaurants and cafes for victory points!
Farm coffee in additional regions for rewards and benefits!
Components
1 Large game board
5 Player boards
387 Wooden game pieces
117 Cardboard tokens
90 Coffee beans
55 Metal coins
1 Score pad
1 Rulebook
Notes
Capstone's Coffee Traders board game is a complex game, to be sure. So there are a lot of things to remember, and you'll likely find yourself referencing the rulebook a lot in your first few playthroughs. That said, the game feels well-balanced despite its complexity.
This is definitely a title for moderately experienced tabletop gamers. We might not use it as a gateway game to get someone into the hobby, but as grizzled gamers ourselves, this game really scratches an itch for nuanced euro-style gaming!
Pick up a copy of Coffee Traders today!
Check out some other New & Upcoming Releases! or browse