You've assembled the scalawags, the backstabbing bunch who're nonetheless your crew mates on Libertalia's pirate plundering adventure. Mad Eye Dan, black patch in action, rolls a coin between his knuckles while you send your own horde dashing from your palm into a thick clatter on your table. A sound no cardboard token can match. Sure, you might be playing a game, but the loot you're fighting over feels very, very real.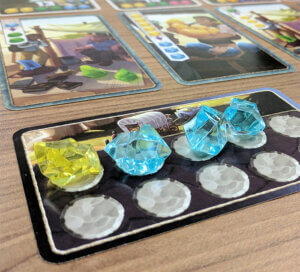 They litter our games by the thousands, these tokens. Cardboard chits, occasionally spiced up into wooden bits or something flashier — Century, Golem Edition, I'm looking at you — form the mainstay of our hobby. Unfortunate, then, that these miracle bits are so often relegated to the blandest beige, rough-cut circles or primary-colored discs. At least Terra Mystica gave us a fun purple-pink for its million little power pieces.
Should you wish to transcend the mire of "meh" when it comes to your cardboard, however, there exist options aplenty to bring your golden girls into the golden age.
---
It's the Money, Honey: Which games deserve upgrades?
When you're taking a look at your collection and wondering where to apply a bit of glitter, look first to your heaviest hitters, the games that you'd pull off the shelf every night if time and friends were limitless. Upgrading components is all about adding spice, glamour, and glitz—and that's worth little if you're not getting the fancy fun to the table. So with that in mind, when entertaining a boost to the board games, here's a simple tack to take: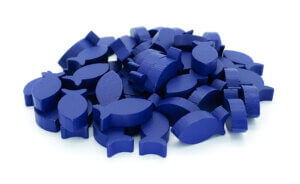 With your list in hand, it's time to get to scoring some sweet, sweet supplies. Here are a few easy board game accessories and upgrades that'll likely cover the games on your list!
---
Coin for the Commons: Upgrade your cash
By volume, money must be the most common game component. It's everywhere, whether you're slinging stacks of cash in Millennium Blades or counting doubloons in Dead Reckoning. If you're looking for the best literal bang for your bucks, consider upgrading your cardboard currency.
At the same time, if you're looking at your shelf of money-grubbing games and wondering what it'll cost to spruce up all those components, consider instead a cost-effective upgrade that'll cover multiple titles in a single, sparkly package: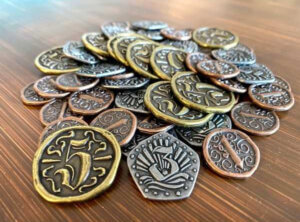 [ Read: Game Inserts — Organize Your Box! ]
---
Roll out the Red Carpet: Dice!
Ah, dice—the quintessential board game accessories. Few things feel better than knocking these puppies around your palm and letting them rip across the table, watching as they scatter your pieces around, fly into dark, spider-webbed corners, and splash into unsuspecting food and drink. Should you want to calm that delightful chaos, though, there are a few options: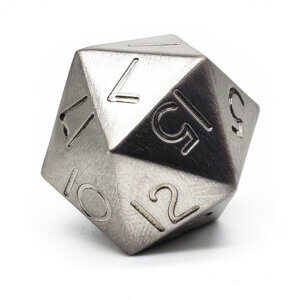 ---
Ditch the Board for Something Better: Playmats

Cardboard's had a good run, but for your best games it's worth considering a new surface entirely. Playmats—usually made of neoprene—are getting more and more common, and they turn your staid cardboard into a soft, grippy surface perfect for cards, tokens, and dice. If you've ever wandered by a Magic tournament and wondered at what those players slapped down for their decks, this is it.
---
It's a Miniature world, and we're all just living in it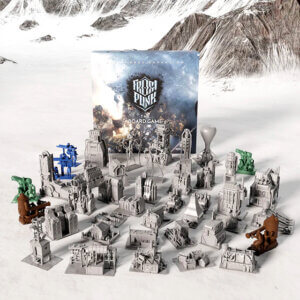 I know, I know, the hobby's drowning in gray plastic. Rather than see it as a problem, though, consider it an opportunity! Pick up a paint brush, some primer, and with a few sloppy swipes, you can upgrade your favorite game's bland meeples or mono-color discs into a crime against art.
---
Get Going In Style: Transport and storage
If you'll be moving around with your collection, the last thing you need is your towering stack of fun tumbling from your arms and into the path of that oncoming cyclist, Uber driver, or angry dog-walker (you know the ones). Save yourself the pain and potential lawsuit by getting your collection from place to place the safer way: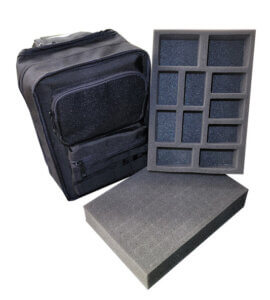 ---
Seek out Synergy: Save time and money!
Shopping for component upgrades need not be a bit-by-bit affair. Rather, like getting new powers for your hapless god in Spirit Island, hunting for synergy can save you time, money, and stave off that nasty hoarding blight. All of the above enhancements can cover multiple games, so when reading over your games-to-upgrade list, plot out what buys work best for the bunch.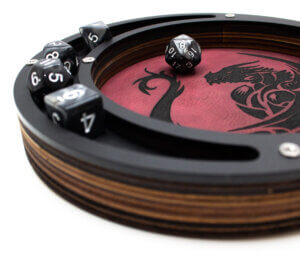 Then, once you have your fancy components, consider slotting them in a separate box near your board game table. Once the group makes the call, you can reach right over and snag the perfect upgrades, saving you setup time in the bargain.
Lastly, glitzy board game accessories are a great gift idea. If you know they love the game in question, getting those fancy coins or a unique playmat is an easy win come birthday or holiday time. They might even thank you for not giving them another rule book to read or large box to store.
So when Mad Eye Dan makes his move, scoring that sweet, sweet plunder, you can bet everyone will remember those golden coins getting pushed across the table. At least till the next turn, when you steal them all away!
---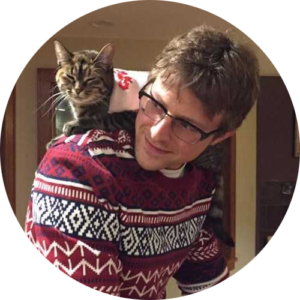 Written by Adam Knight
Spinning stories and playing games under the direction of his two cats, Adam delights in the roll of the dice and a well-told tale. Find more of his adventures at Black Key Books.
---
[ More from Adam: Game Inserts — Organize Your Box! ]
[ Browse Popular Board Games ]