Tankers of the 761st Tank Battalion on an M5 Stuart light tank prepare for action. Courtesy National Archives.
Avalanche Press' new Black Panthers Expansion for Panzer Grenadier: Elsenborn Ridge recreates the history of a legendary unit. The United States' African-American 761st Tank Battalion—The Black Panthers—were one of the most effective units in WWII. Despite the virulent racism they endured from both citizens and U.S. military personnel, they overcame the obstacles unfairly placed in front of them and played a pivotal role in the war.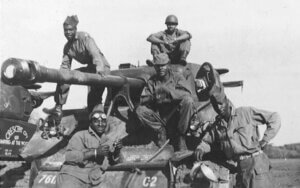 Fighting at the front for over 180 consecutive days, the battalion smashed through the Nazi forces. They were one of the first American units to reach Steyr, Austria, and liberated the Gunskirchen concentration camp.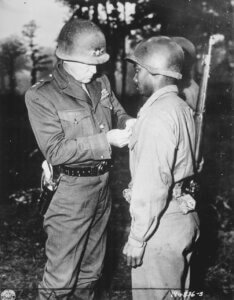 The 761st was decorated for their success, bravery, and leadership earning:
A Medal of Honor awarded posthumously to Staff Sergeant Ruben Rivers
11 Silver Stars
300 Purple Hearts
---
Black Panthers Expansion
"In 1941, the U.S. Army began to create elite, segregated African-American units, including the 761st "Black Panthers" Tank Battalion. The Black Panthers saw action in France, Belgium, and Germany, fighting in the Battle of the Bulge and liberating the Gunskirchen concentration camp. The battalion saw 183 days of combat, lost 71 tanks, and suffered a 50% casualty rate."
– Avalanche Press
Components

Black Panthers has 24 new die-cut and silky-smooth playing pieces for the Black Panthers under their distinctive insignia. There are two dozen scenarios based on the epic battles of the 761st and other African-American units.
---
[ Check out more from Avalanche Press' extensive war game collection ]